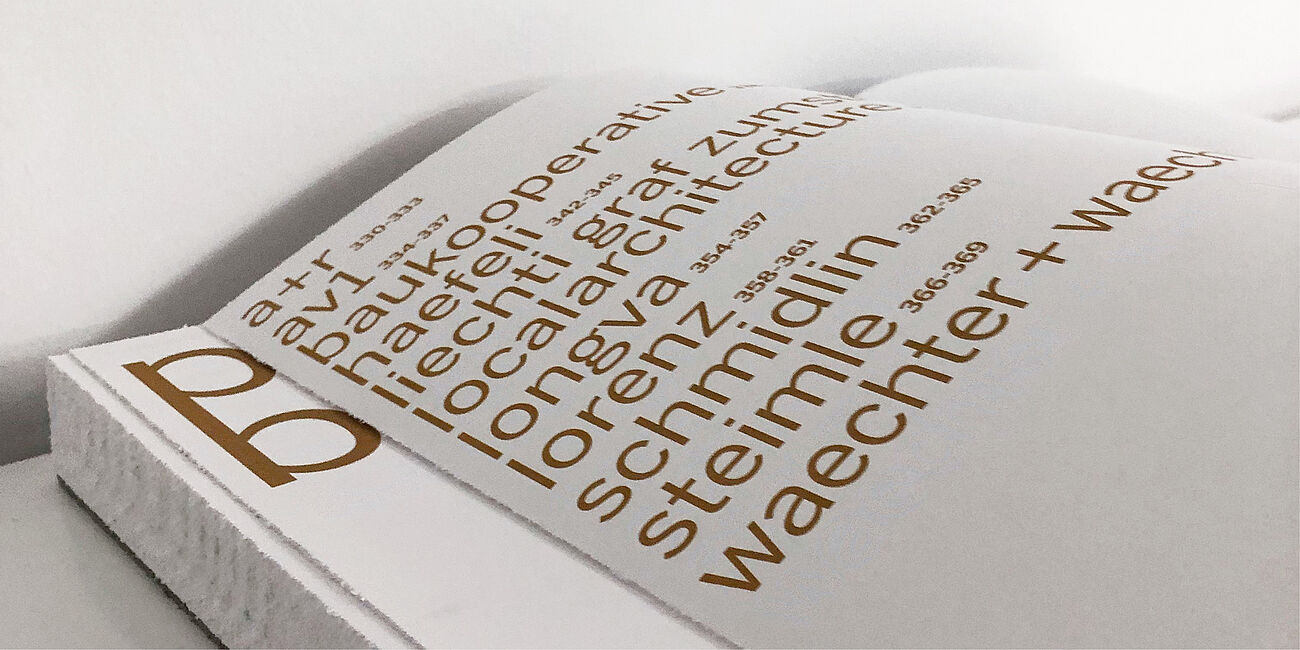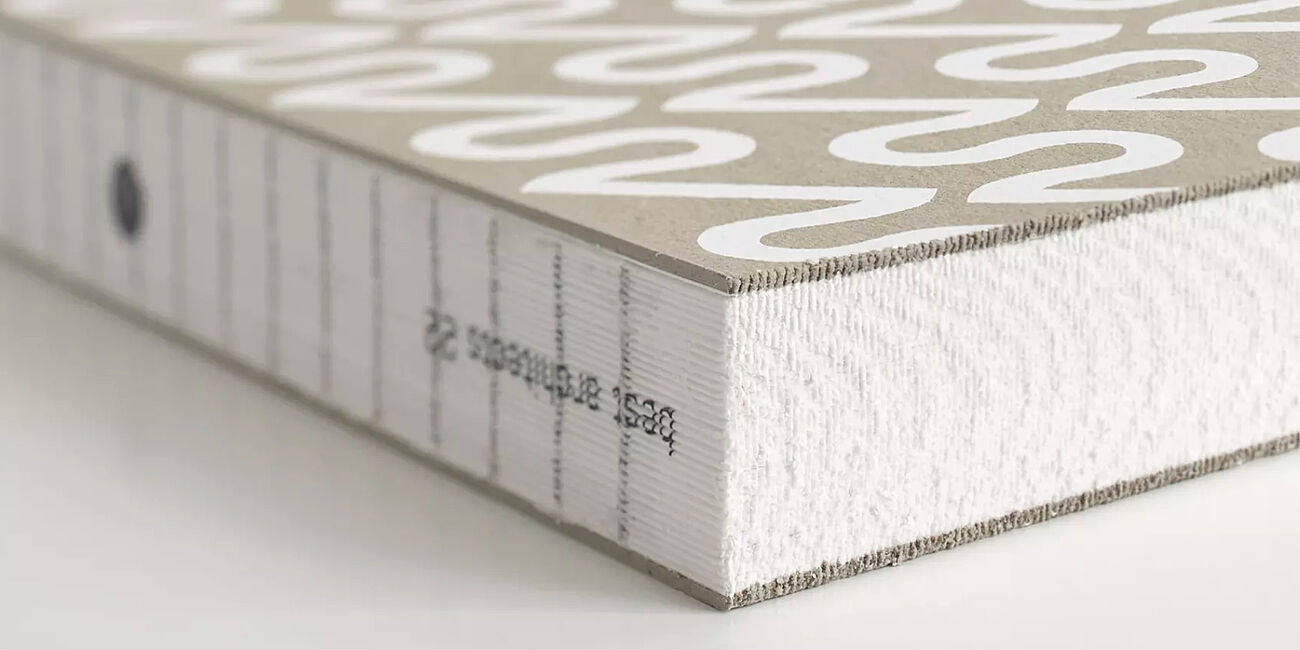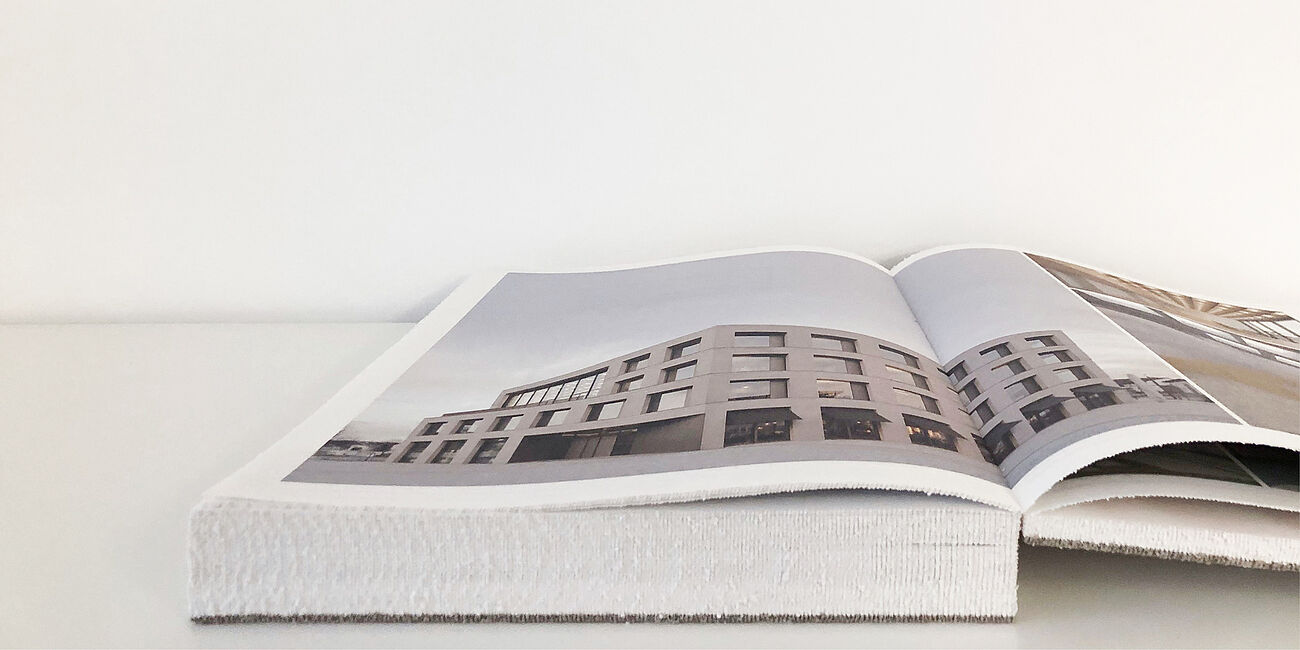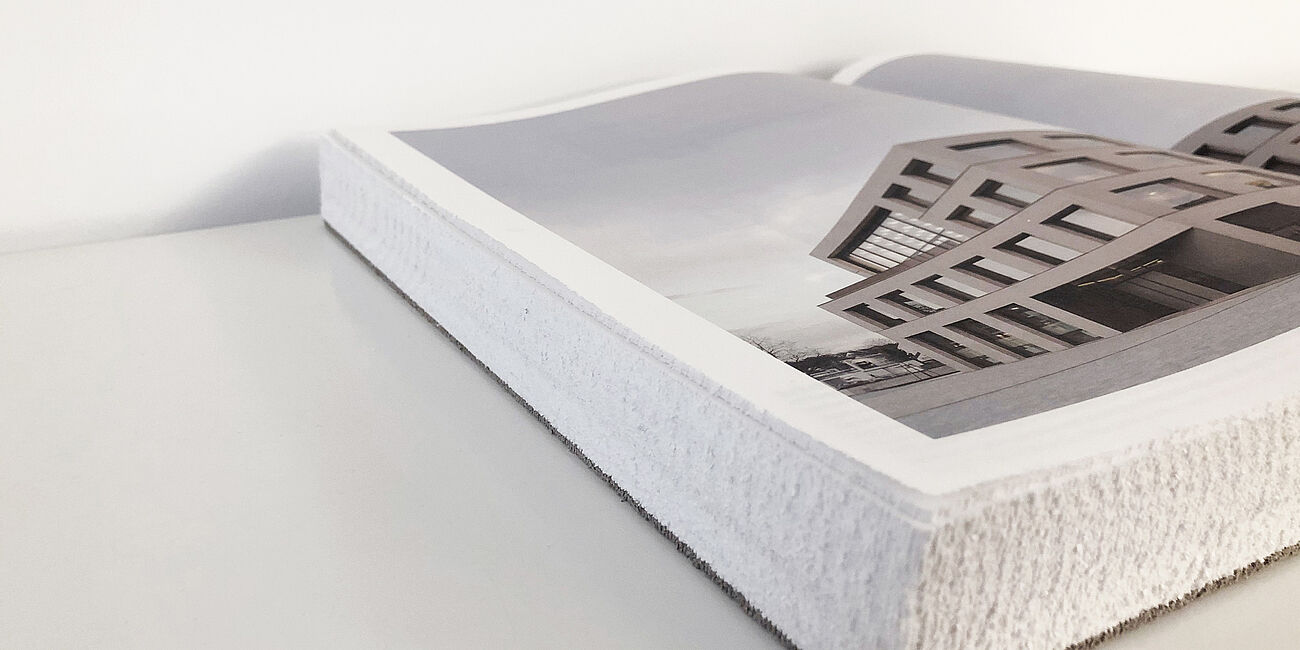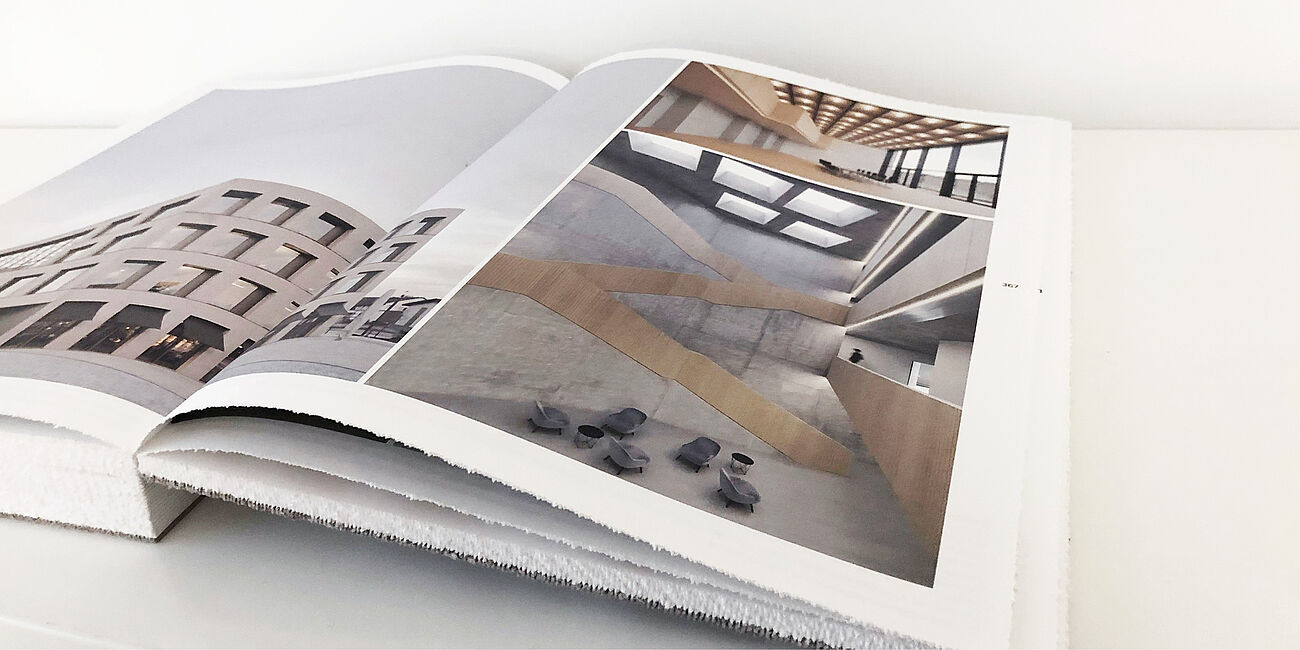 towhn hall remchingen in bestarchitects22
The "best architects award" is one of the most prestigious architectural awards and is a yardstick for architectural development in the top segment. Since its inception, the "best architects" award has been regarded as a seal of quality for outstanding architectural achievement. It positions the award-winning architects and architectural firms at the top of the international architectural scene.
In this year's publication, the town hall in Remchingen , along with 90 other award-winning projects, is presented in high-quality print.

/ ISBN 978-3-946021-05-6
/ Publisher zinnobergruen 2021
/ 78 EUR
/ 448 pages / German

Link to project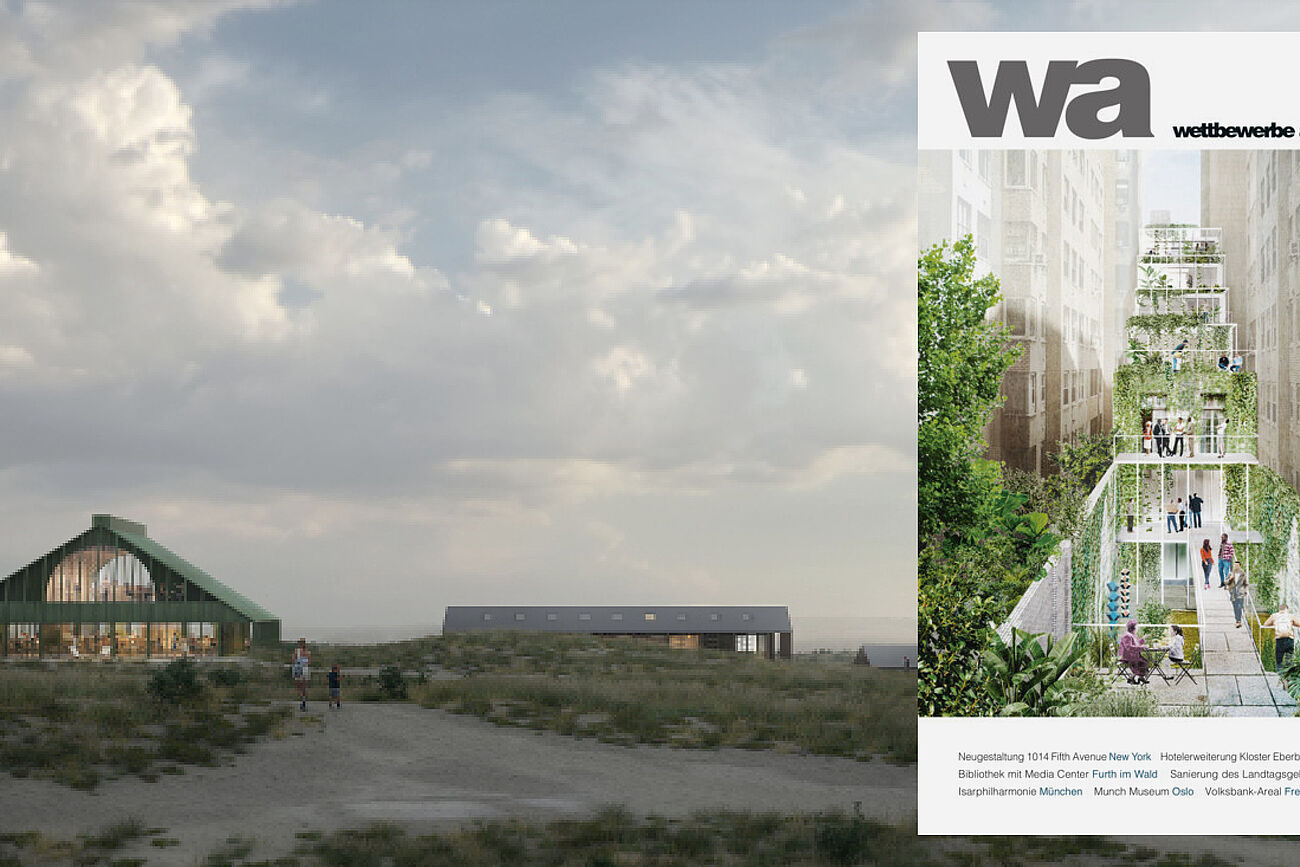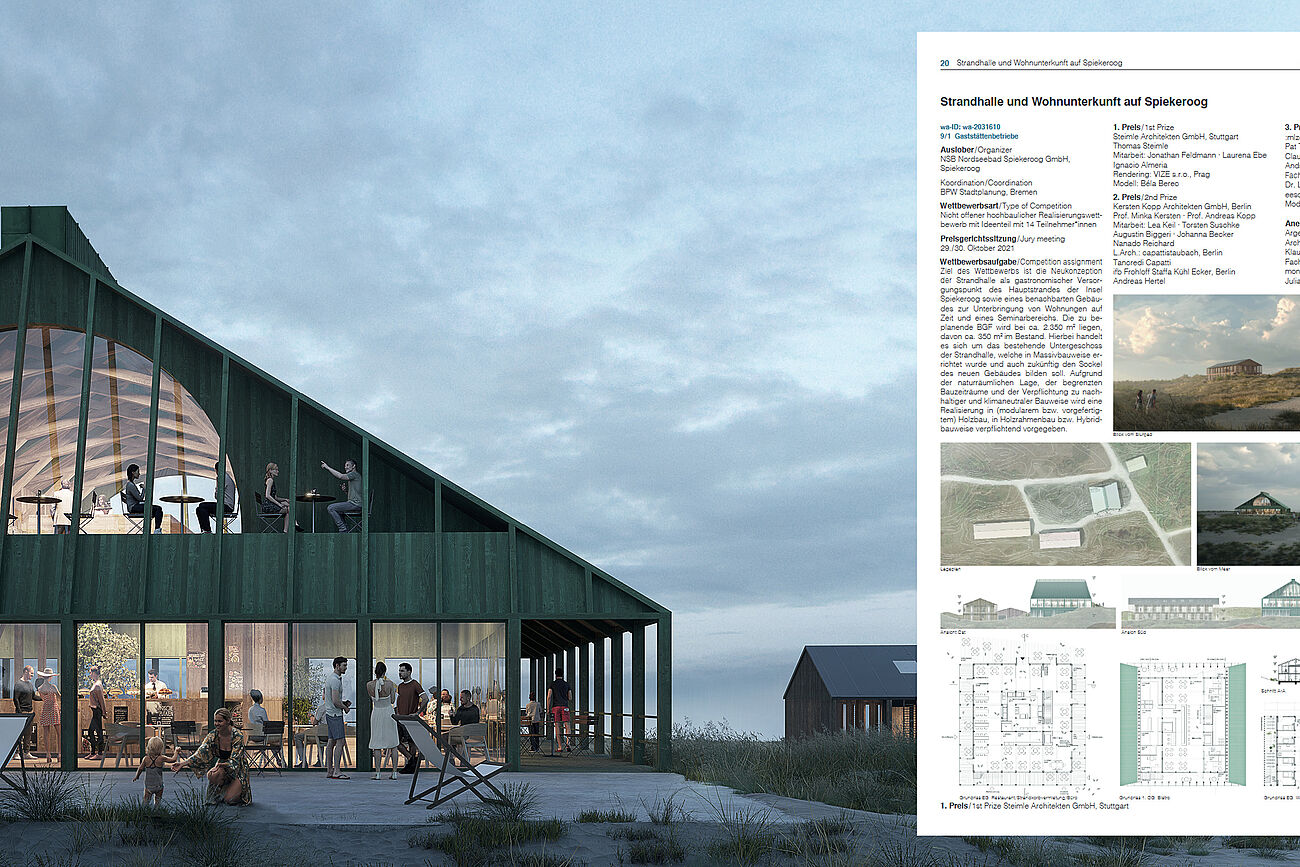 competition coastensemble Spiekeroog in the wa - wettbewerbe aktuell 12/21
beachhall and appartementhouse at Spiekeroog published in the wa- wettbewerbe aktuell edition 12/21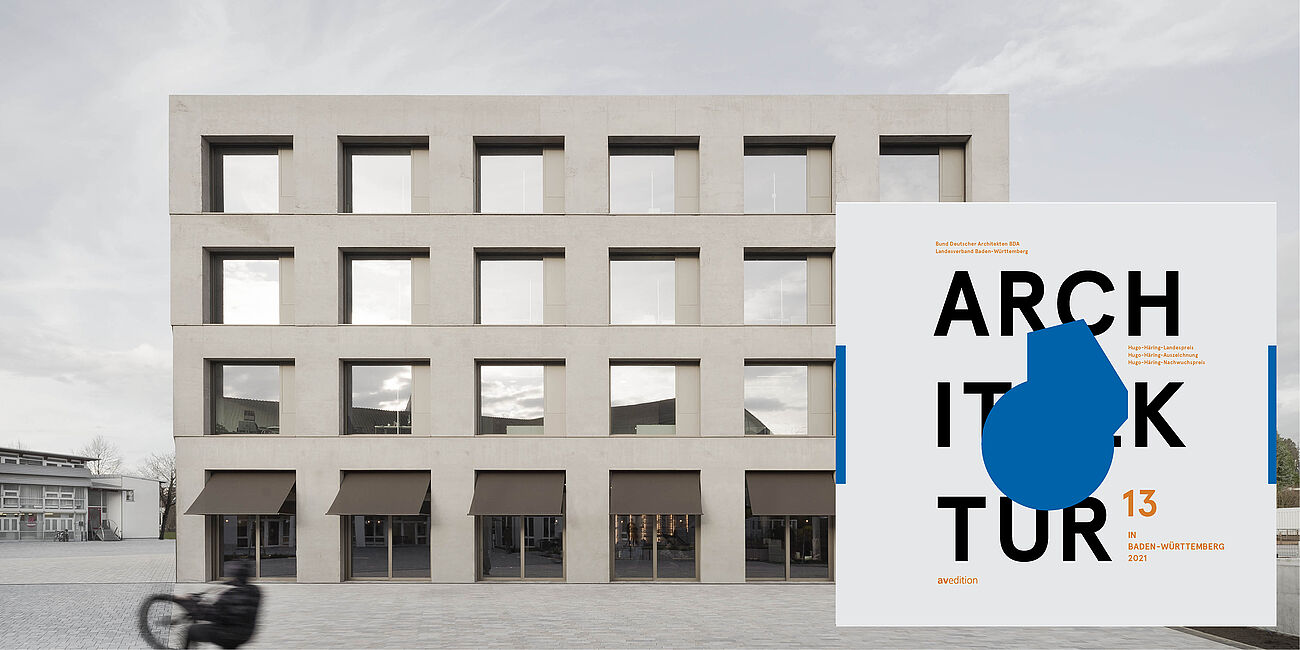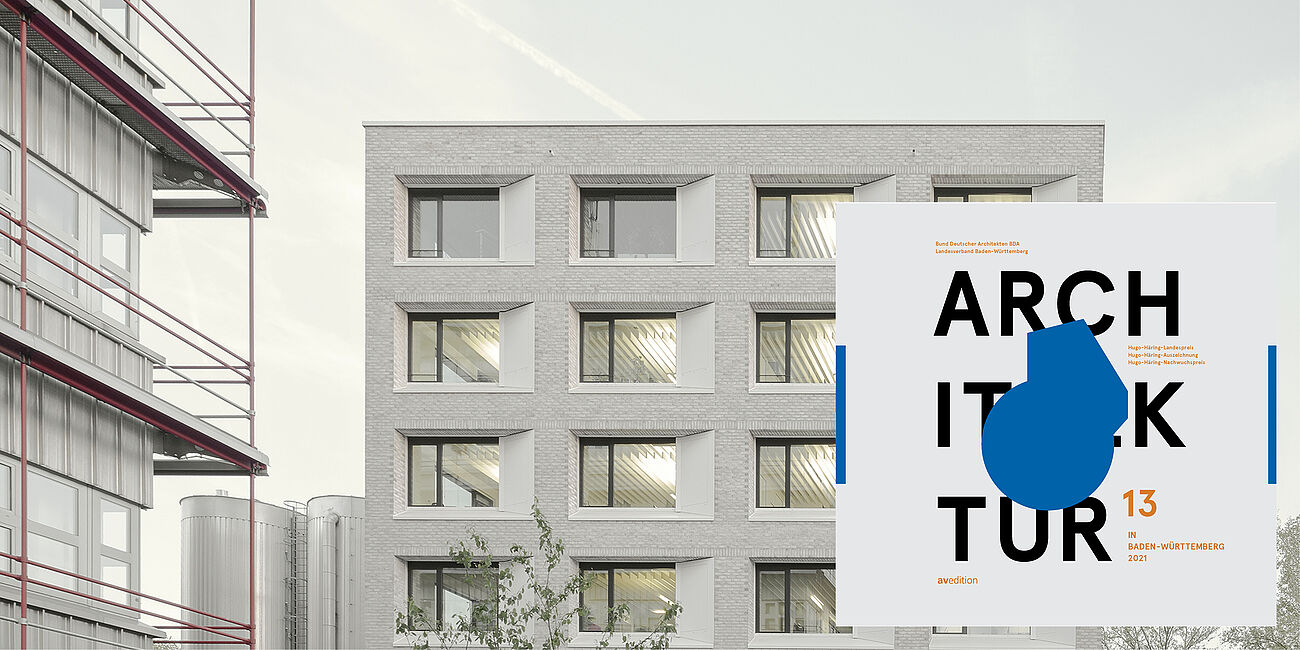 2021-11-17
Architektur in Baden-Württemberg 2021 | edition 13
The landunion of the BDA Baden-Württemberg publicize every three years a book of the Hugo-Häring Prizes. In the edition 13 you can find three of our projects. Next to the library in Kressbronn, you can find the townhall in Remchingen just as the publiv services in Tuebingen.
/ ISBN 978-3-89986-368-0 / Verlag av edition GmbH / 19,90 EUR / 392 pages / german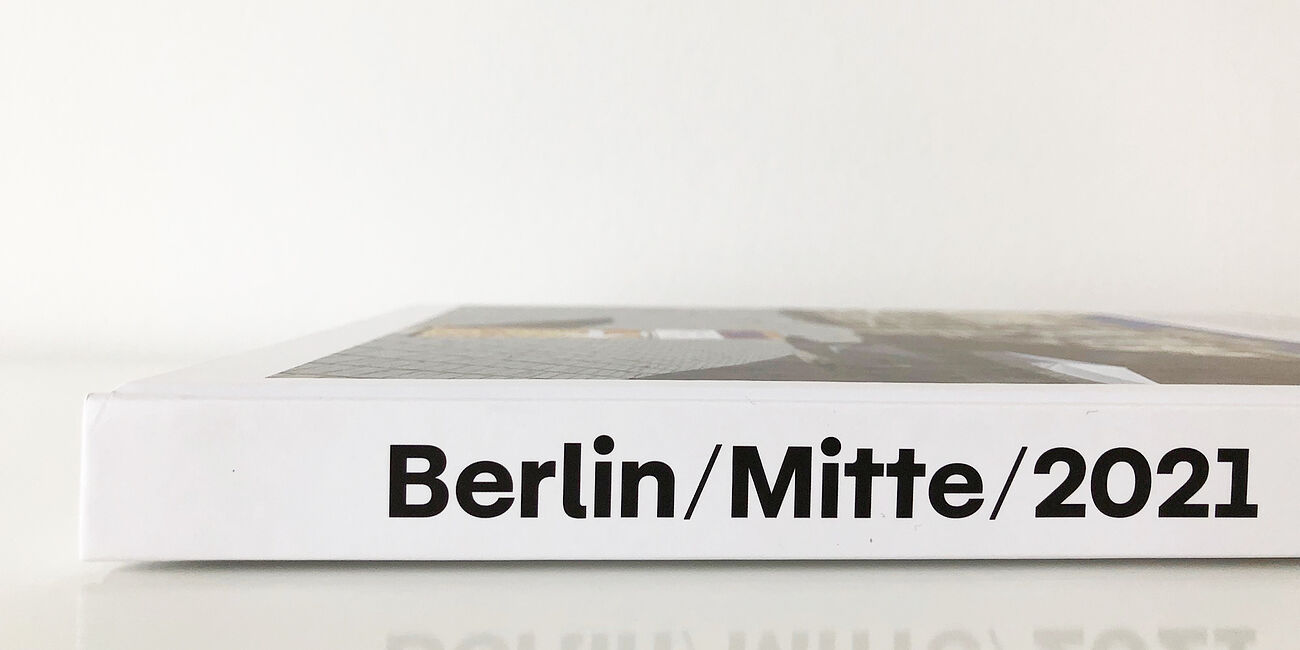 2021-11-05
BT-28 publicized in Berlin/Mitte/2021: metropole and kiez
In the book Berlin/Mitte/2021 - Metropole und Kiez, Berlin Mitte shows his changing areas. At the area "Der Kleine Tiergarten" our plans of the residential and commercial building on the Turmstraße/ Stromstraße is published.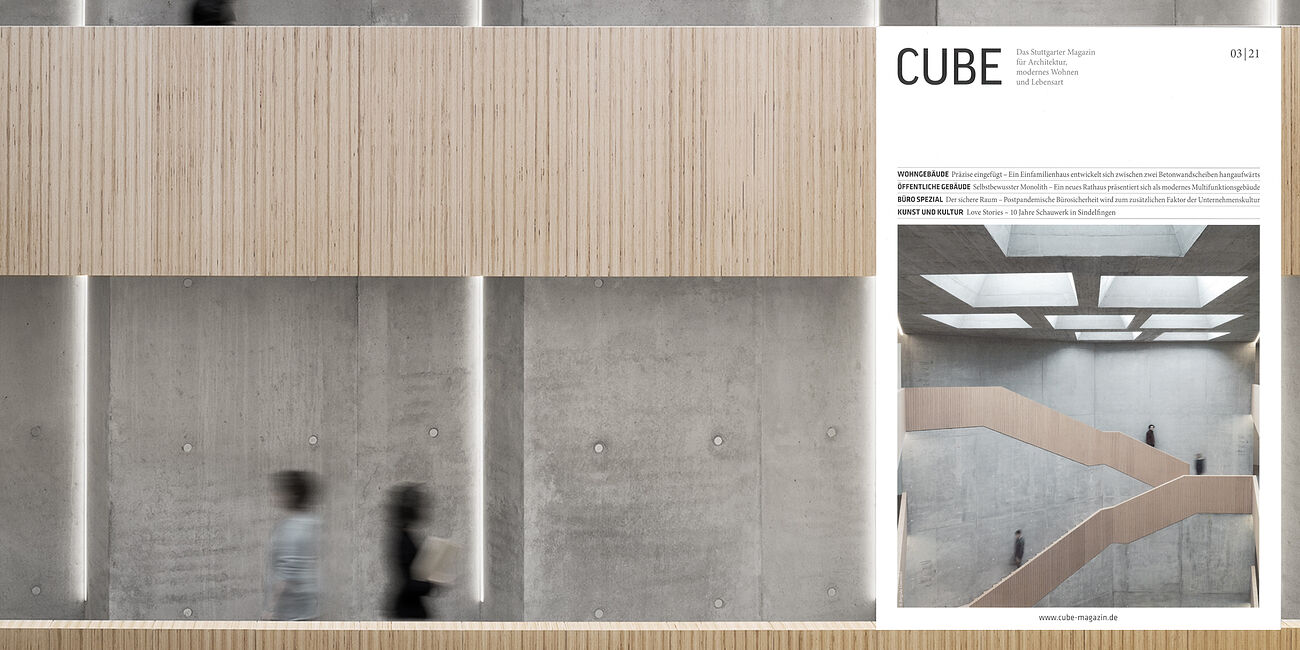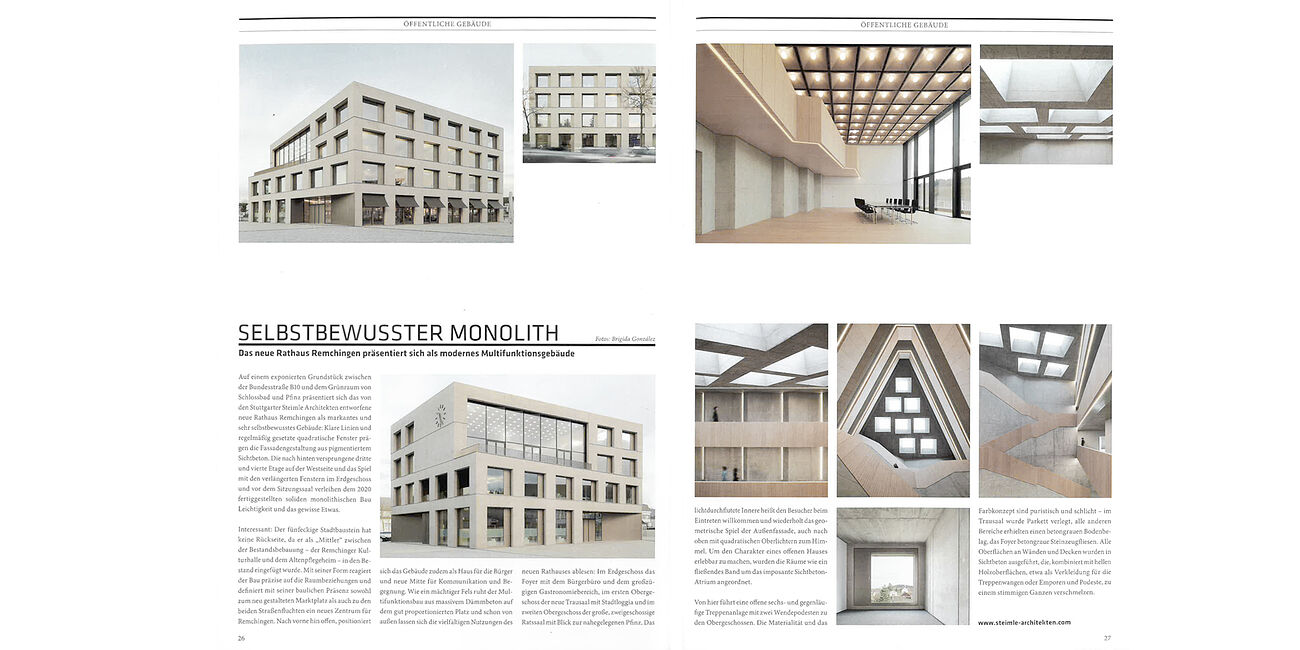 2021-10-05
Remchingen town hall in CUBE magazin
With the title "Self-confident monolith - A new town hall presents itself as a modern multifunctional building", CUBE magazine publishes an article about the new town hall in Remchingen!

[Link to the project] (https://www.steimle-architekten.com/de/projects/rathaus_remchingen)
2021-03-25
S3 Cityvilla and E20 in 100 dream houses
"Are you still living or are you already alive? We are certain: The residents of the 100 dream houses know the answer. It is: We live by living in a tailor-made manner."

In the illustrated book of the 100 most beautiful single-family houses, published by Callway Verlag, Steimle Architekten are represented with two houses: the S3 Cityvilla Tübingen and the E20 residential building in Pliezhausen.


/ ISBN 978-3-7667-2494-6
/ Verlag Callway GmbH 2021
/ 39,95 EUR
/ 224 Pages / German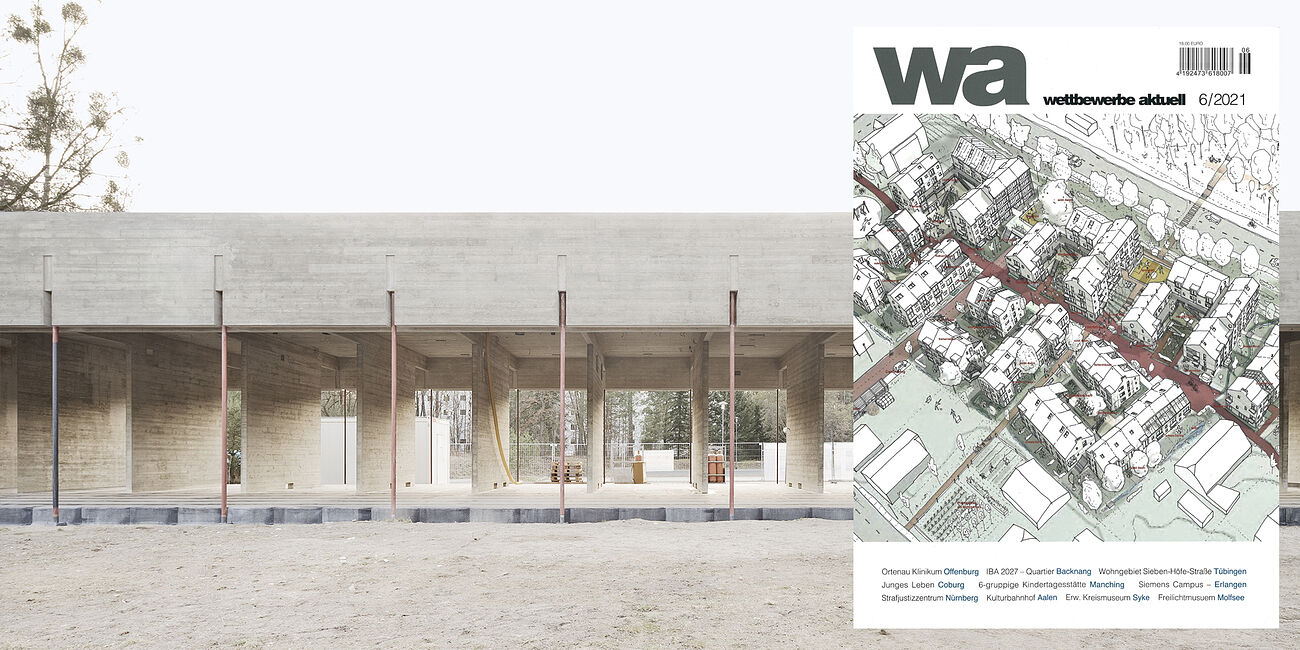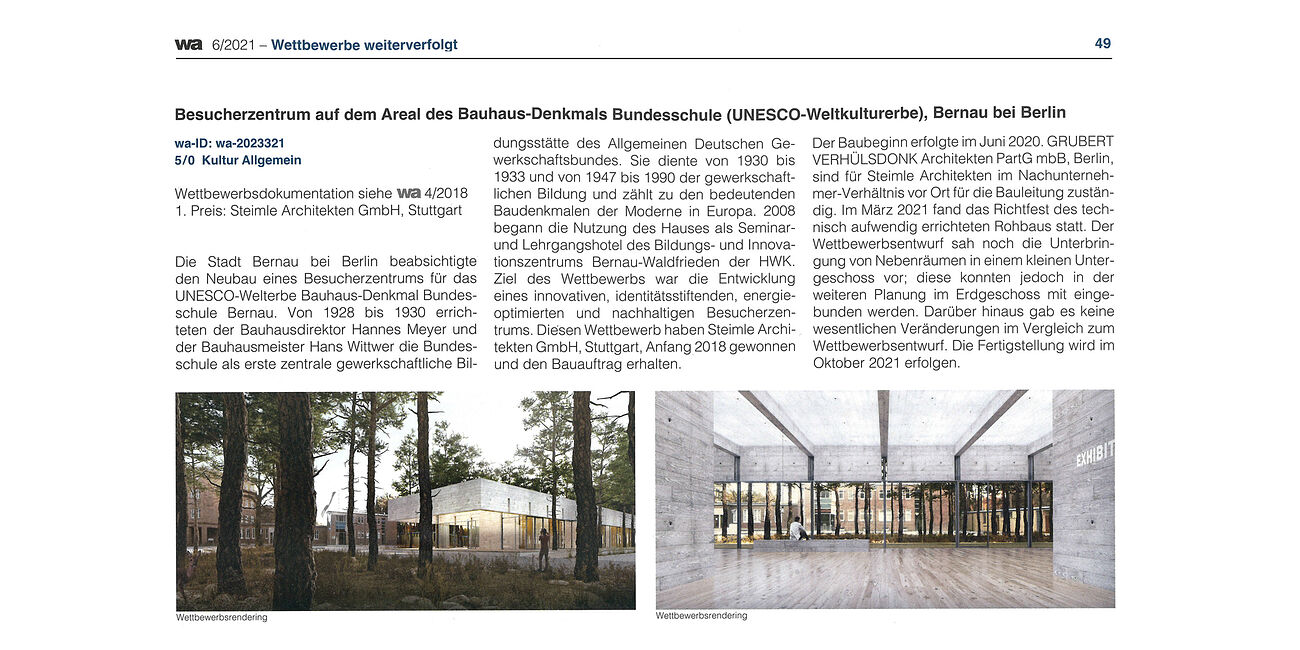 2021-10-14
Bernau Visitor Center in Wettbewerbe Aktuell 06/21 - Competitions followed up
The article in the current edition of Wettbewerbe Aktuell - Competitions followed up - reports on the development of the Bernau Visitor Center, from the competition design to the current status of execution.

Link to project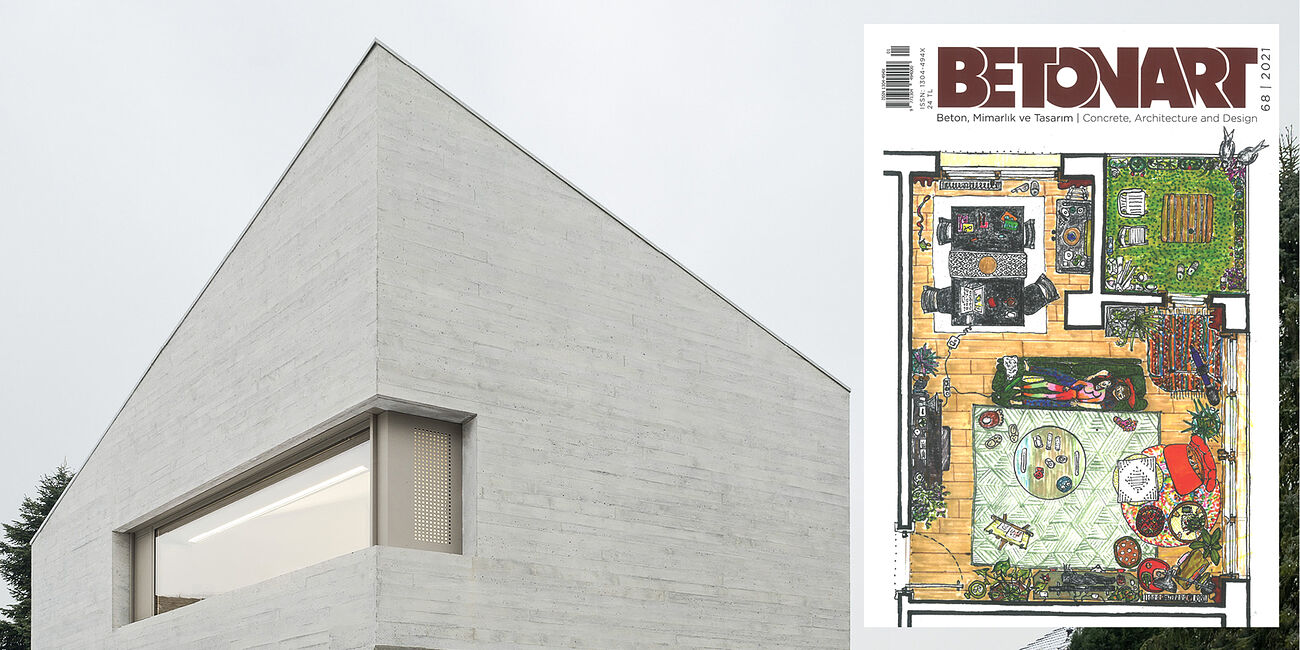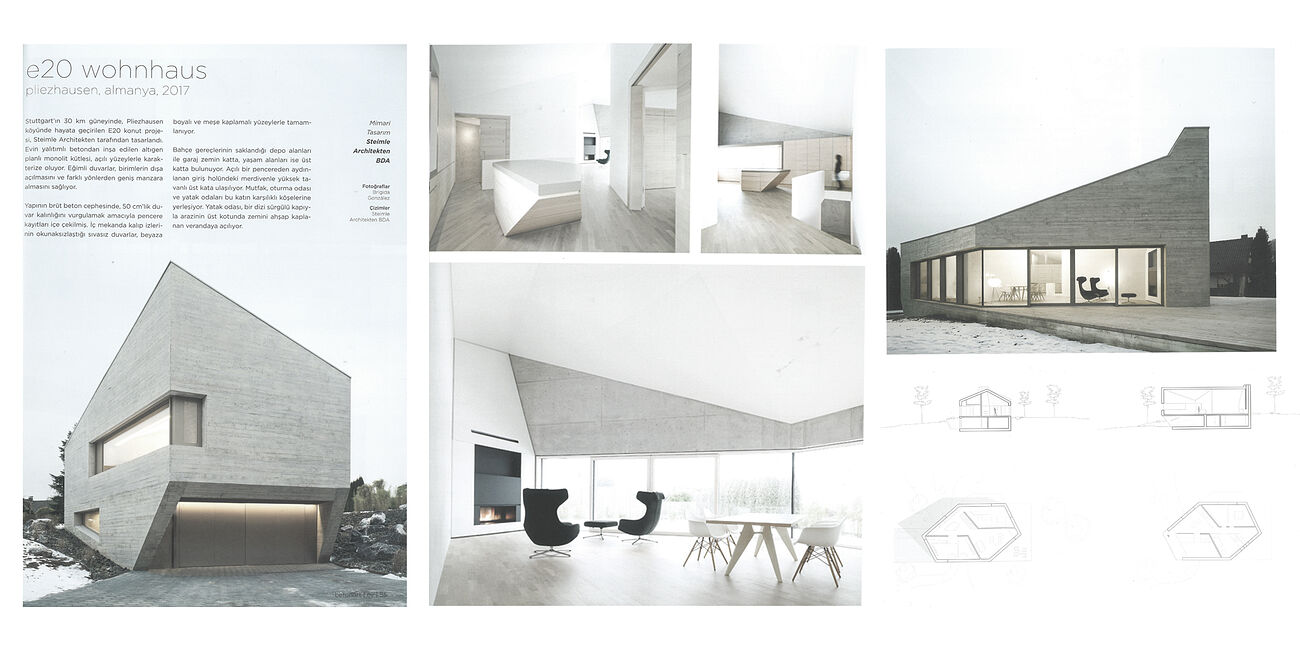 2021-03-22
E20 in Betonart
The townhouse E20 in Pliezhausen was published in the Turkish magazine Betonart!

Link to project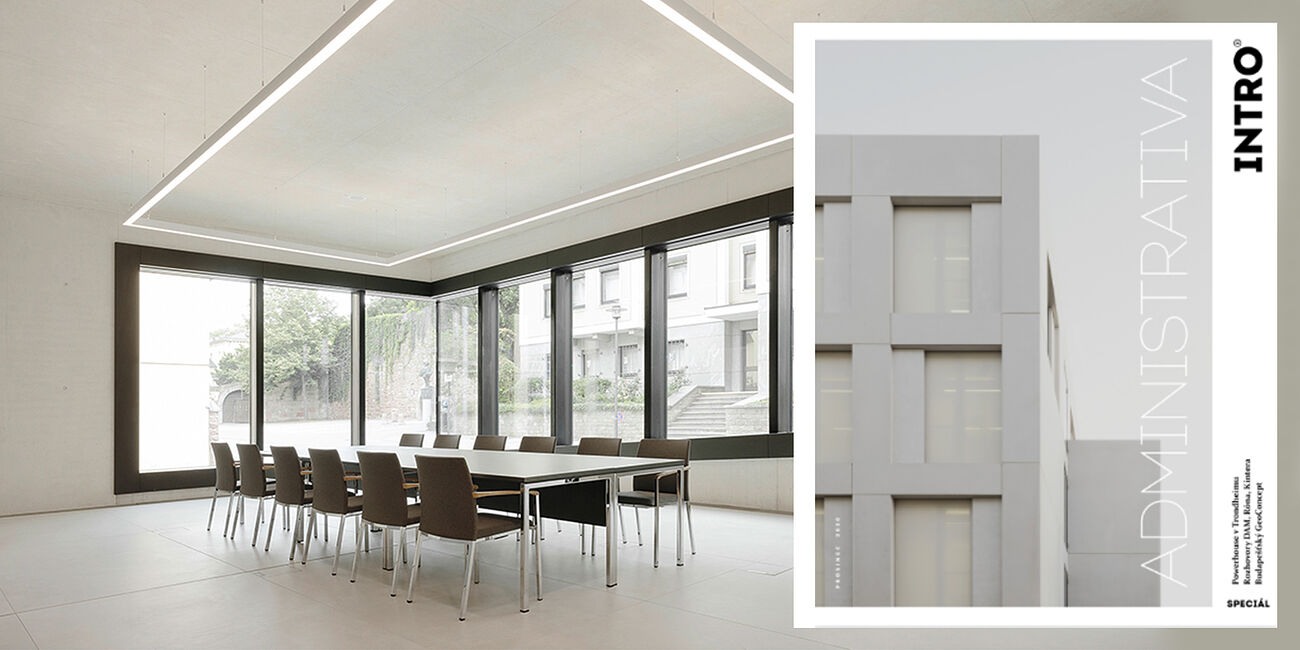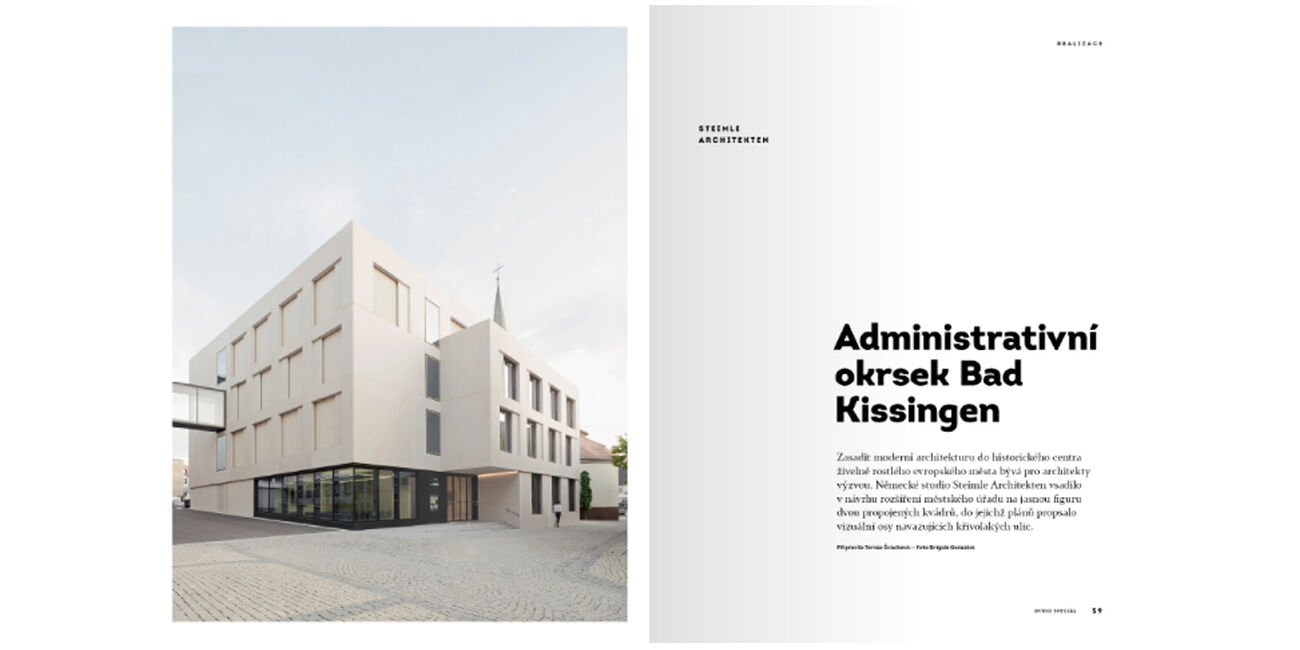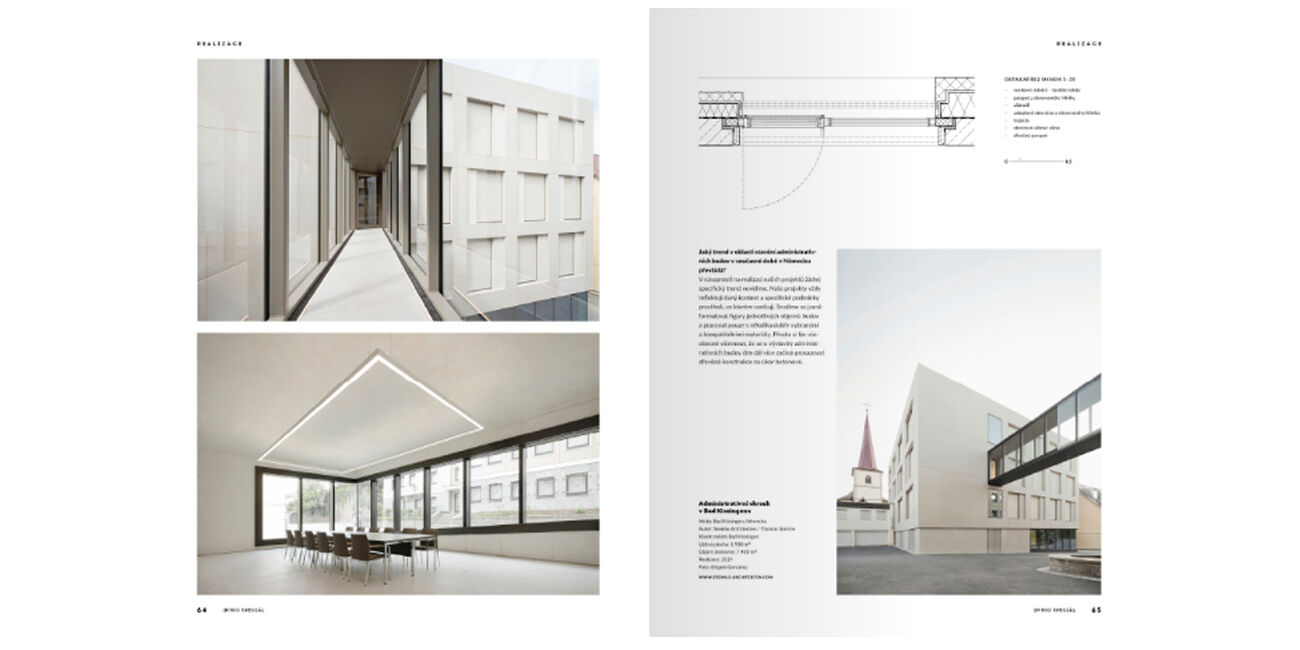 2021-02-19
The district office Bad Kissingen in the Czech architecture magazine INTRO
The district office Bad Kissingen presents itself in detail in an 8-page report in a special edition of the Czech architecture magazine INTRO and provides deep insights into the design of the house.

link to project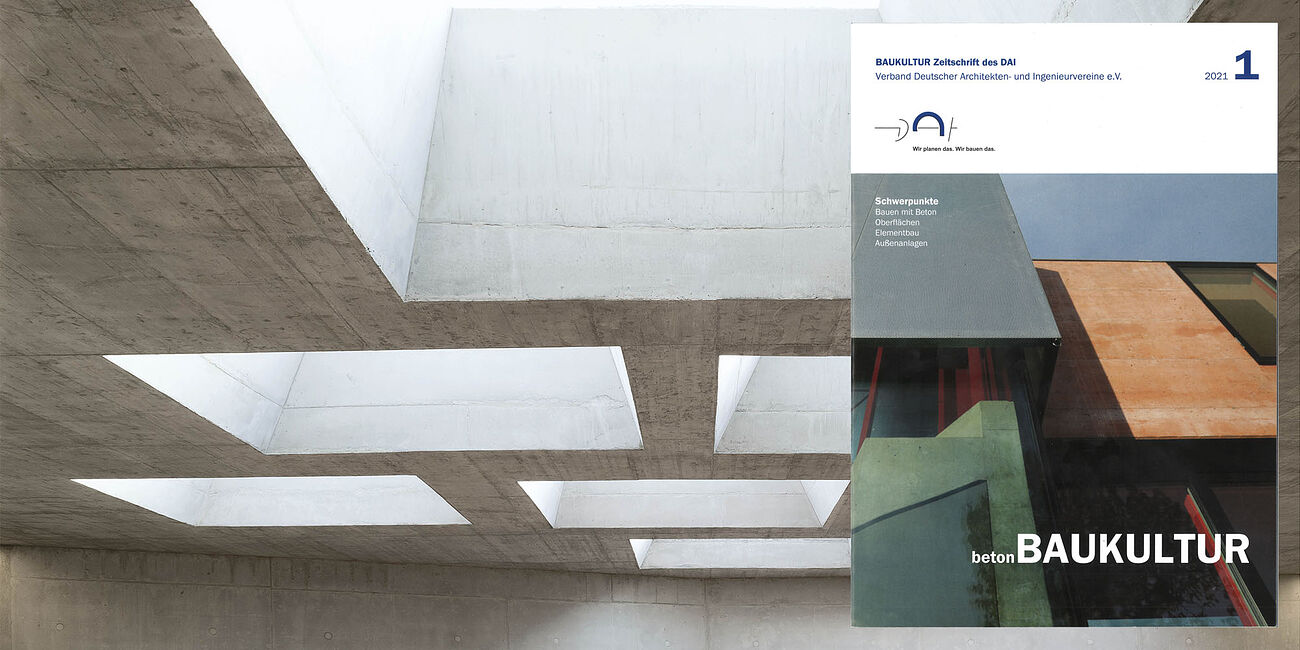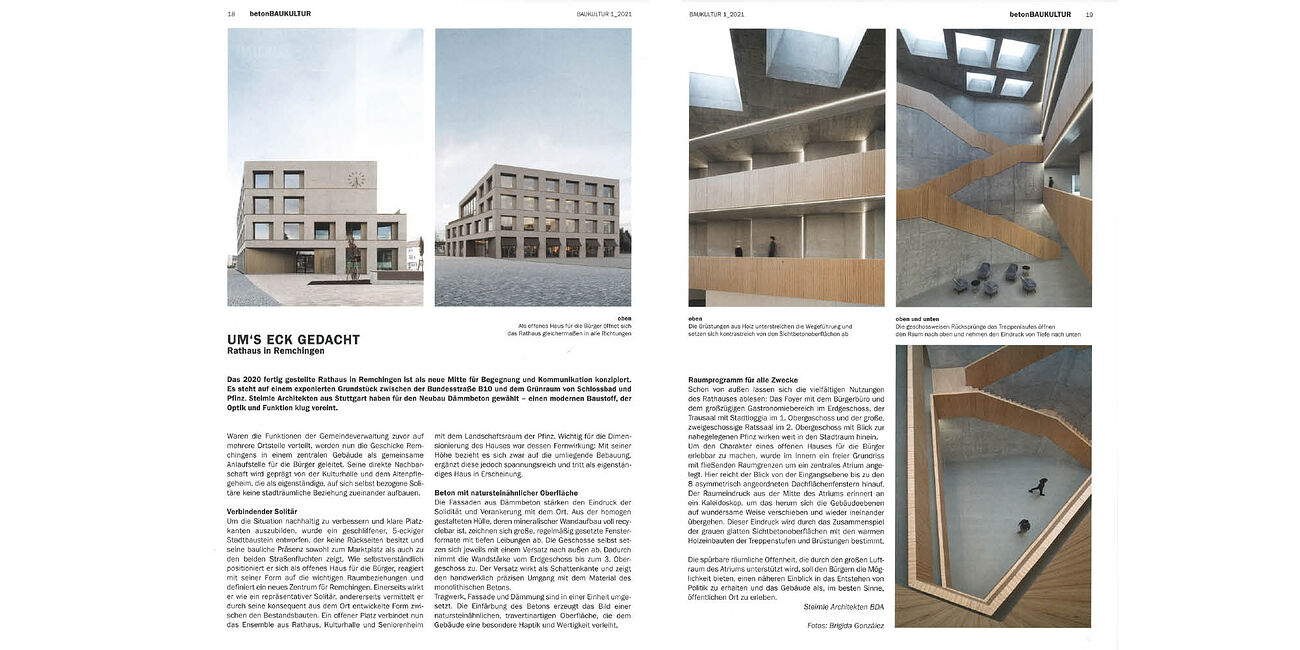 2021-01-14
Remchingen town hall in Baukultur
Thinking around the corner - The Remchingen town hall presents itself as a pentagonal block in the current issue of betonBaukultur of the DAI.
Among other things, the article looks at the insulating concrete facade, which gives the building its haptic and value.

Link to project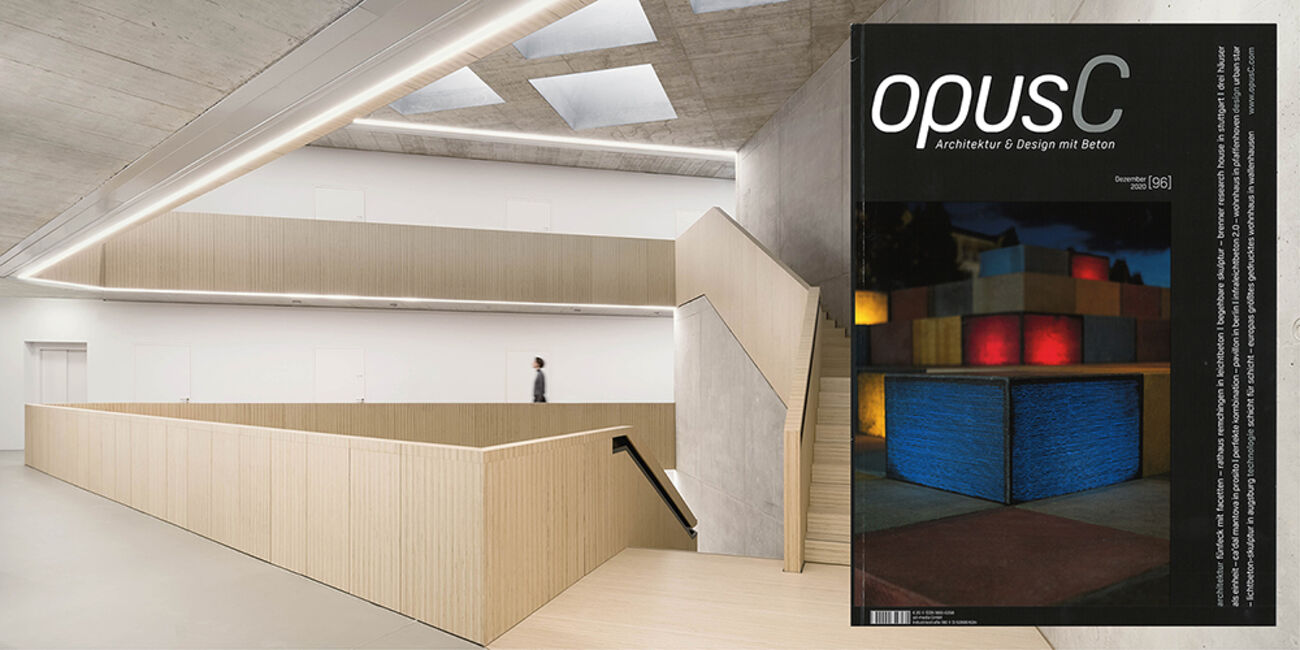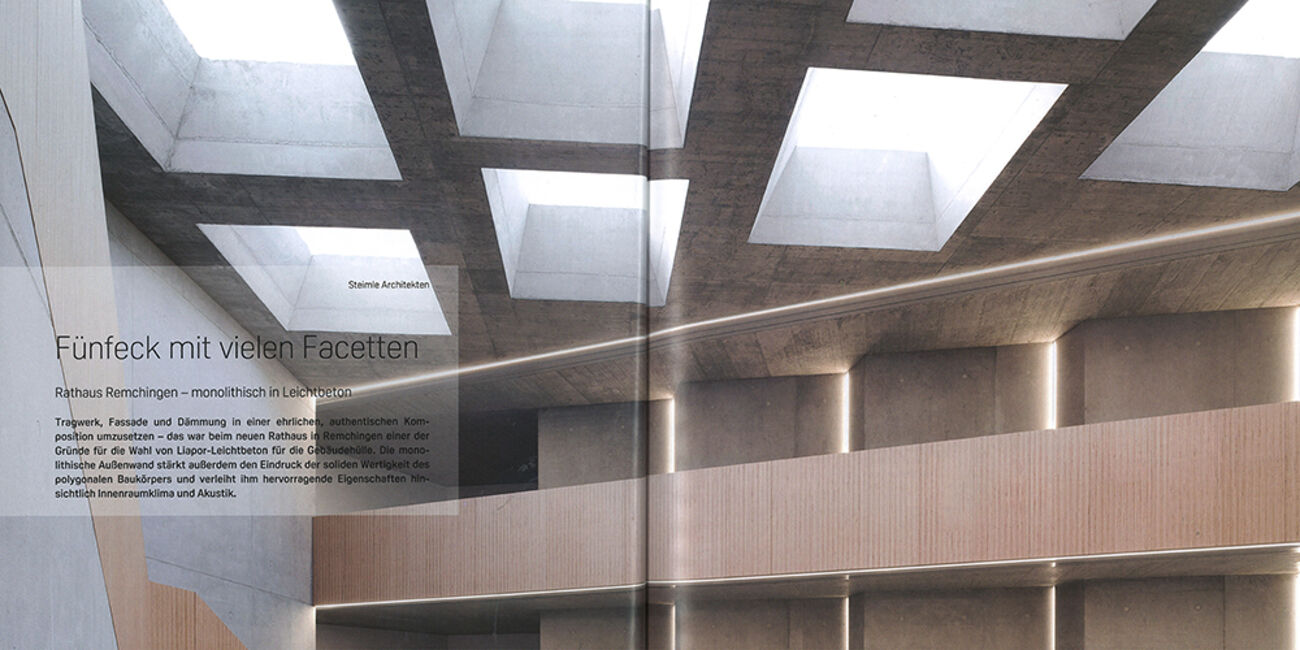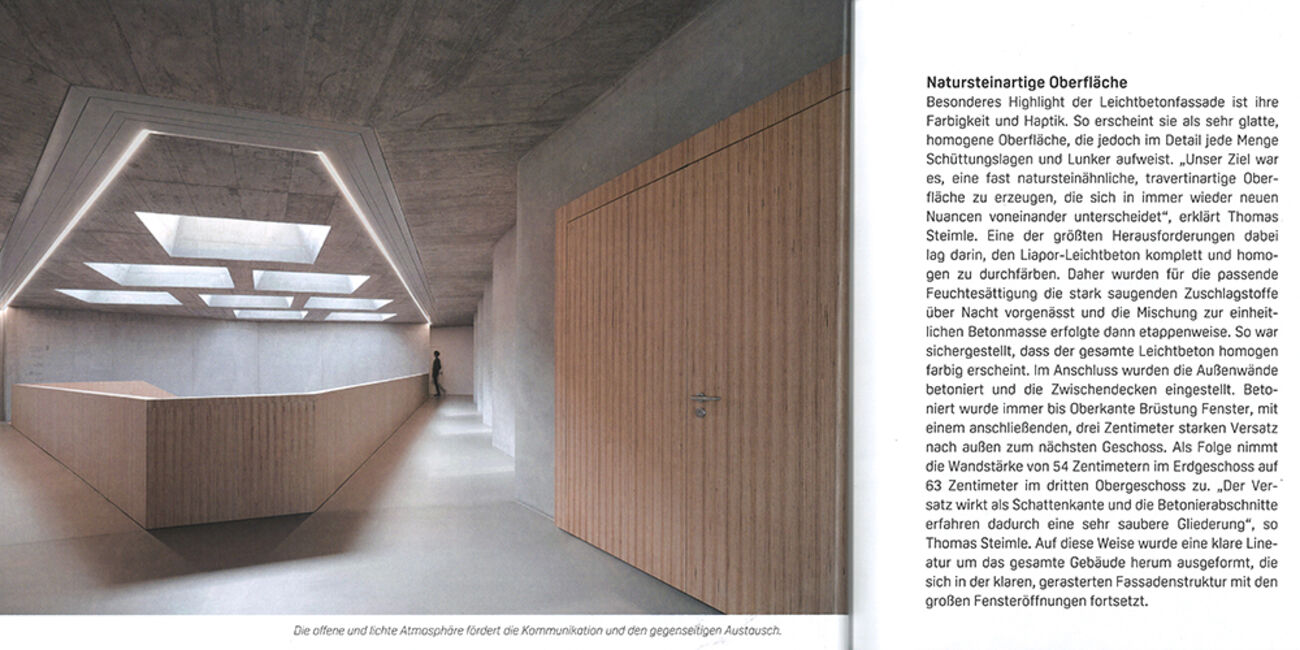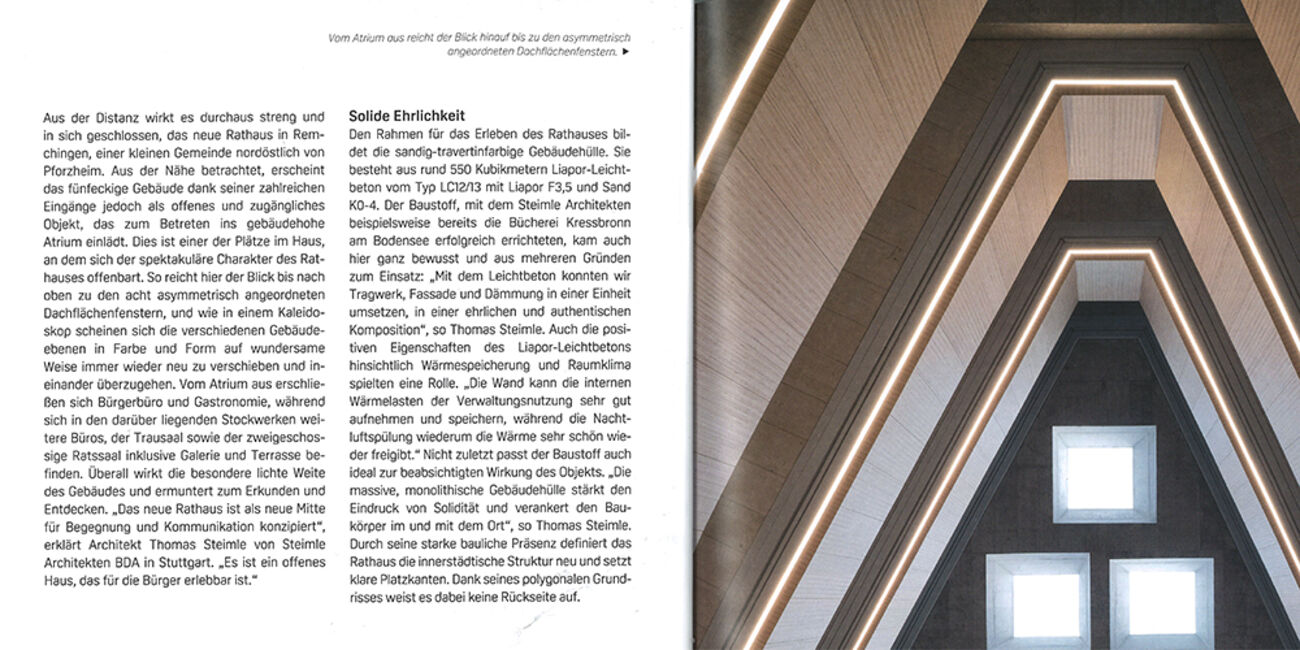 2020-12-23
Rathaus Remchingen in Opus C
In the current issue Opus C Mark Küppers has published with the title "pentagon with many facets" an article about our city hall in Remchingen.
In it, he points out that the new building, "structural framework, facade and insulation in an honest, authentic composition implements"
.

Link to project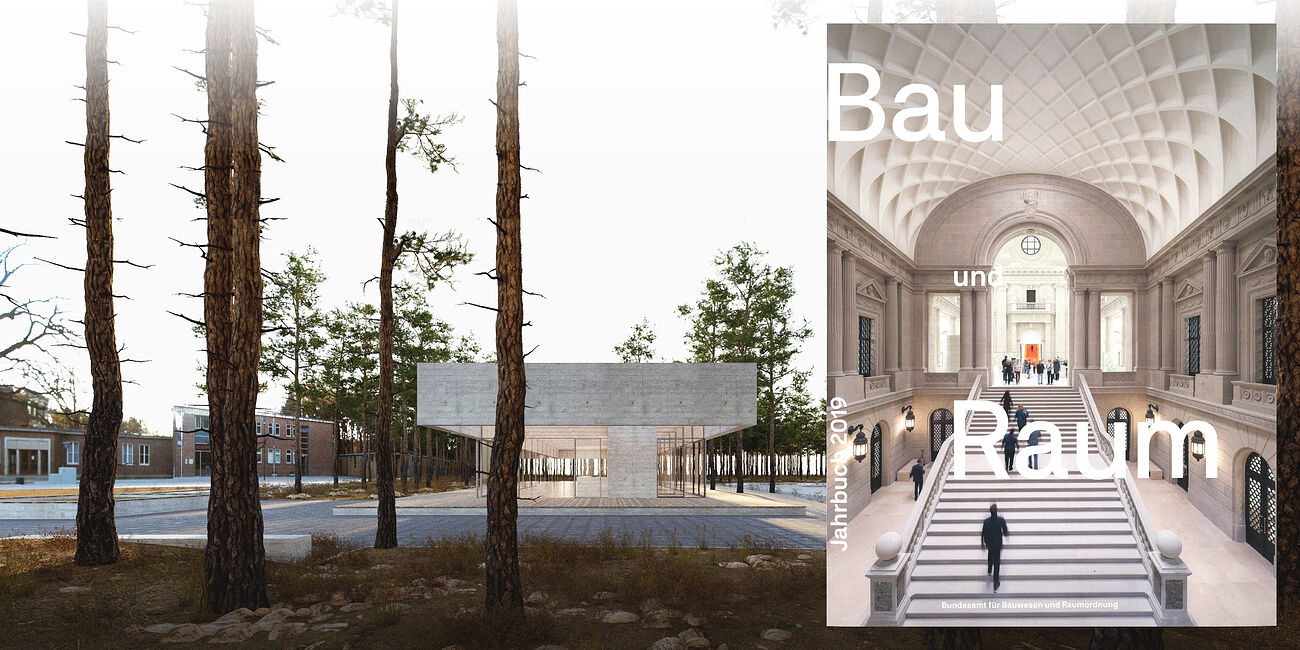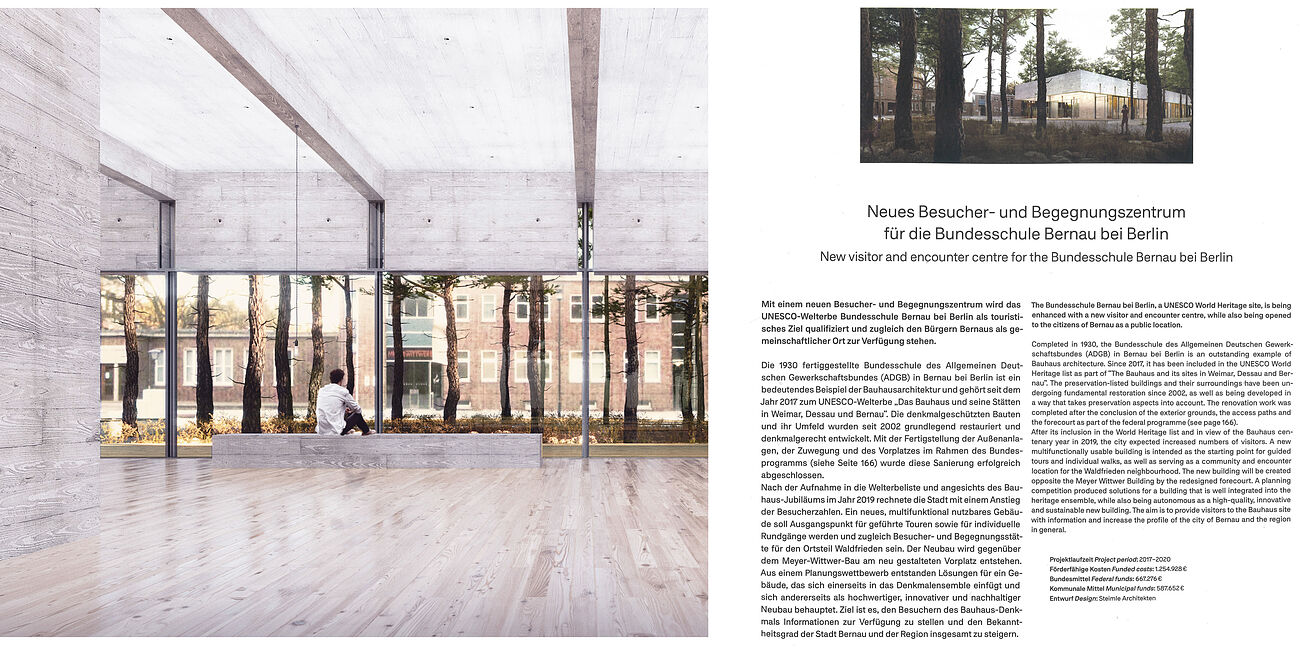 2020-12-11
visitor and encounter centre bernau in Bau und Raum yearbook 2019
In the yearbook of the Federal Office for Building and Regional Planning, the new visitor and meeting center in Bernau is presented as a new part of the world cultural heritage.Construction has already started!

/ ISBN 978-3-87994-264-0
/ Selbsverlag BBR
/ 202 pages / german

Link zum Projekt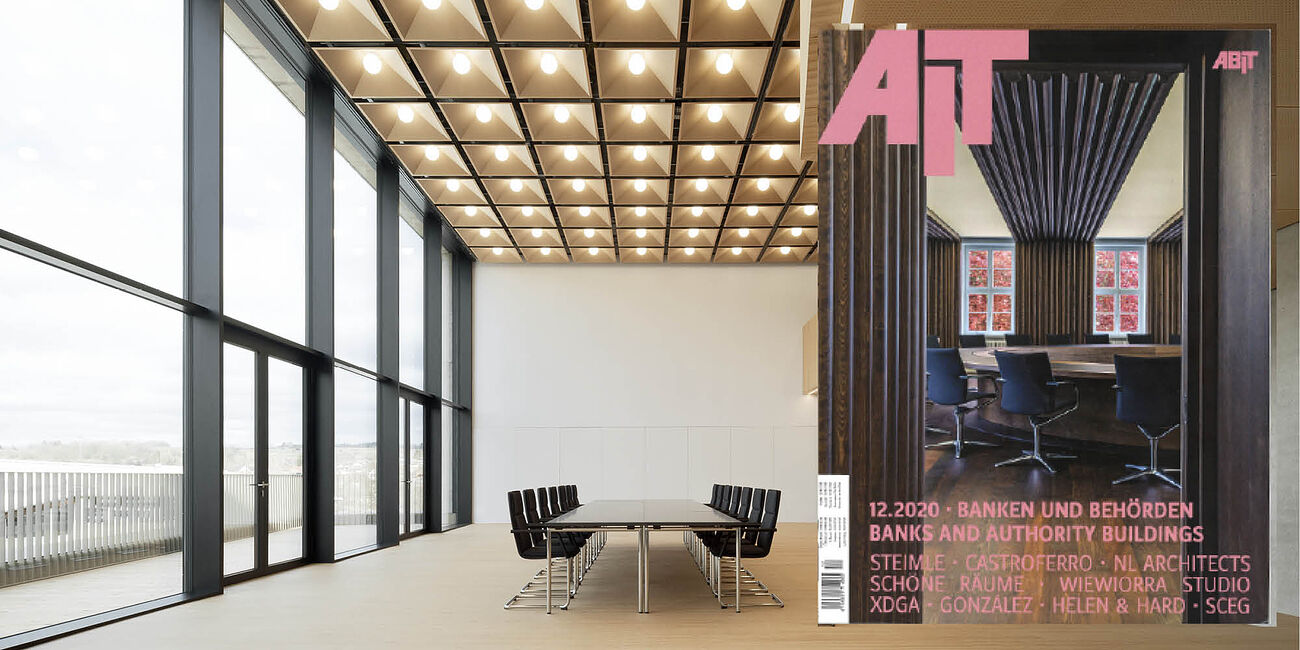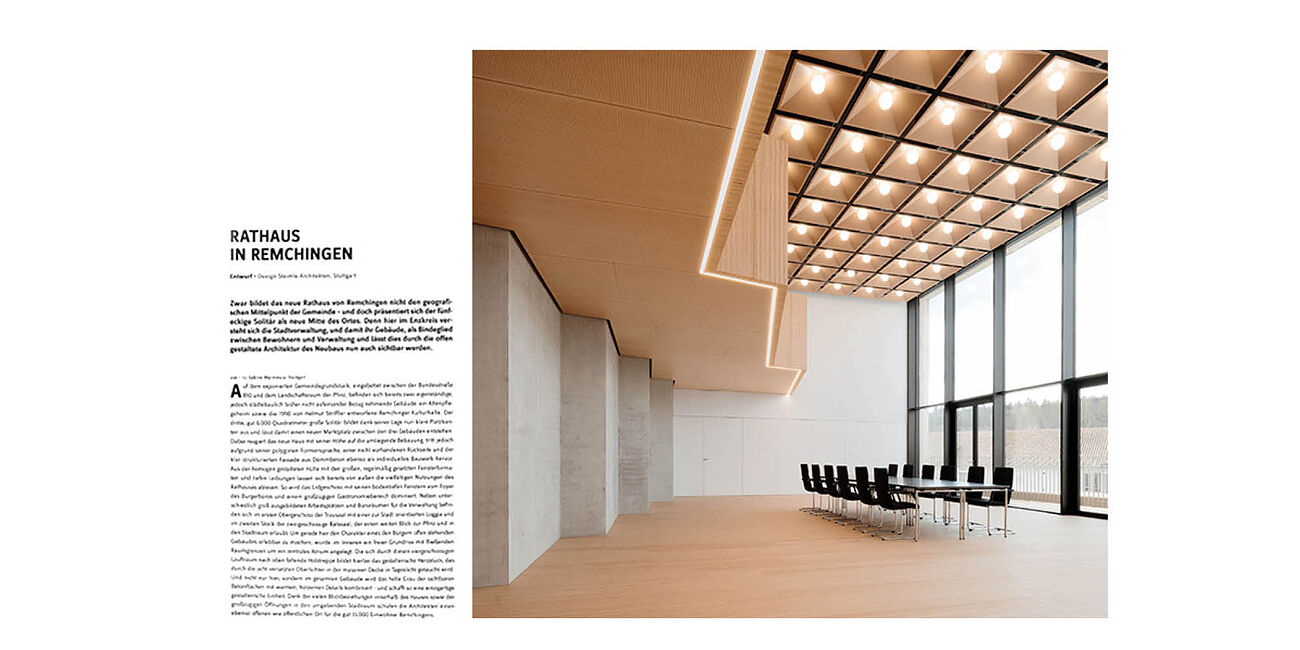 2020-12-04
city hall Remchingen in AIT 12.2020
AIT presents the city hall in Remchingen as a new center and central place for meeting and communication - a building as a link between administration and guarantors.

link to project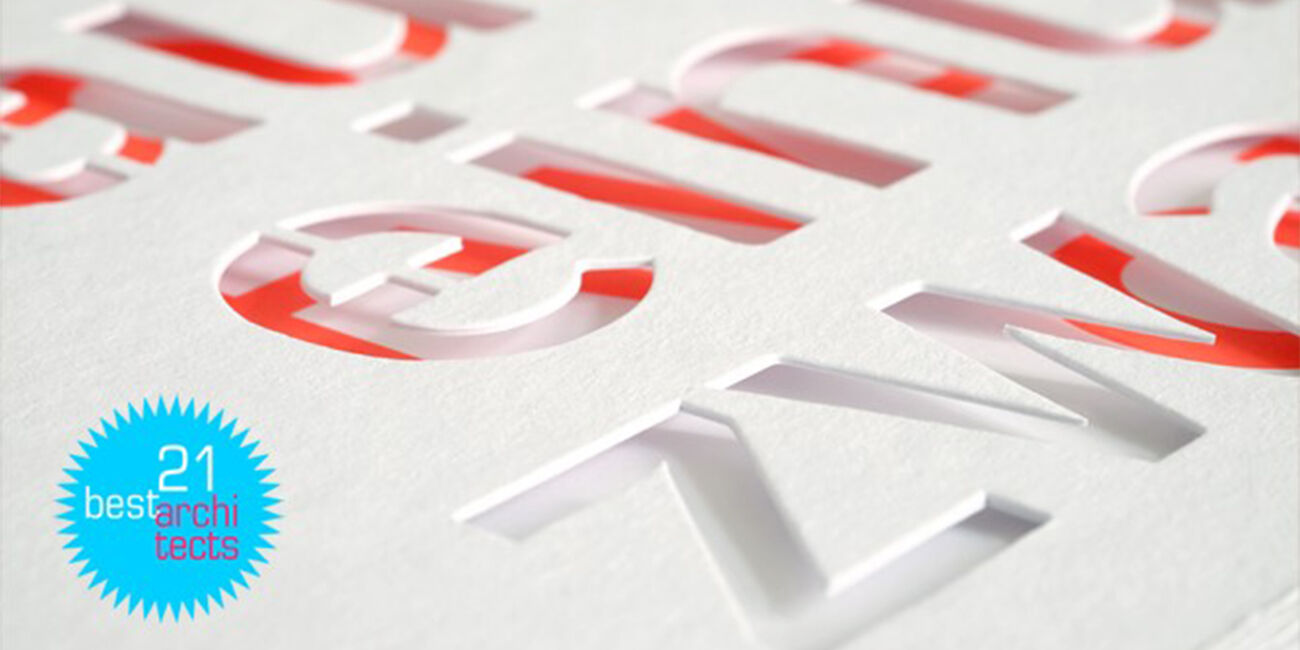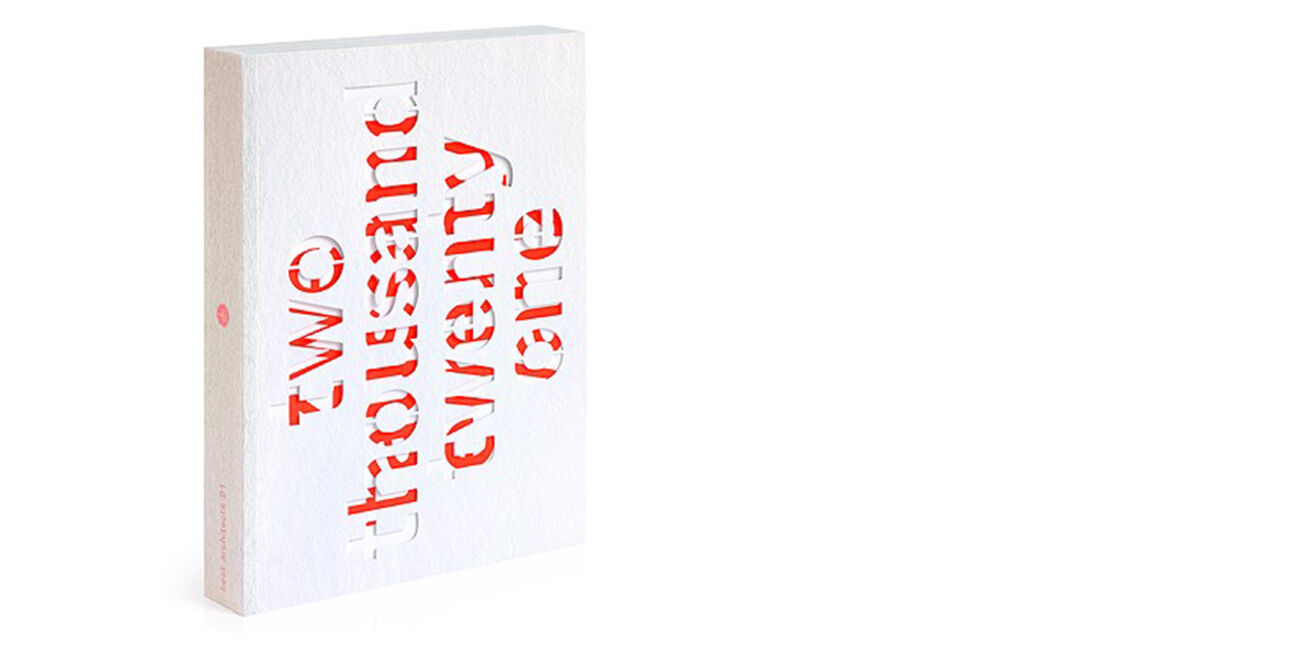 2020-11-23
best architects 2021 - Landratsamt Bad Kissingen in the print edition
best architects represents meanful architecture in all its diversity.
In this year's publication, the Bad Kissingen district office is presented in high-quality print with 90 other excellent projects.

/ ISBN 978-3-946021-05-6
/ Verlag zinnobergruen 2020
/ 78 EUR
/ 448 pages / German

Link to project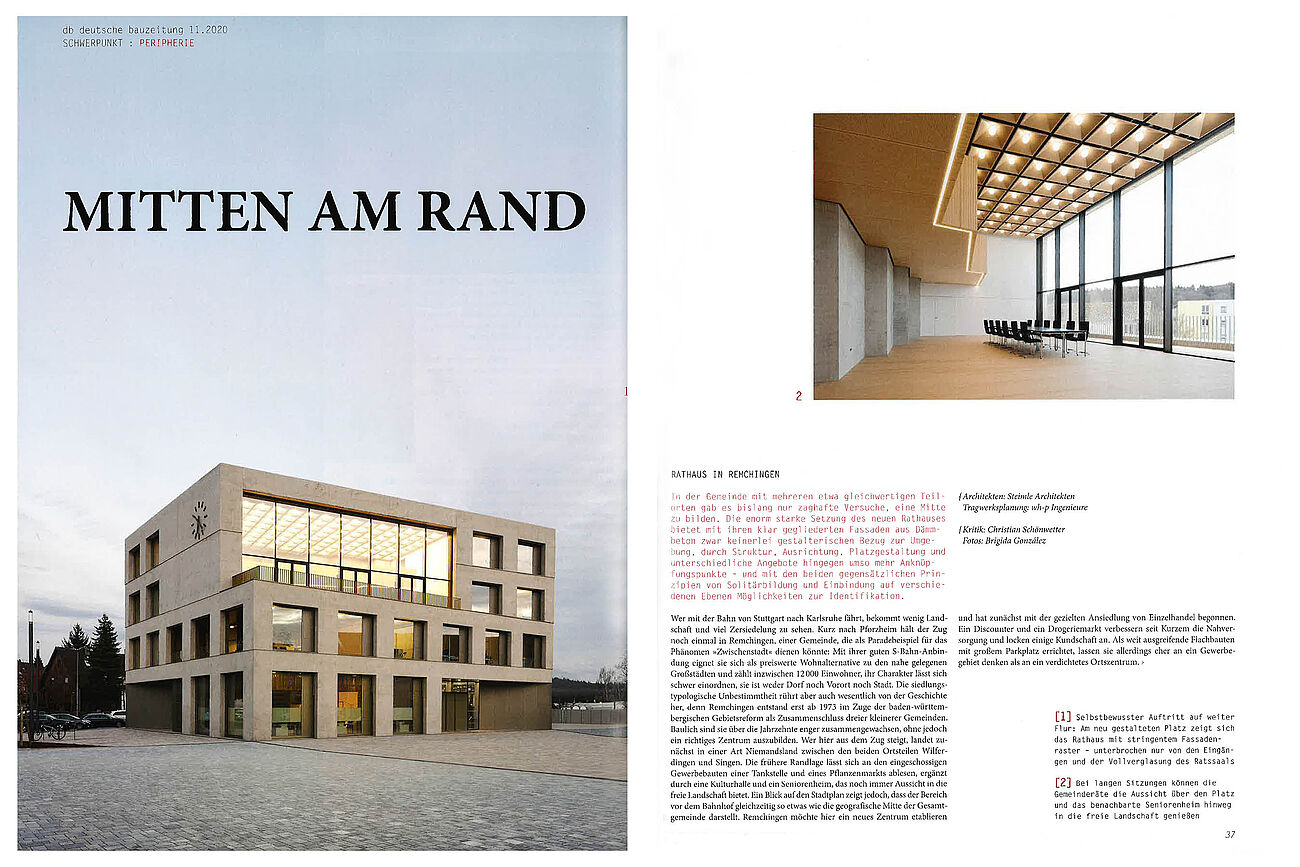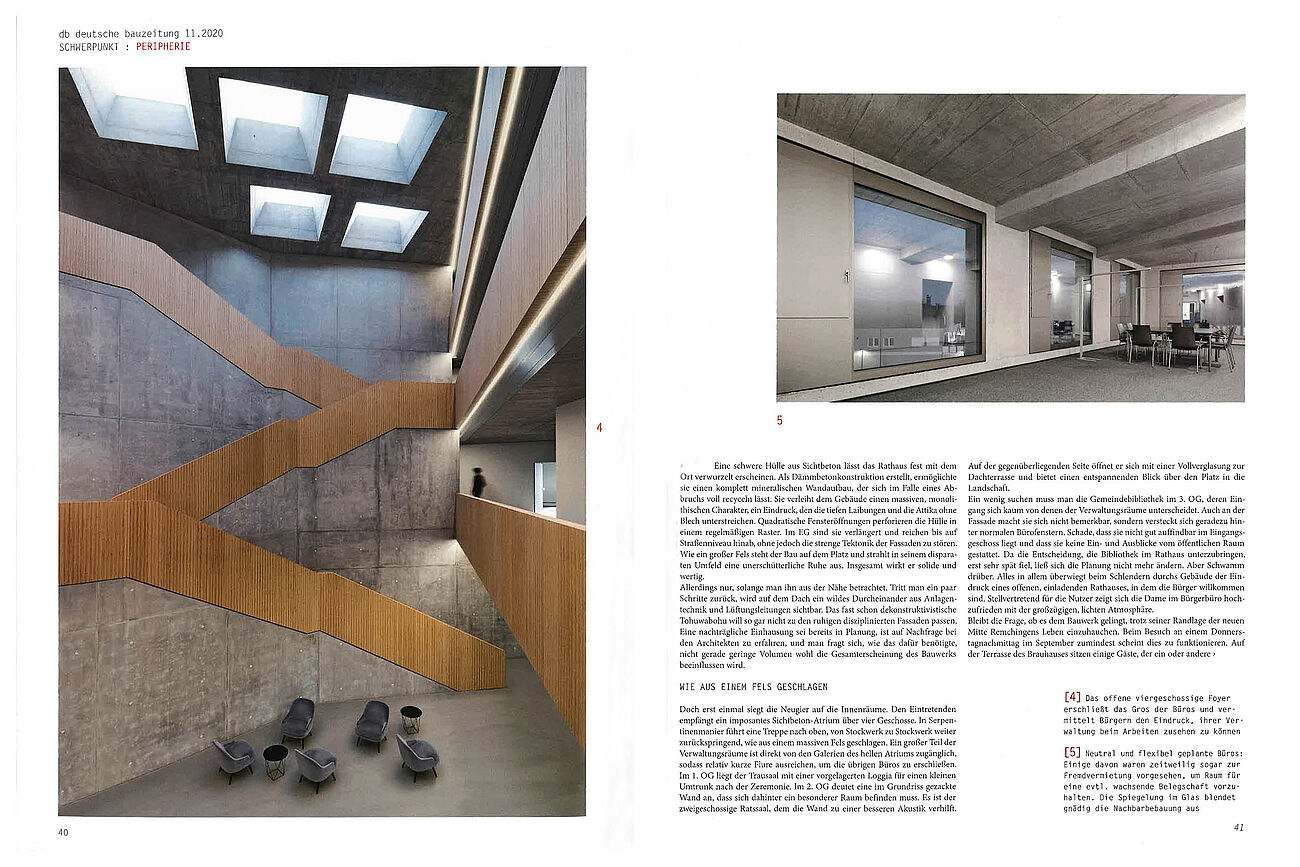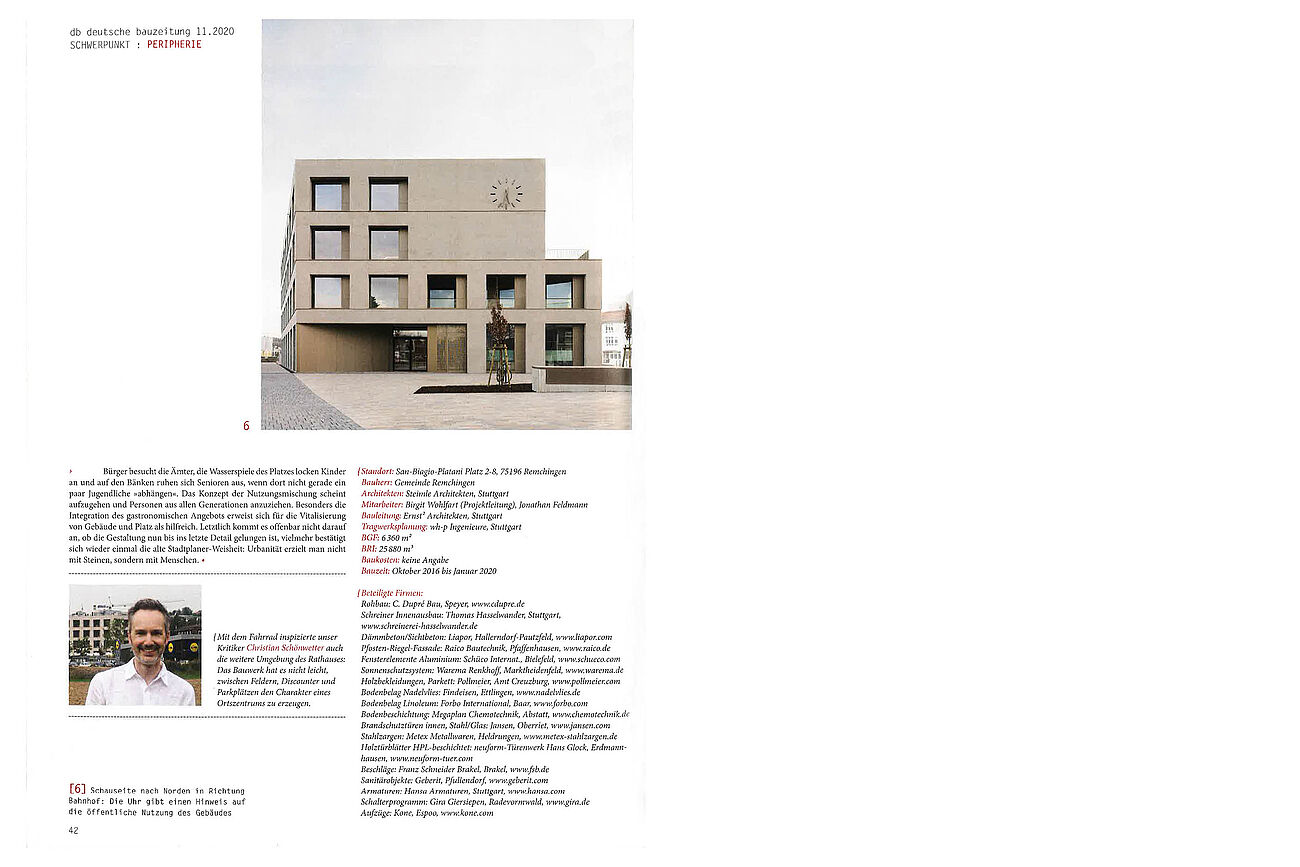 2020-11-10
Remchingen Townhall published in the magazine "db"
The architectural journal "db" published an article by critic Christian Schönwetter about Remchingen town hall.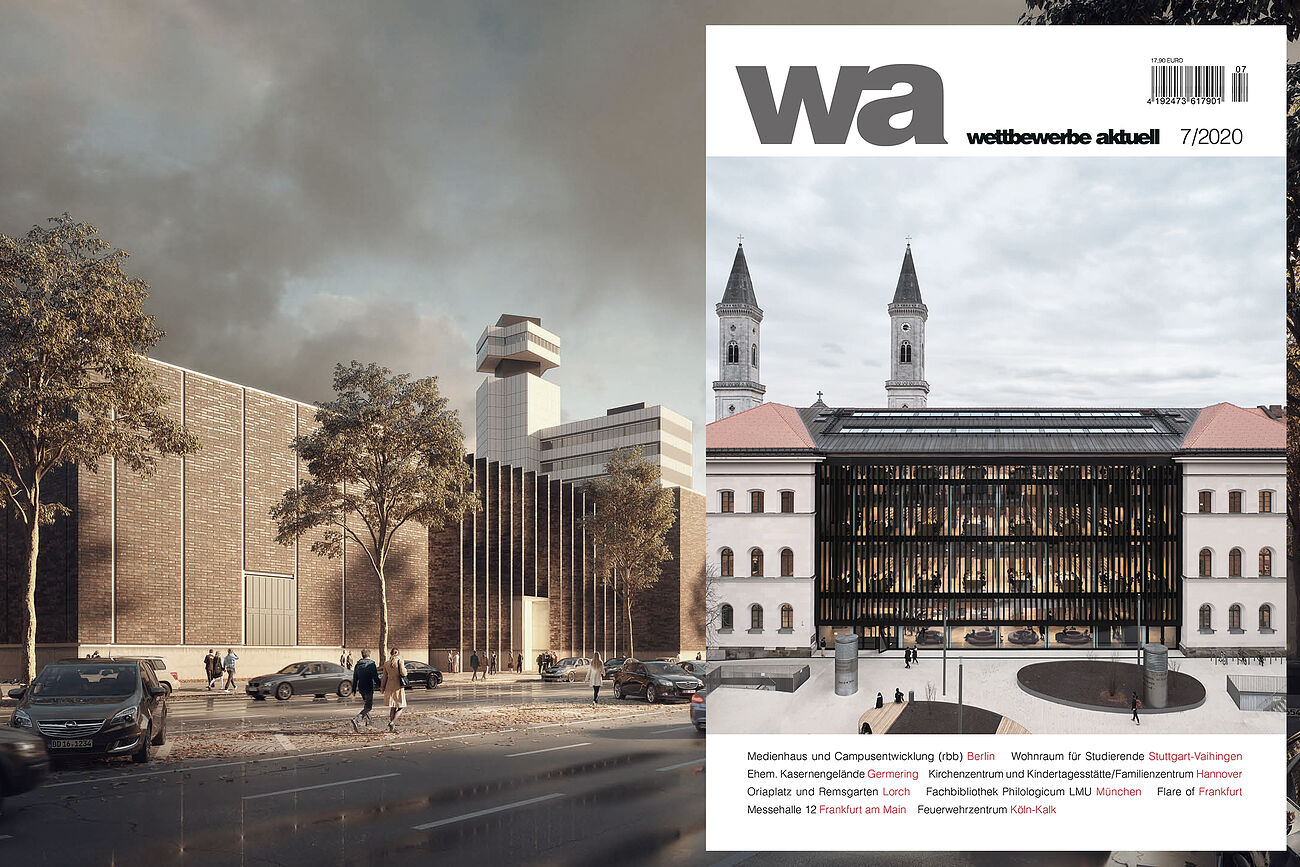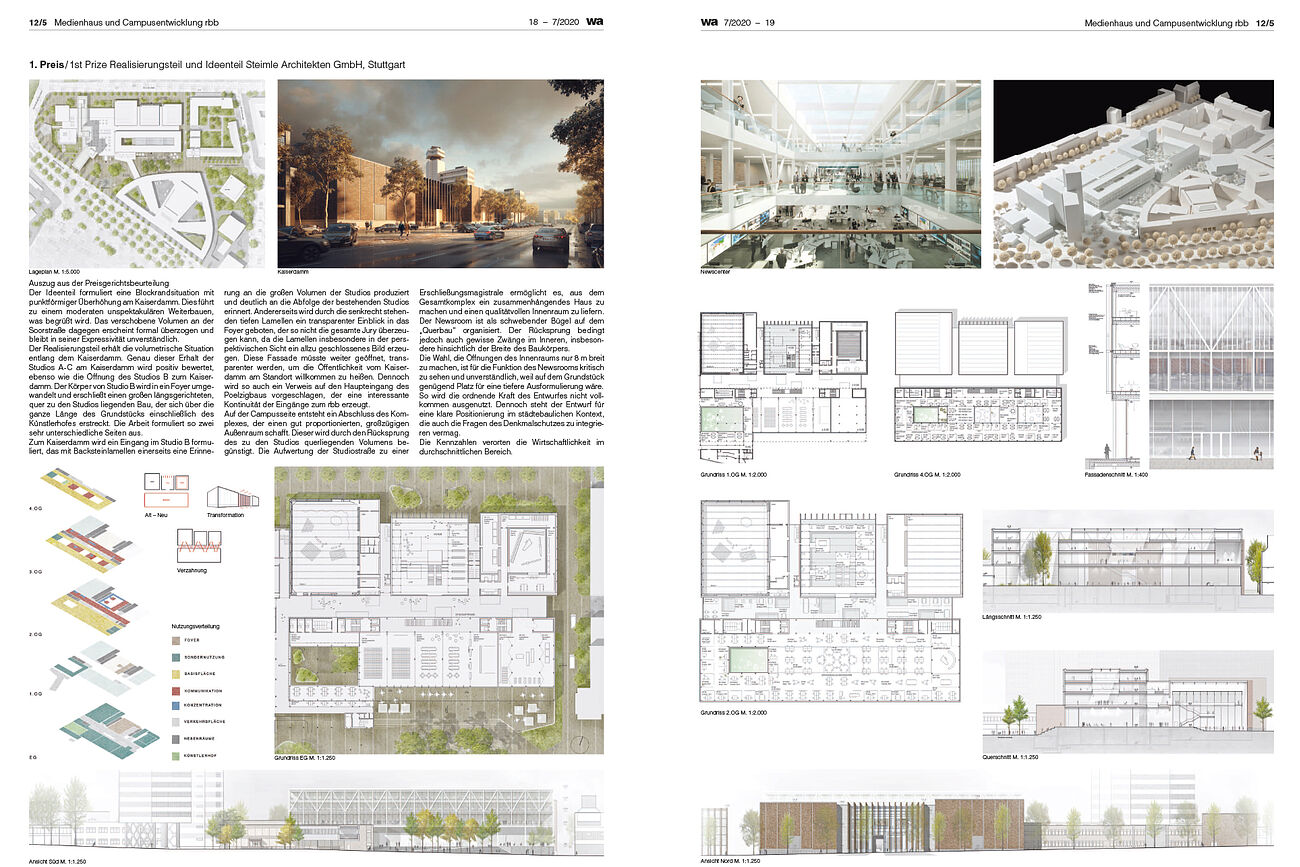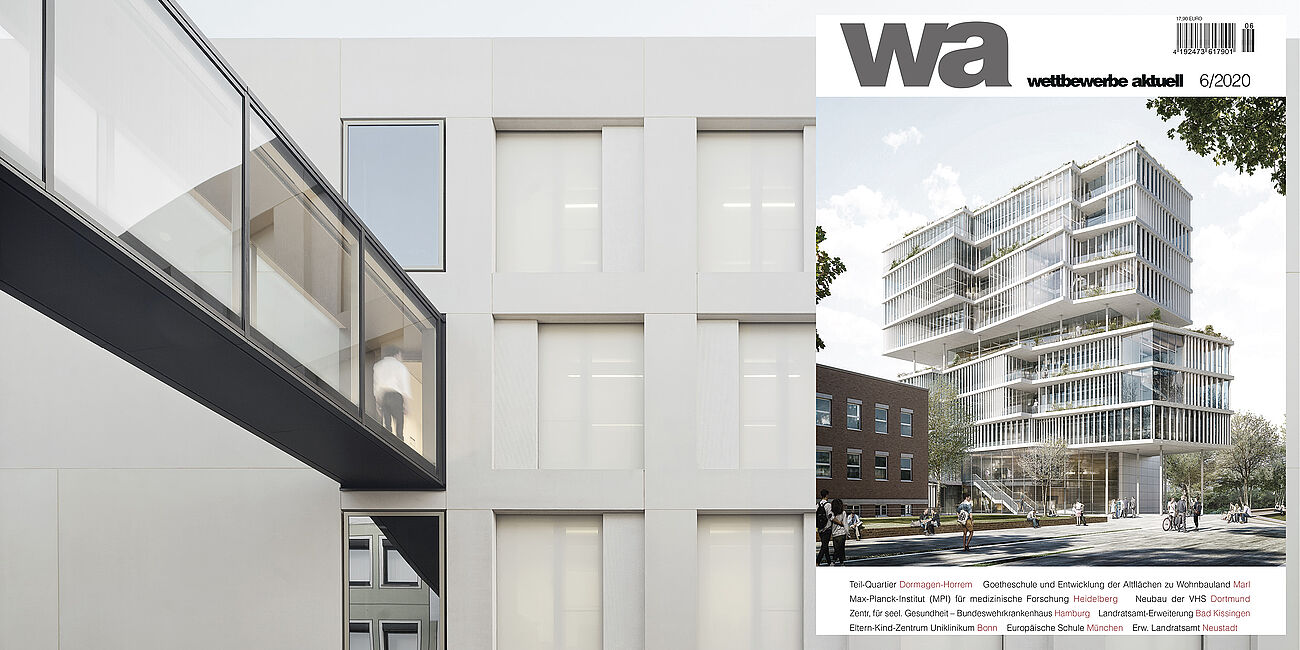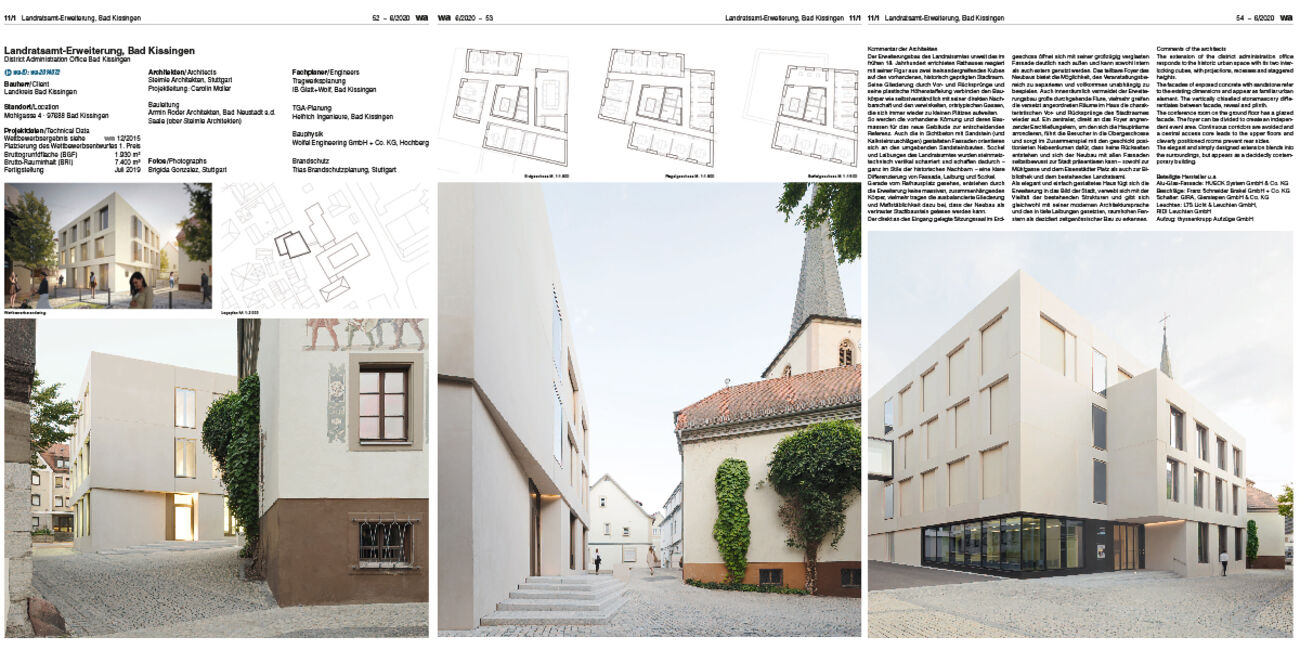 2020-06-01
discrict administration office Bad Kissingen in wa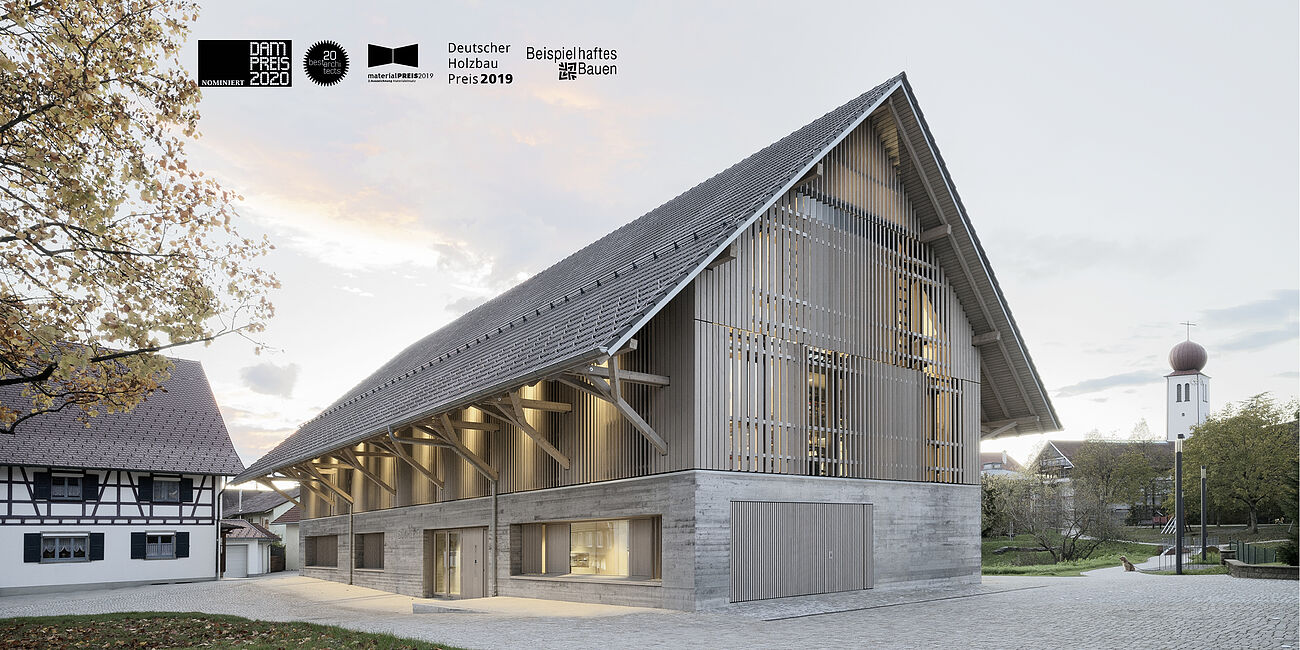 2020-03-19
Library Kressbronn in dezeen
Dezeen is the world's most popular and influential architecture and design magazine, and the winner of numerous awards for journalism and publishing.


Their mission is simple: to bring you a carefully edited selection of the best architecture, design and interiors projects and news from around the world.

link to the article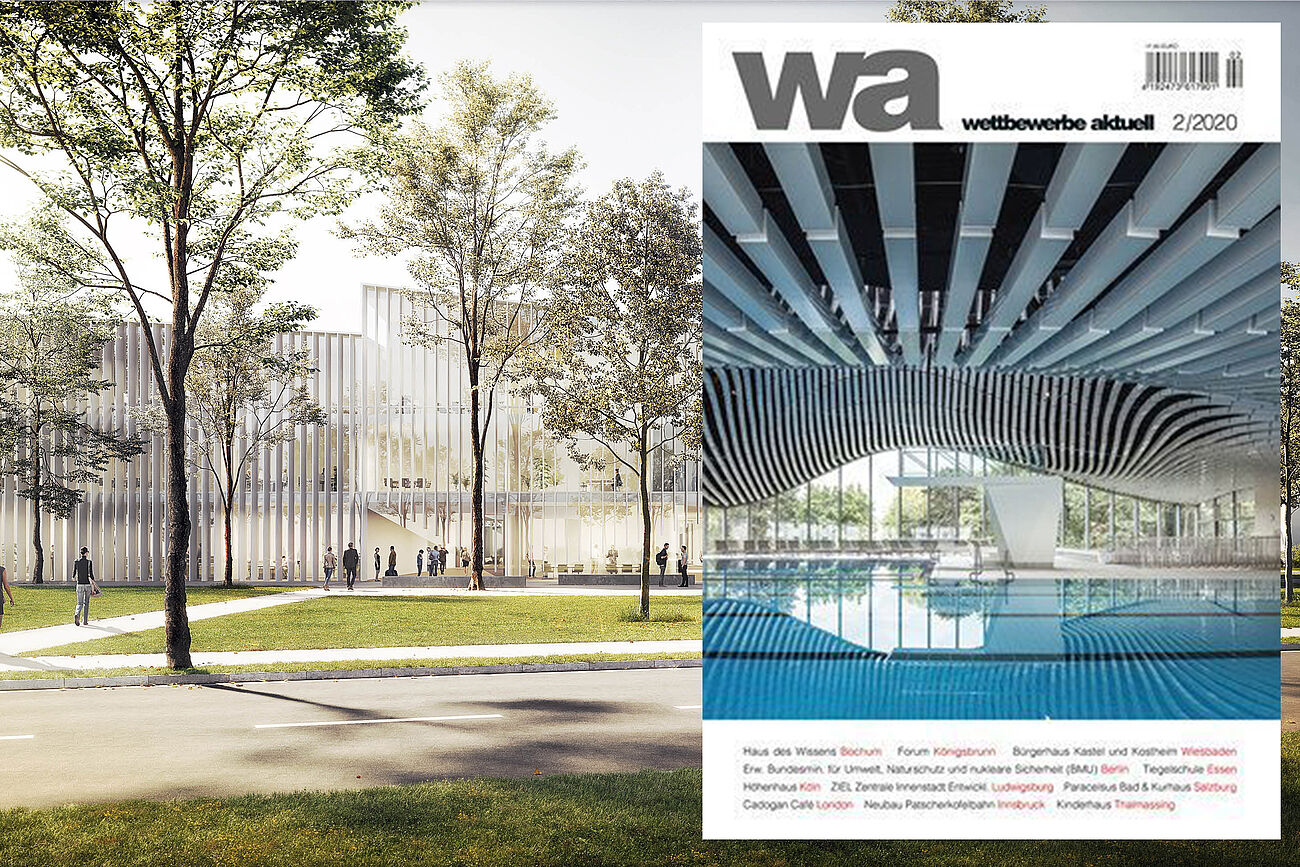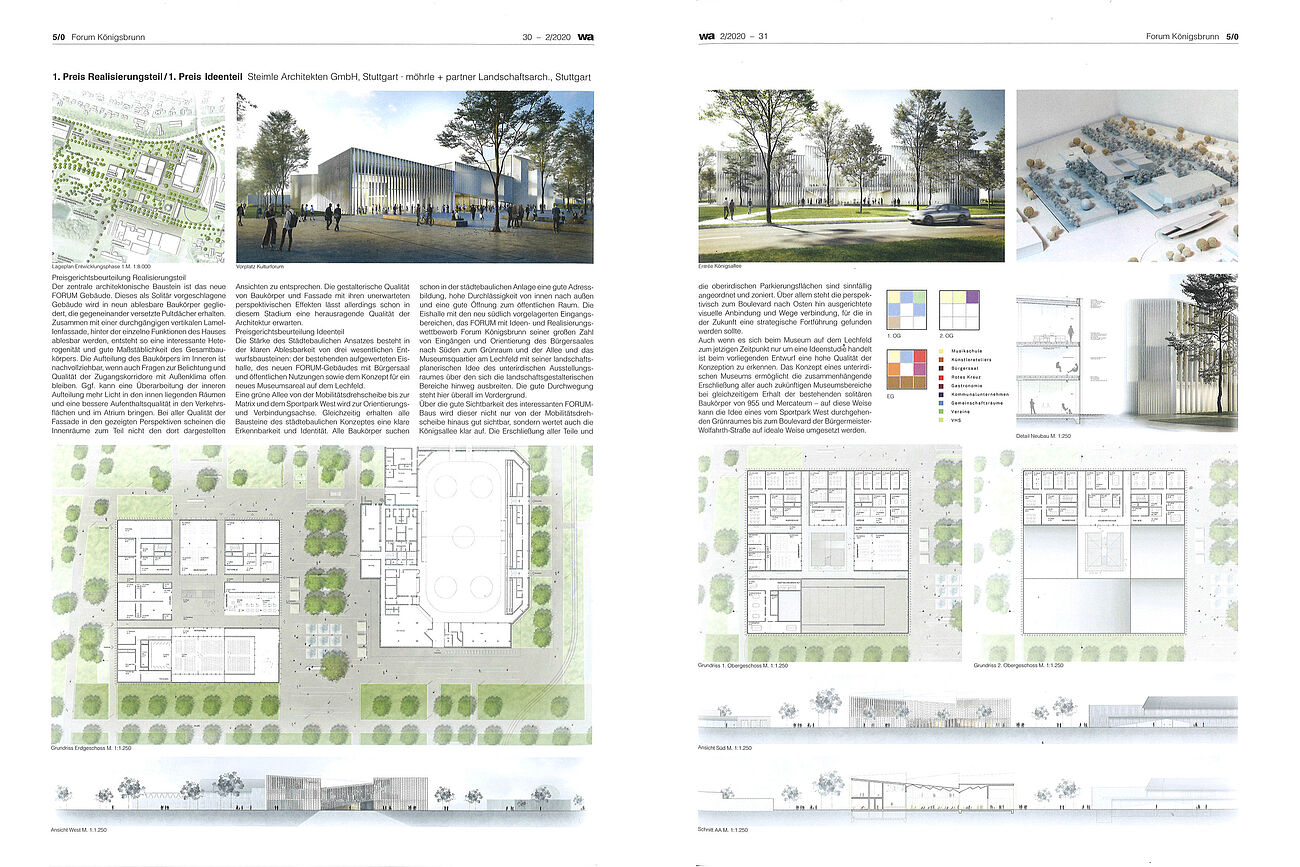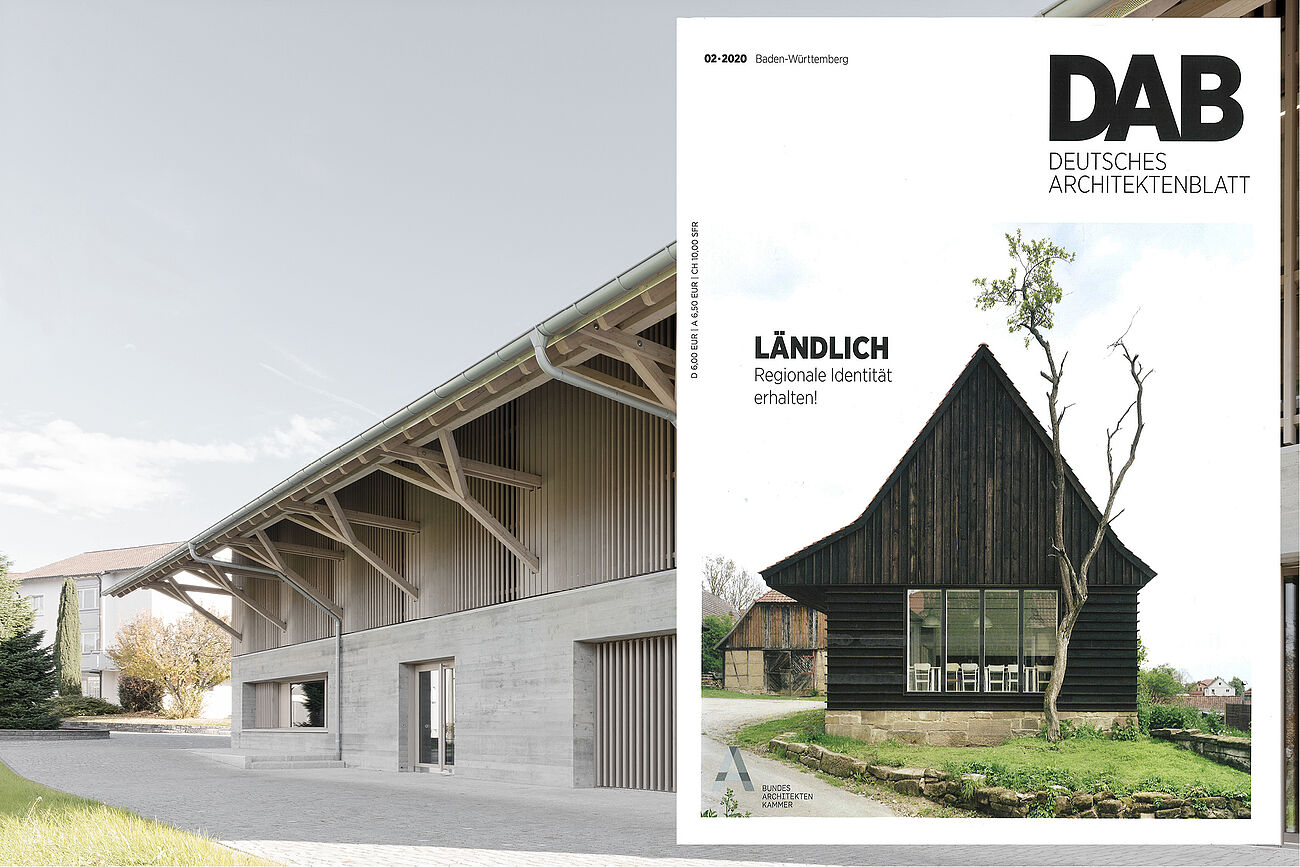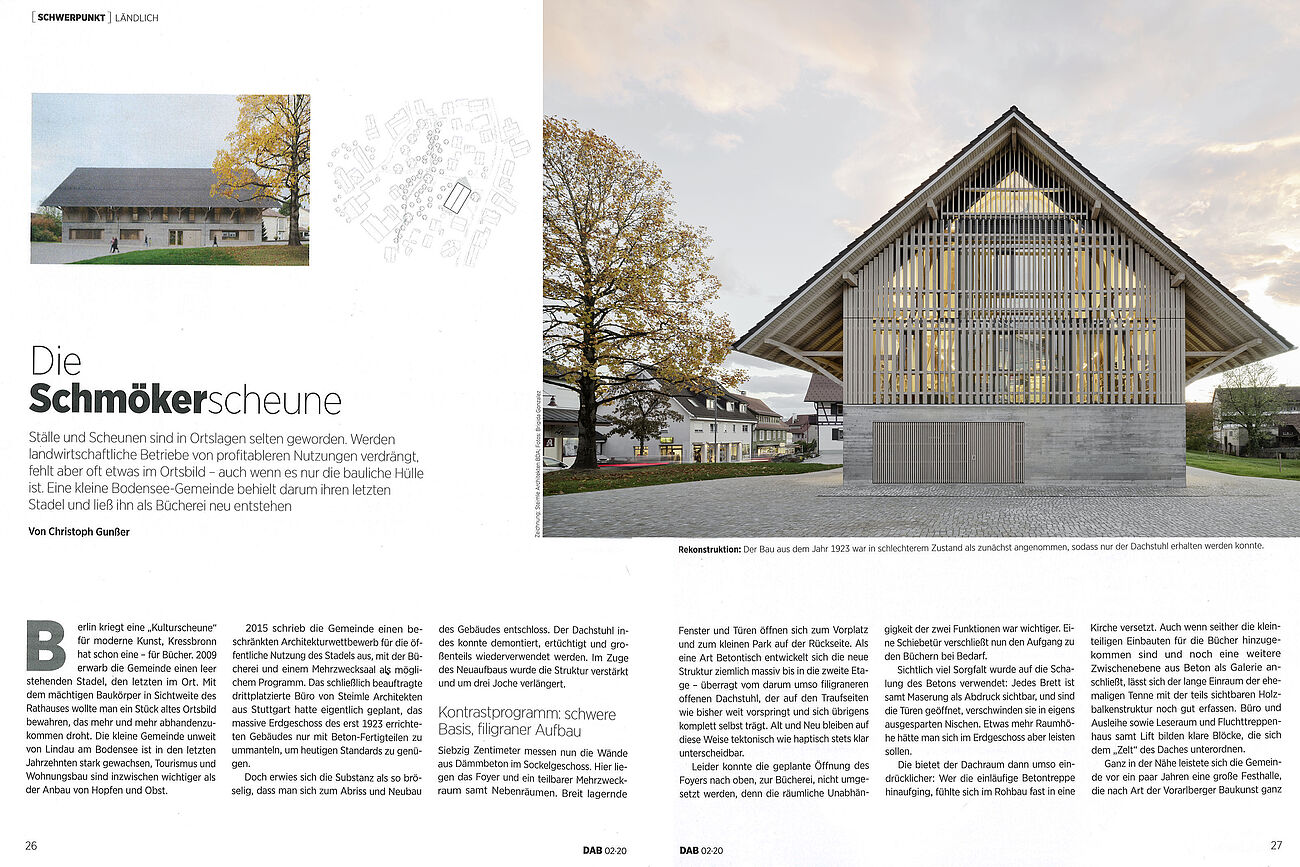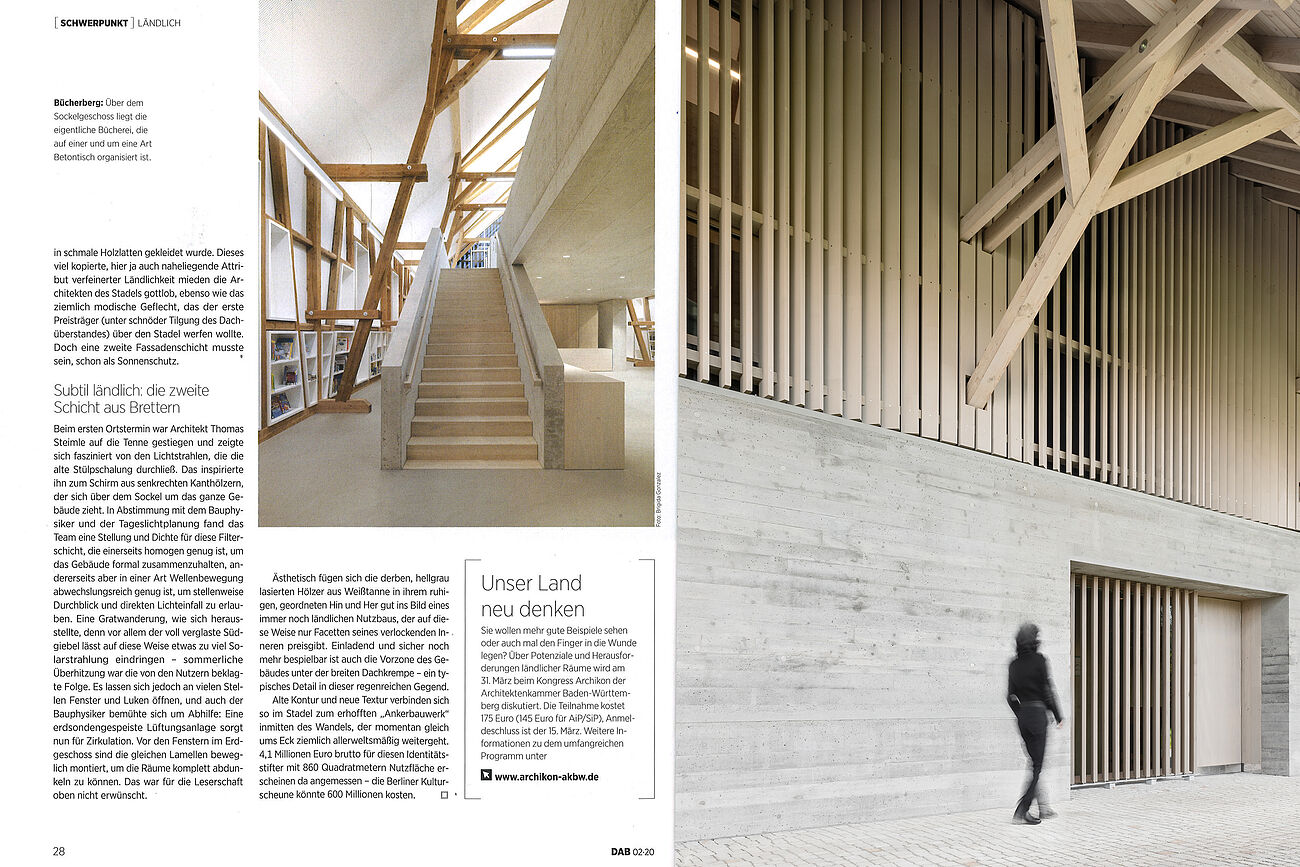 2020-02-01
H11 in DAB 2|20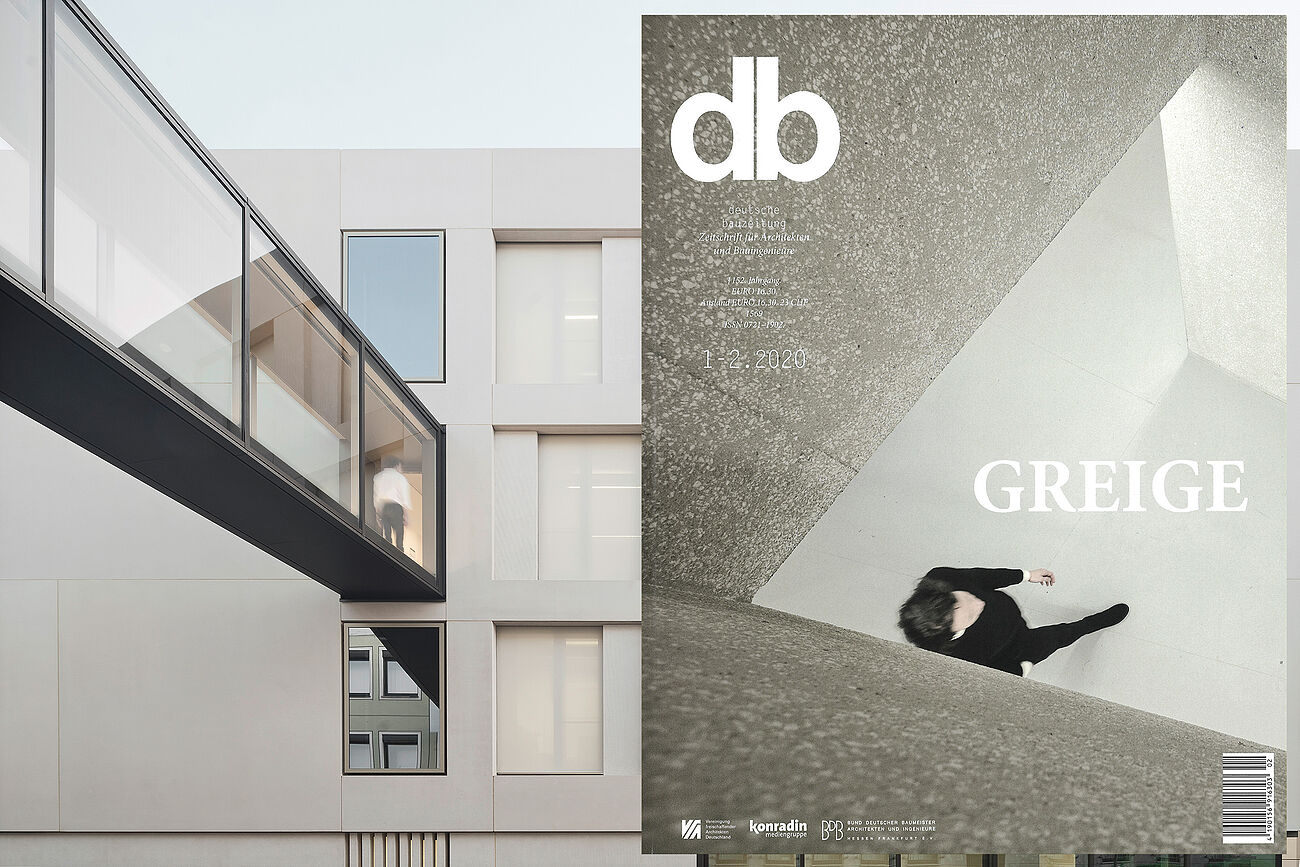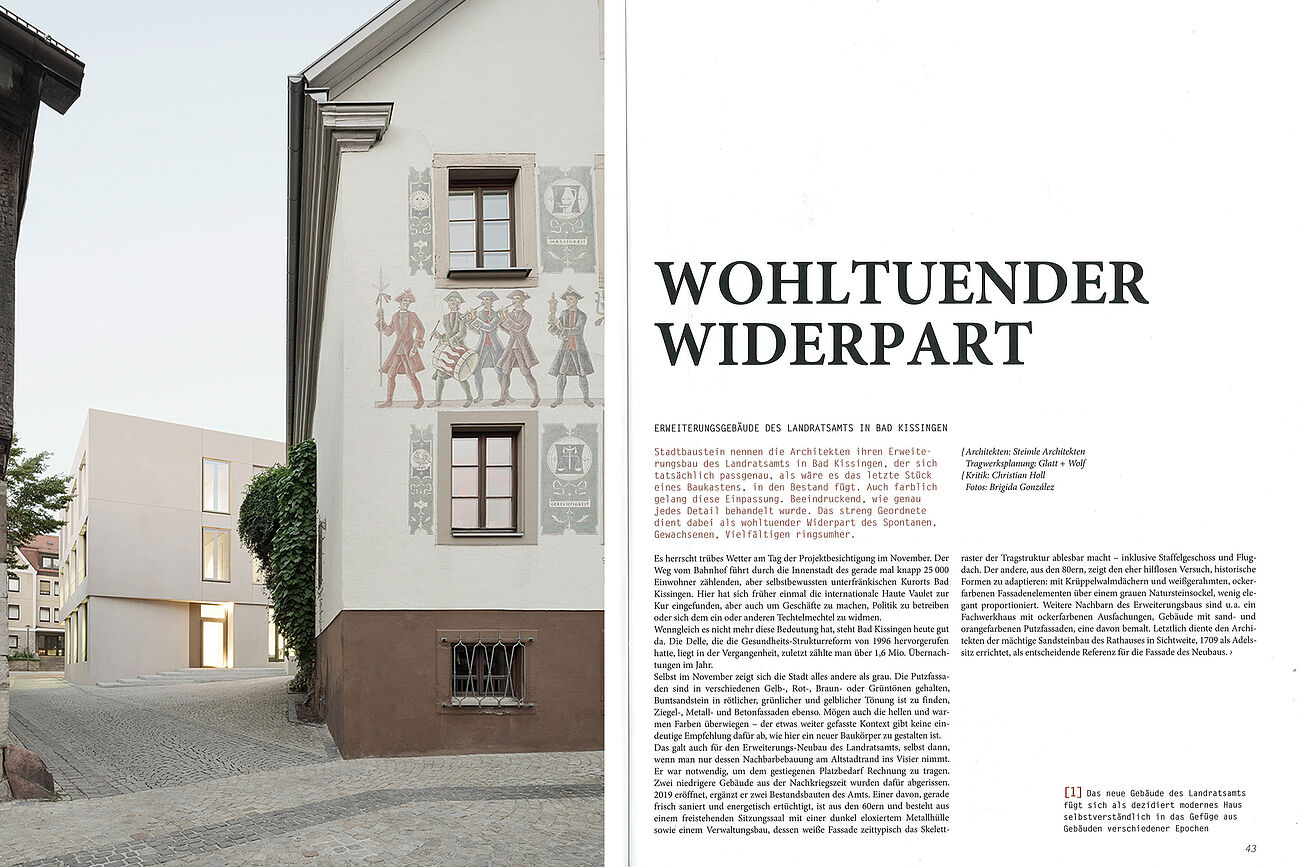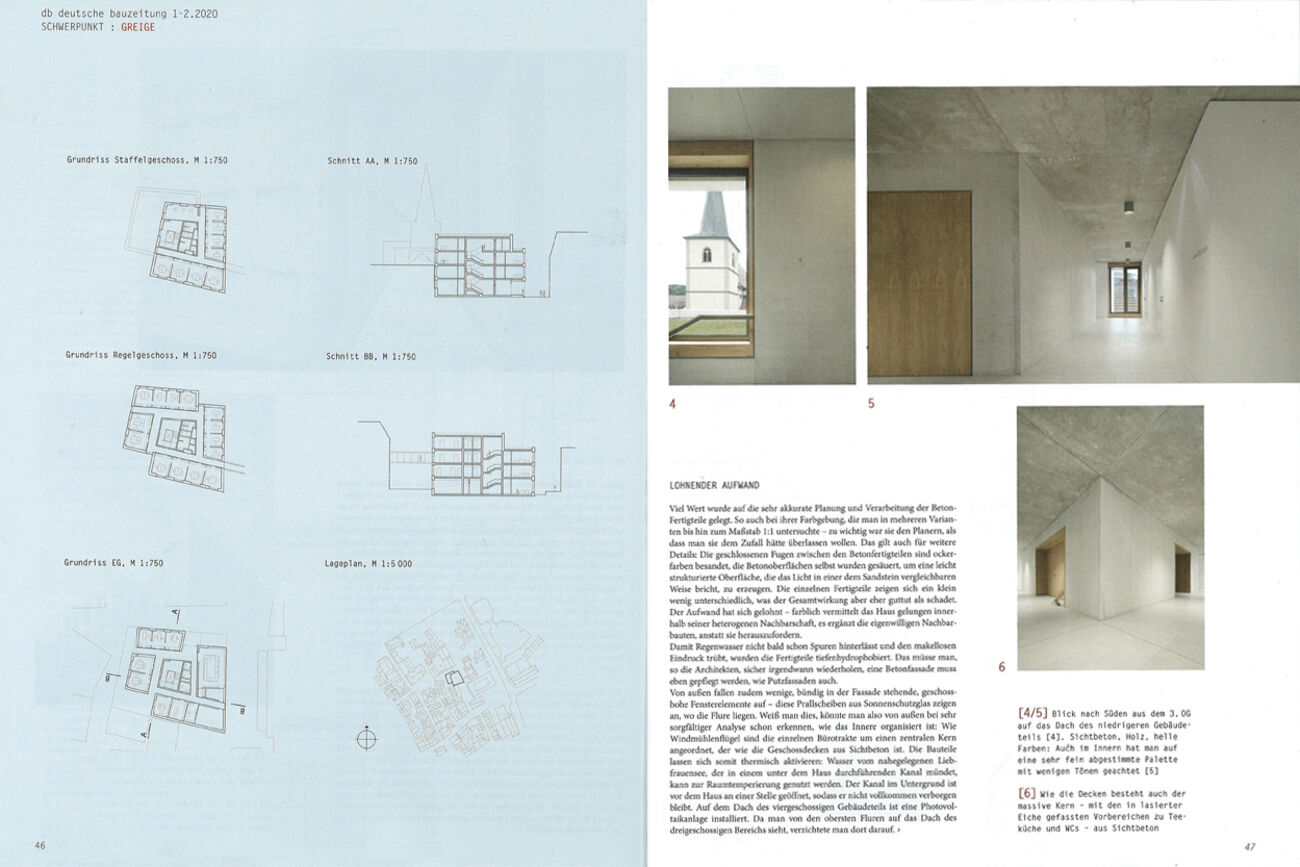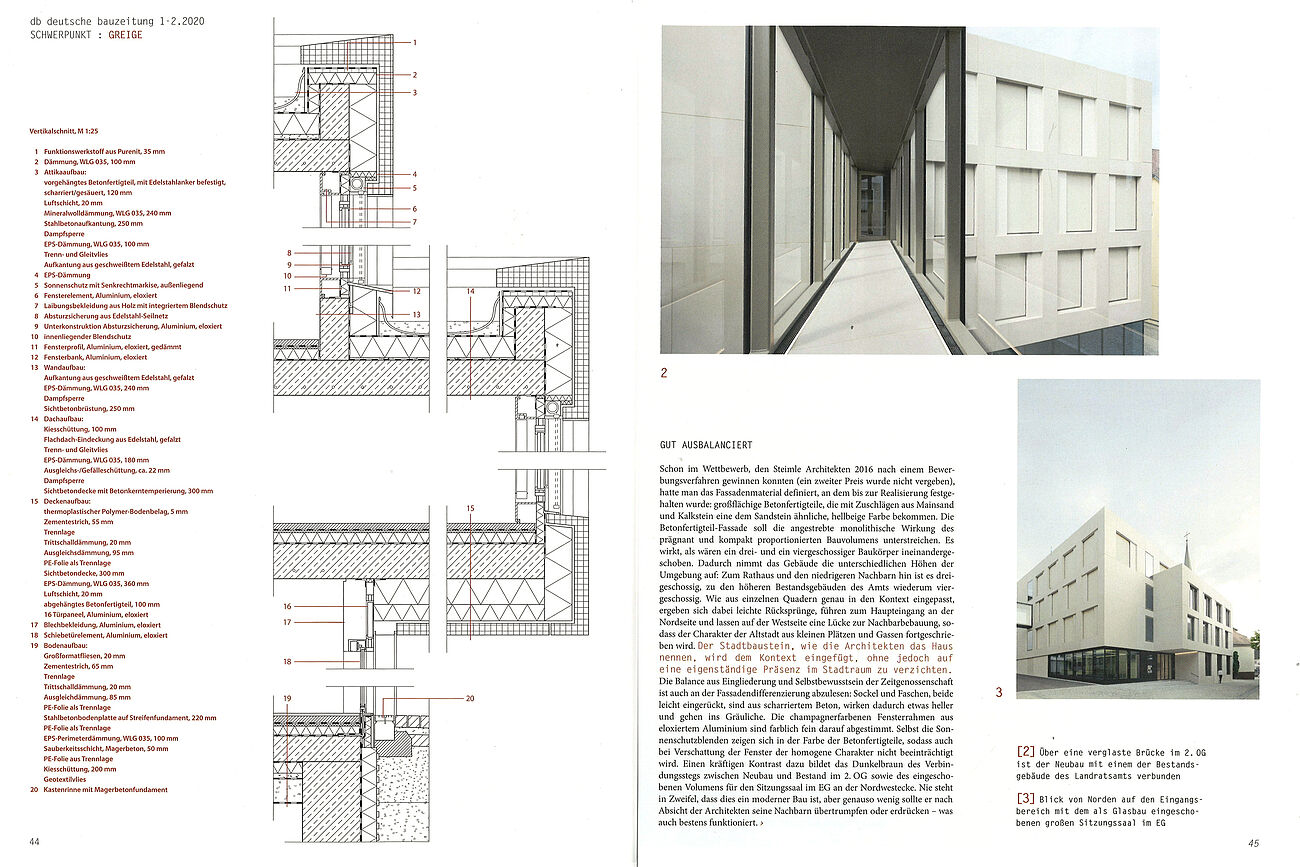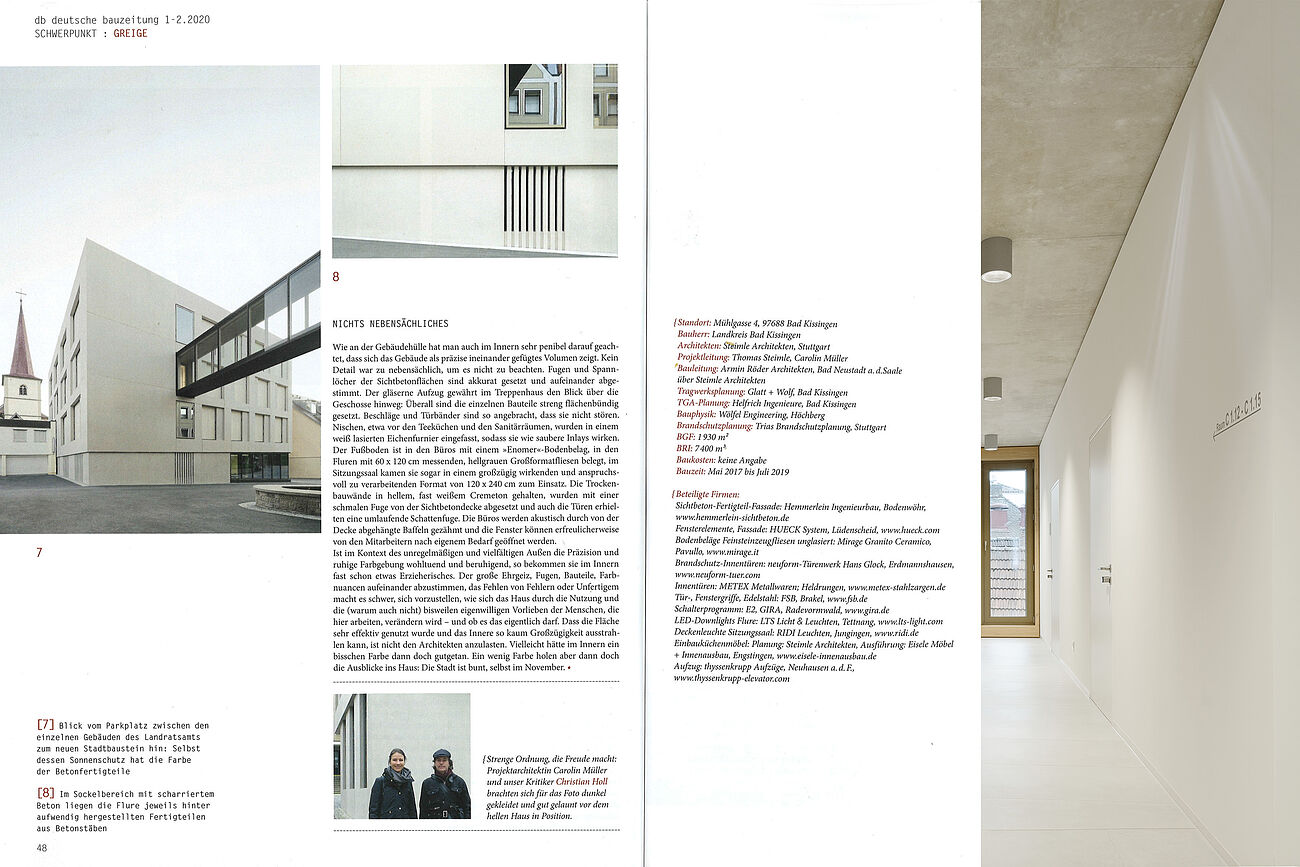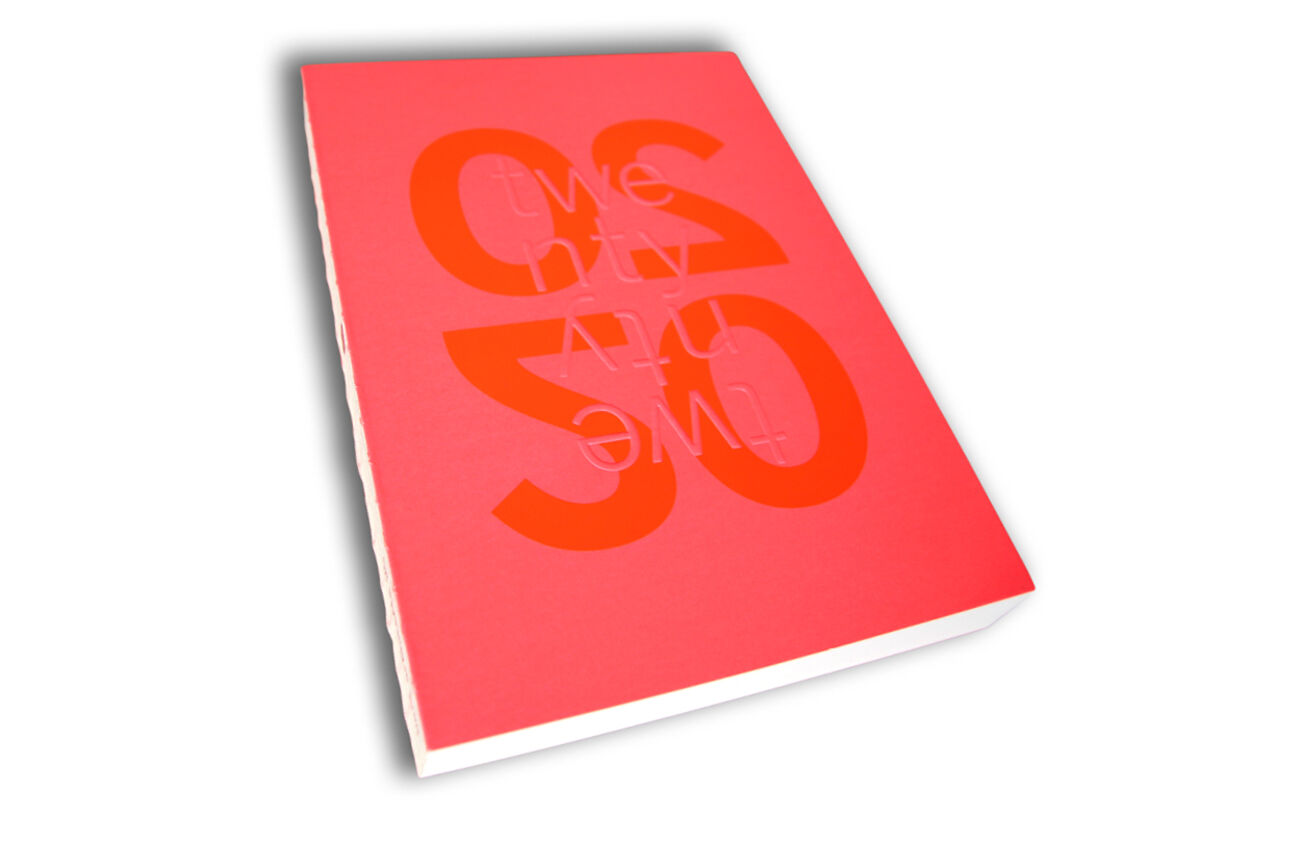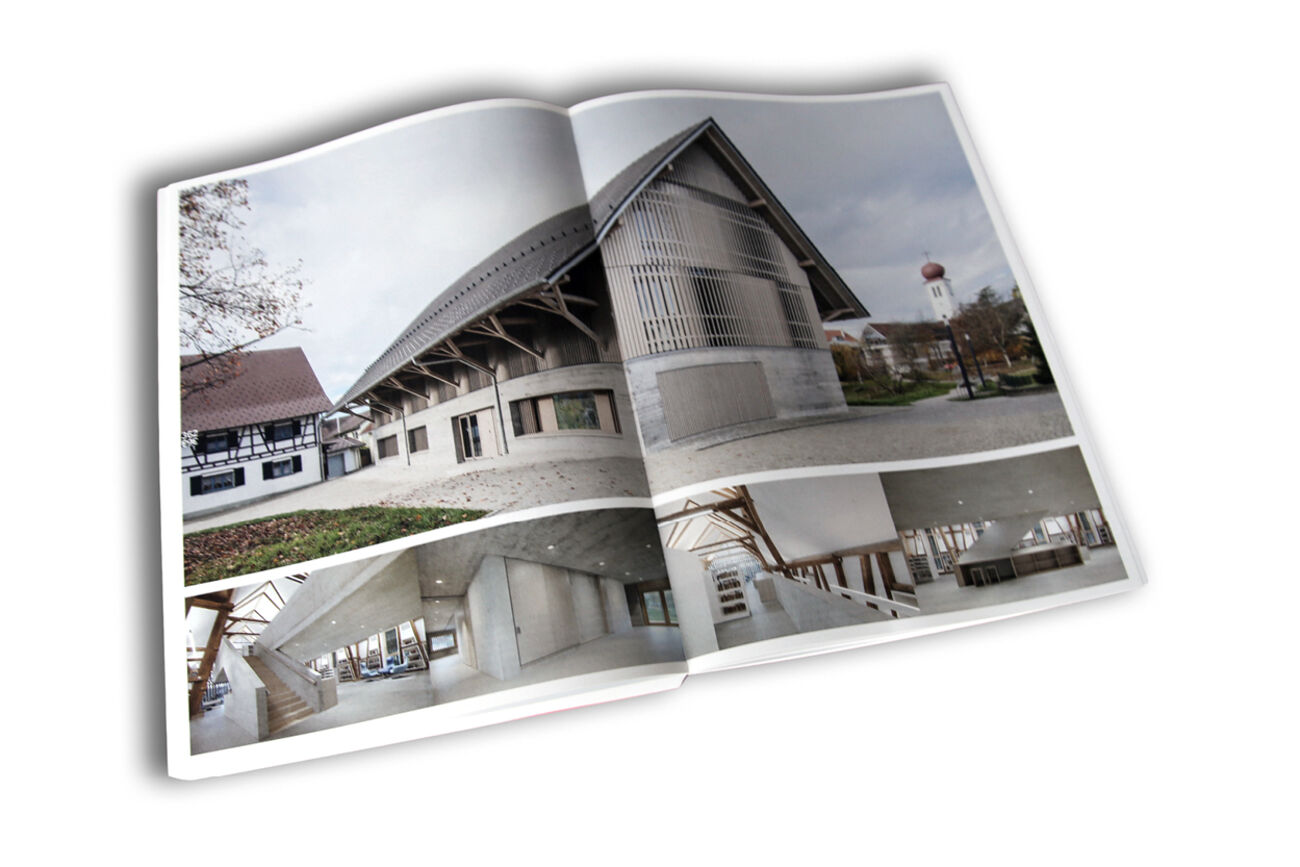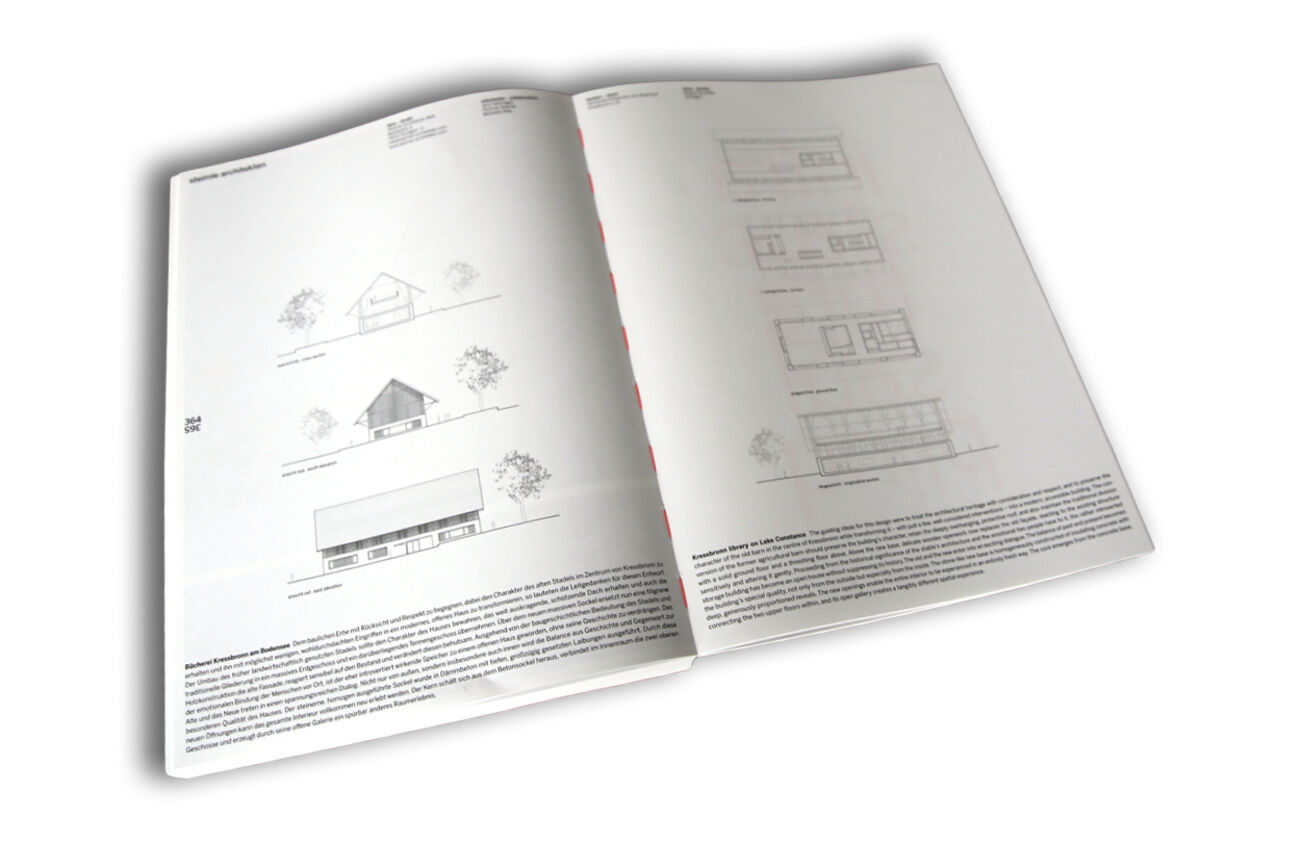 2020-01-01
H11 in Best Architects 2020
the «best architects» in Düsseldorf, led to a selection of outstanding projects that primarily stand out from the masses for their clear and independent approach. They go beyond the mere competence required to fulfil their brief. They have not chosen the path of least resistance. They declare themselves without requiring lengthy explanations. They demonstrate courage in discovering the new and they intelligently look for loopholes to allow innovation to come to the fore. Each of them, in their own way, thus makes an unmistakable and distinct contribution to building culture.
Ünal Karamuk · Jury best architects 20

link to the project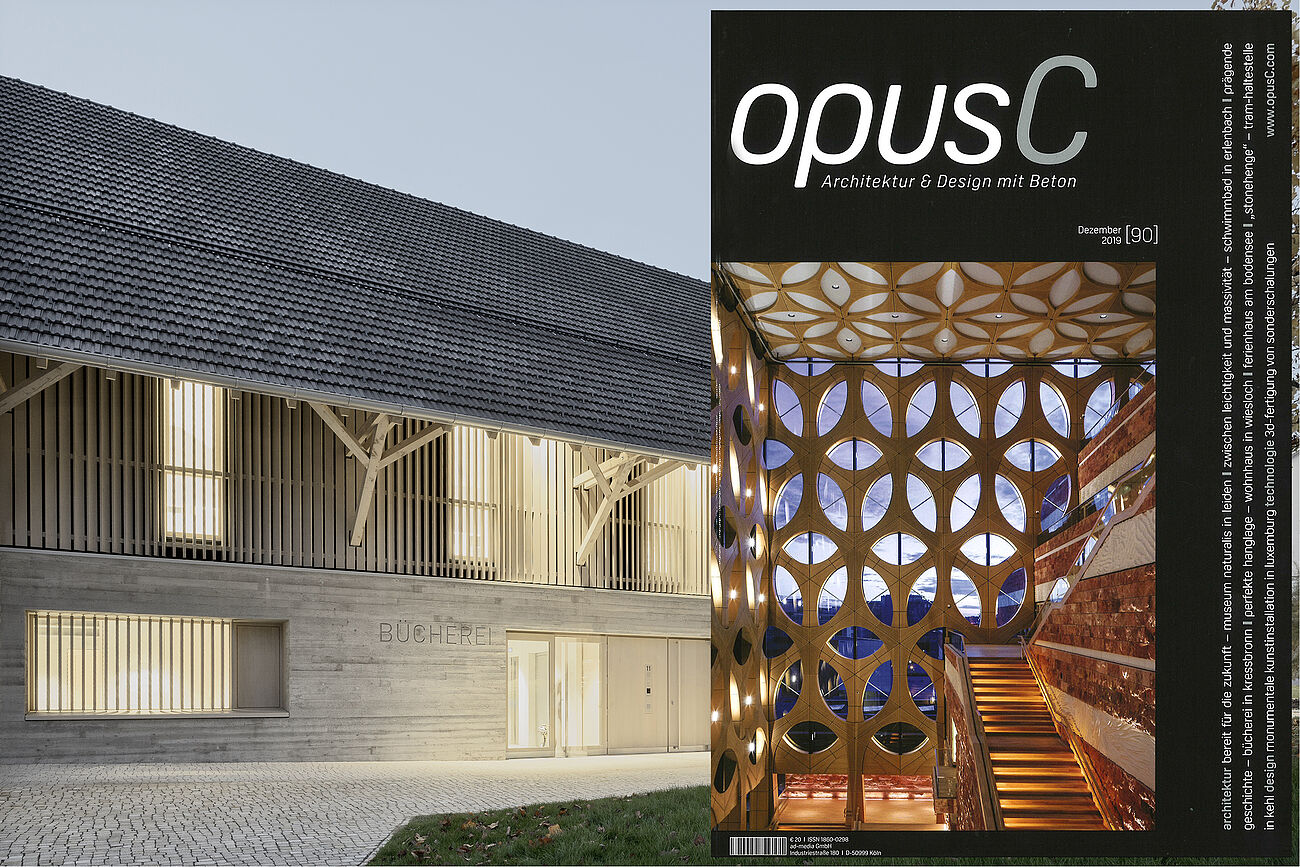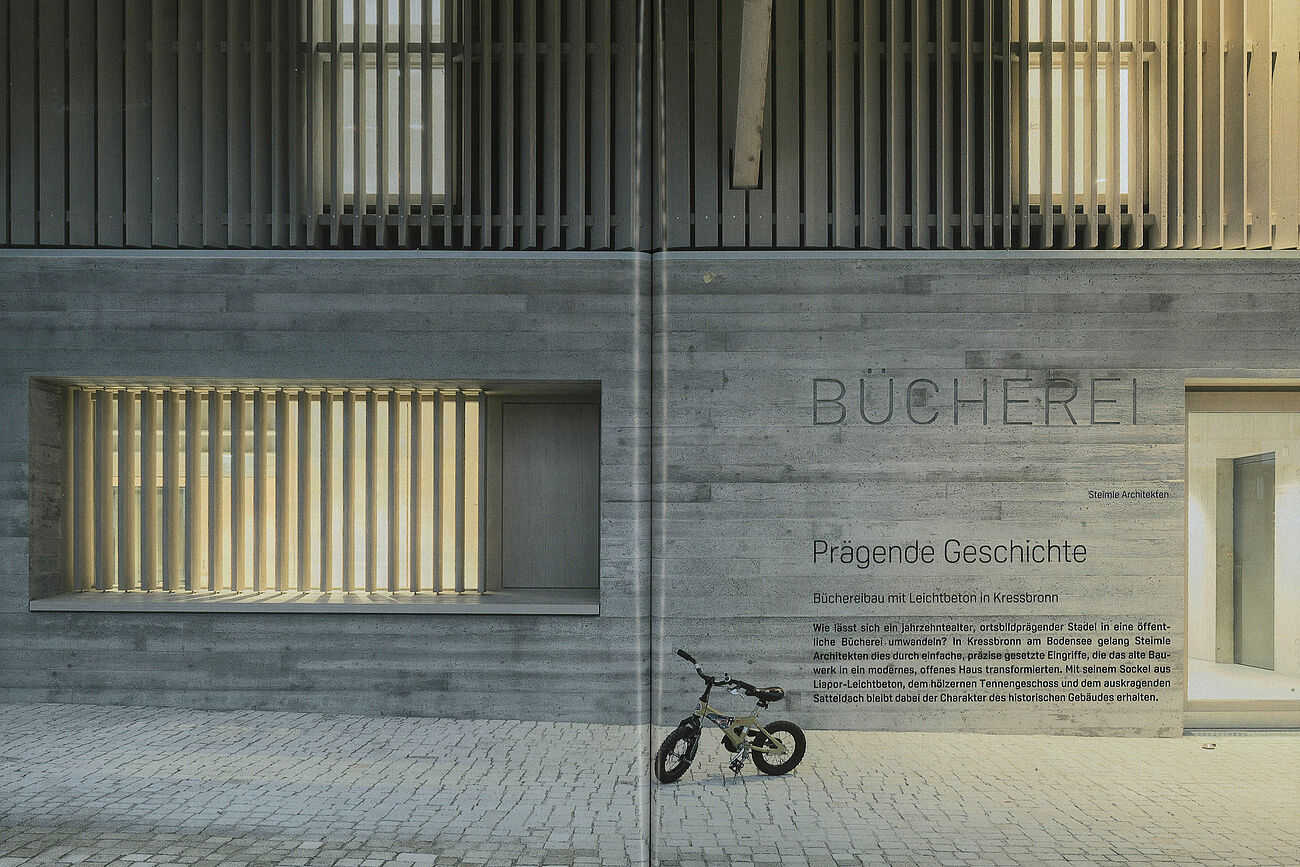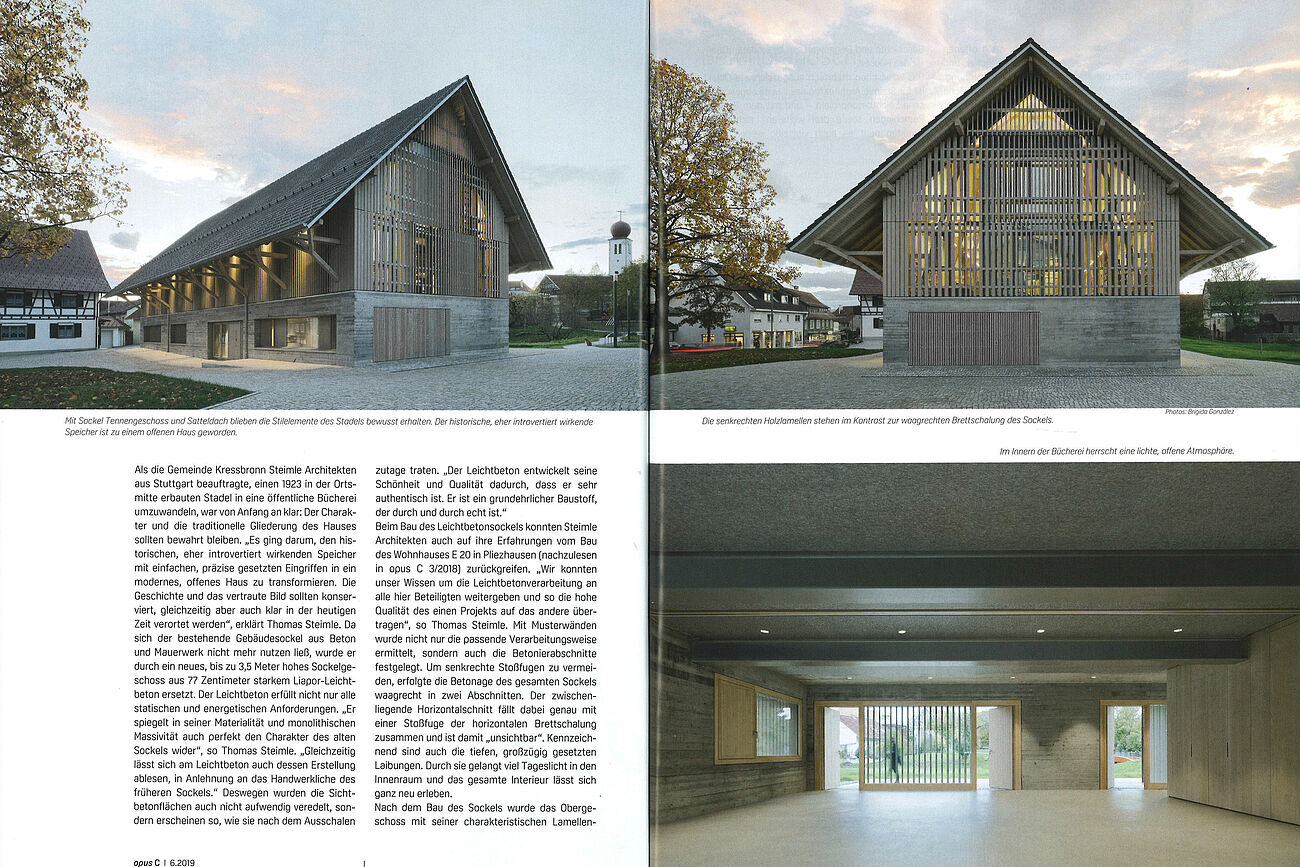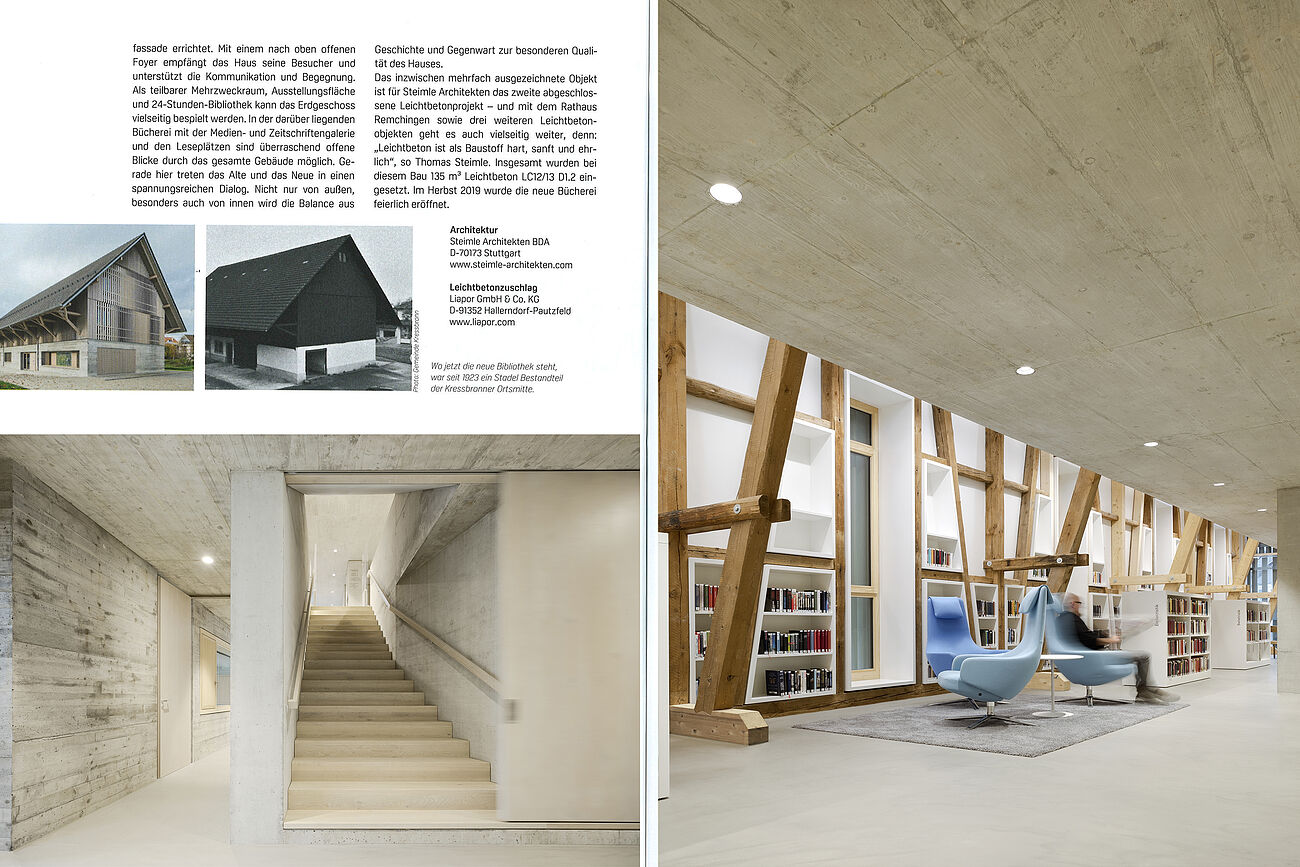 2019-12-01
H11 in Opus C 12|19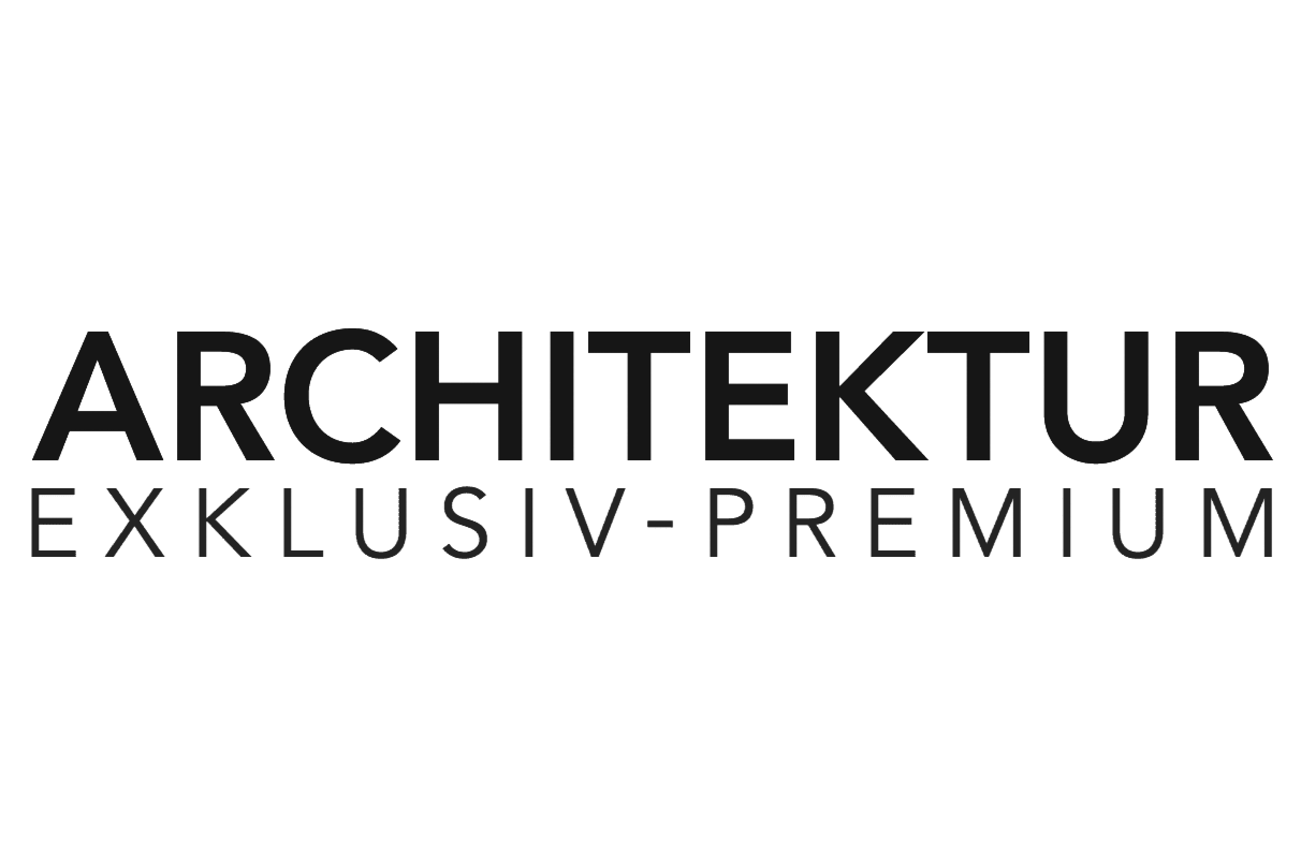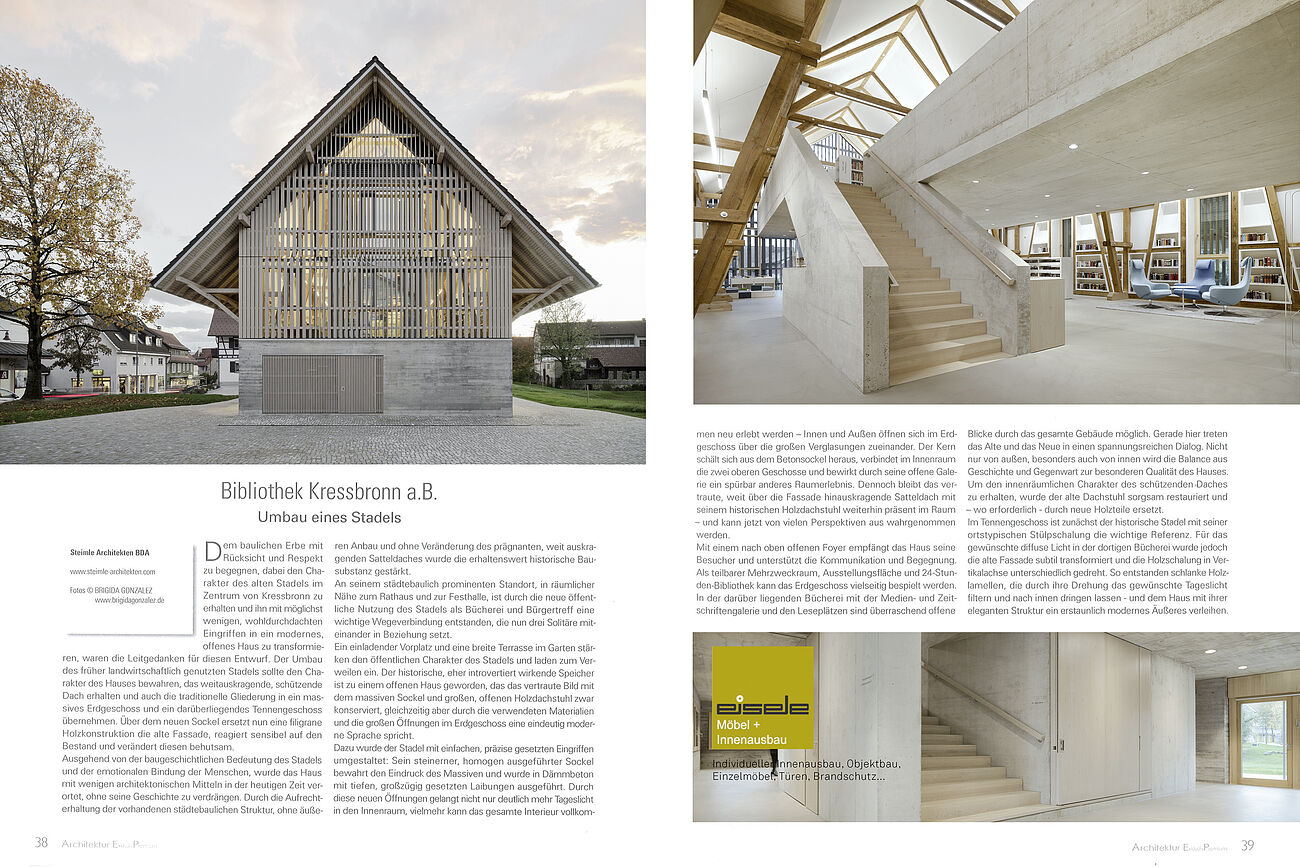 2019-12-02
H11 in Architektur Exklusiv-Premium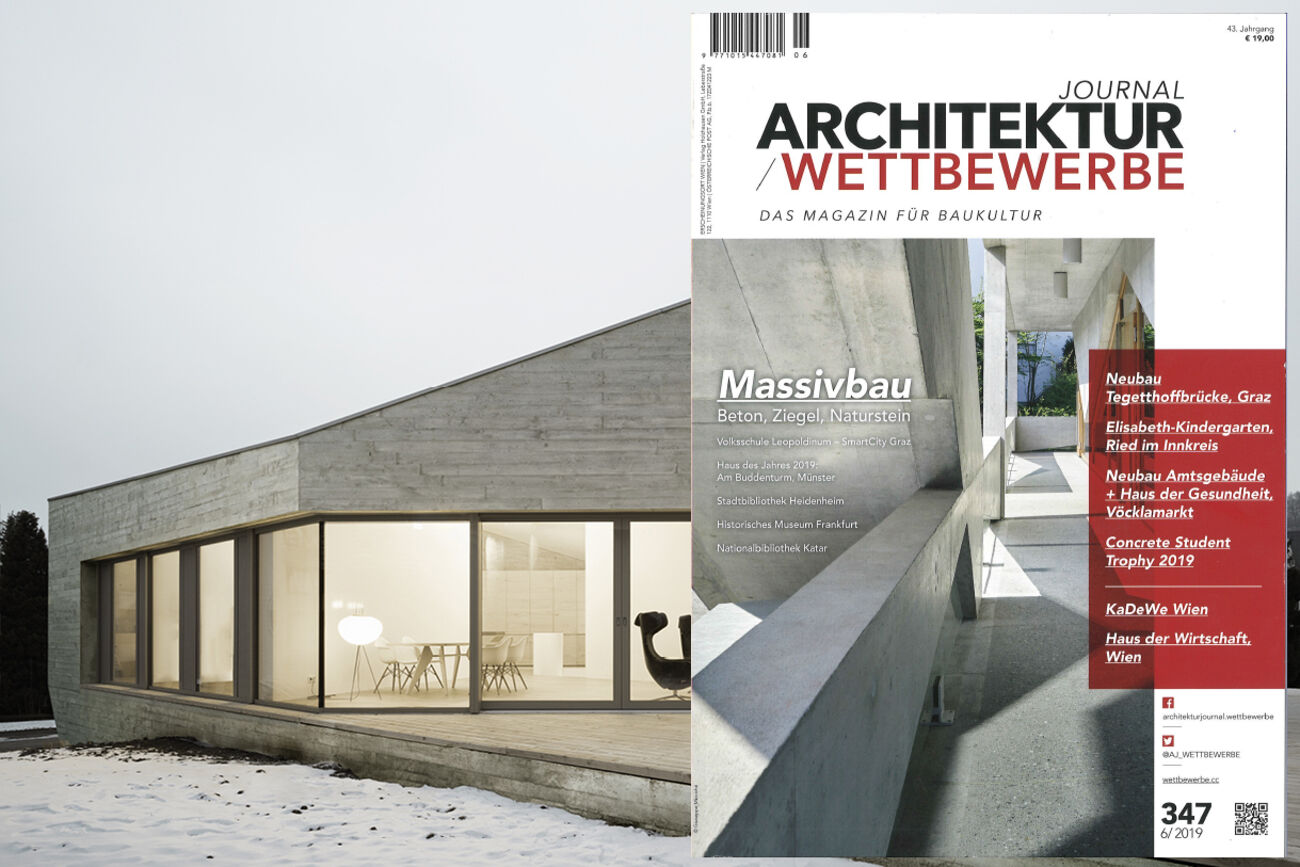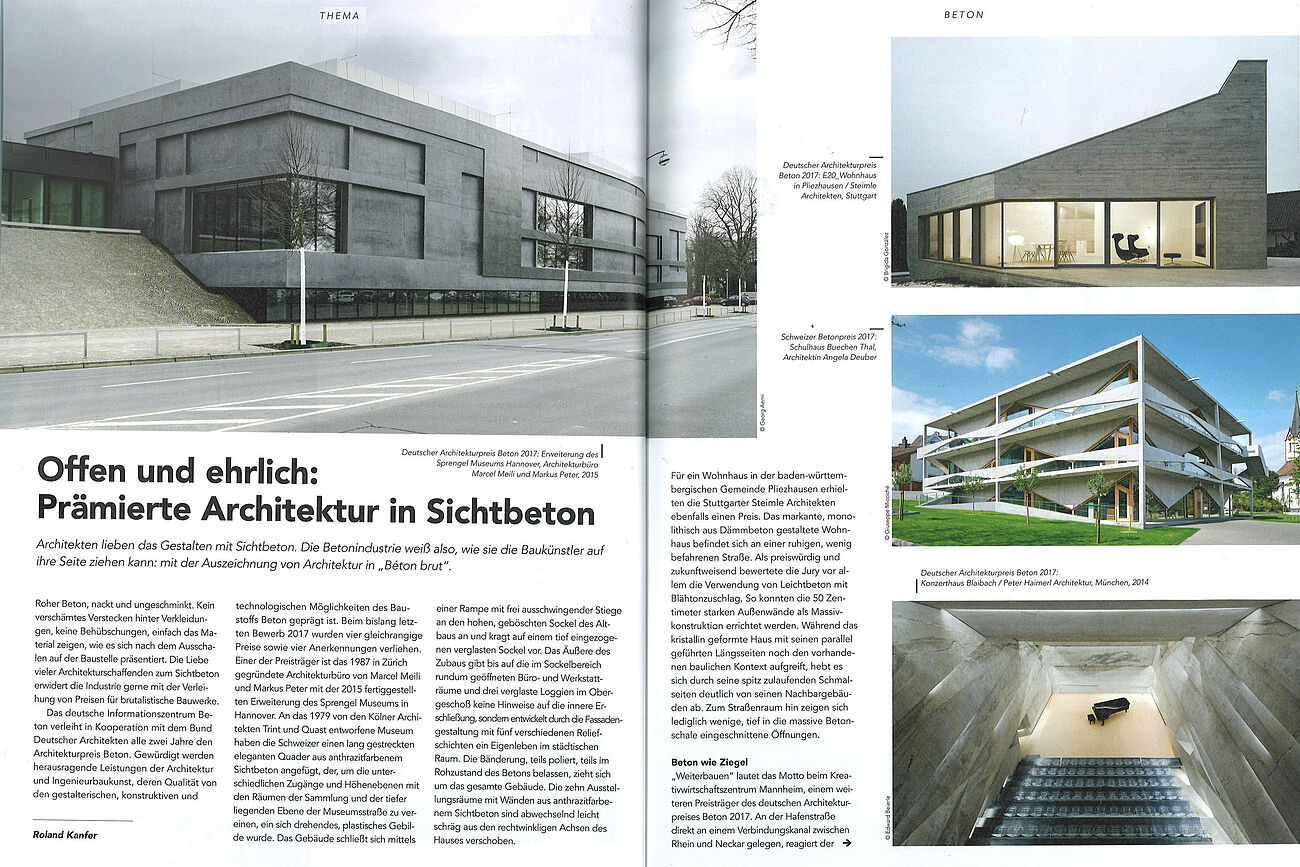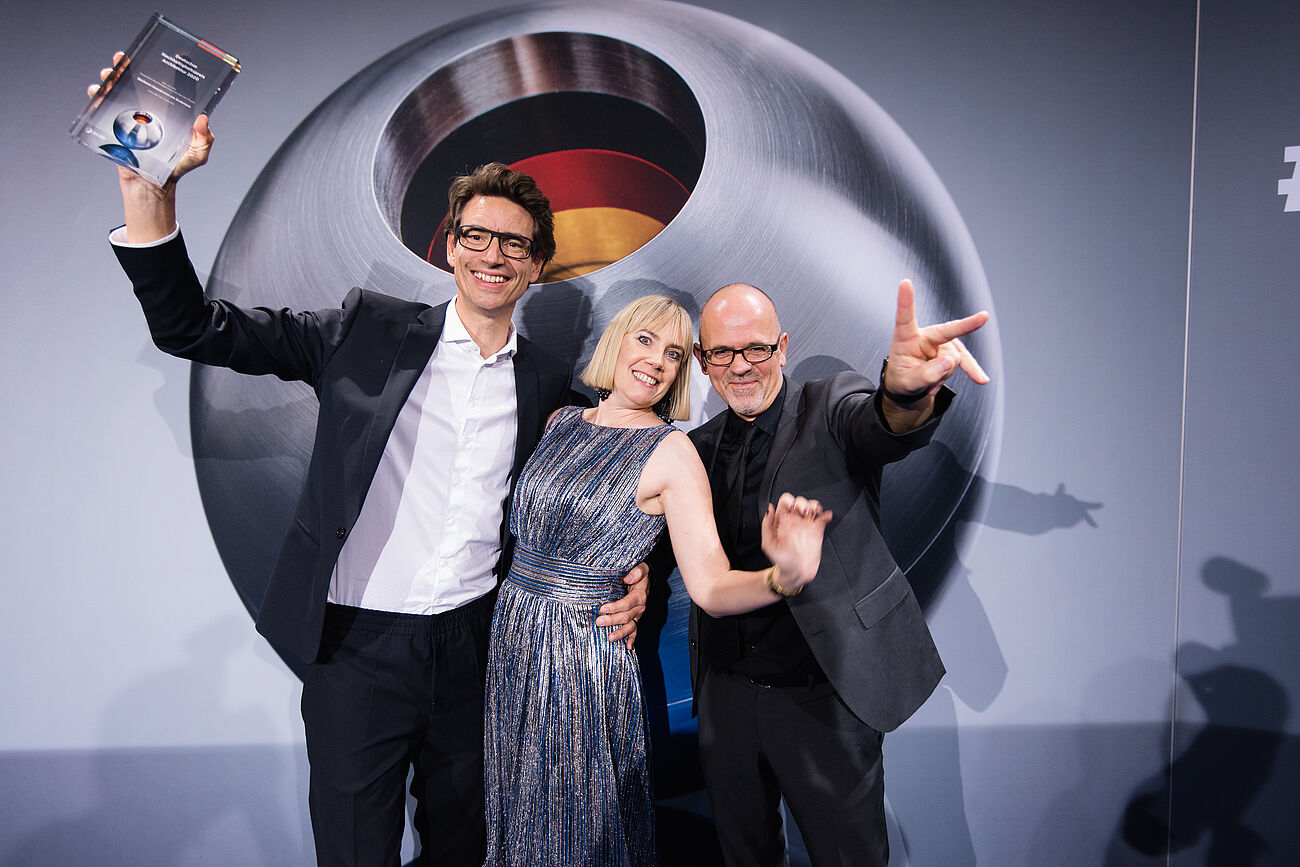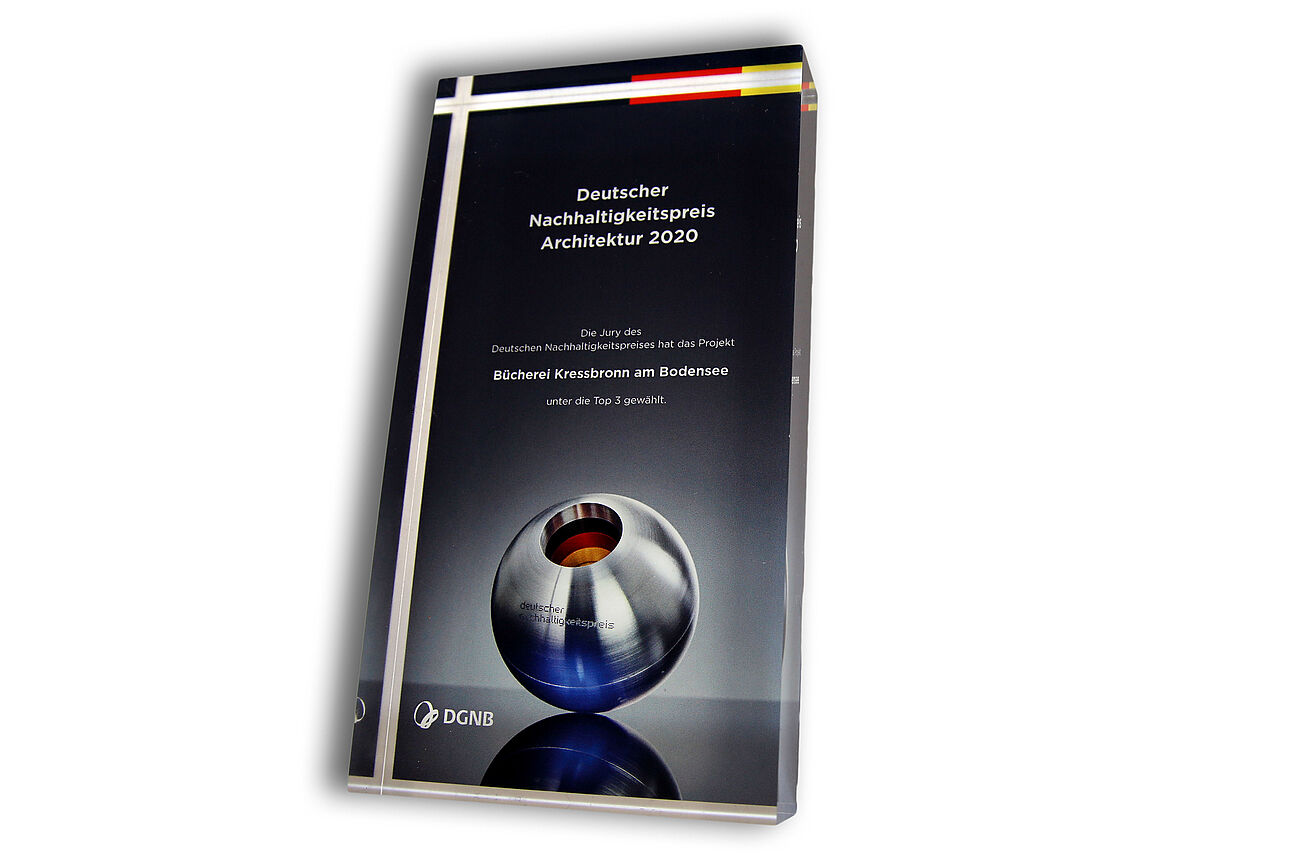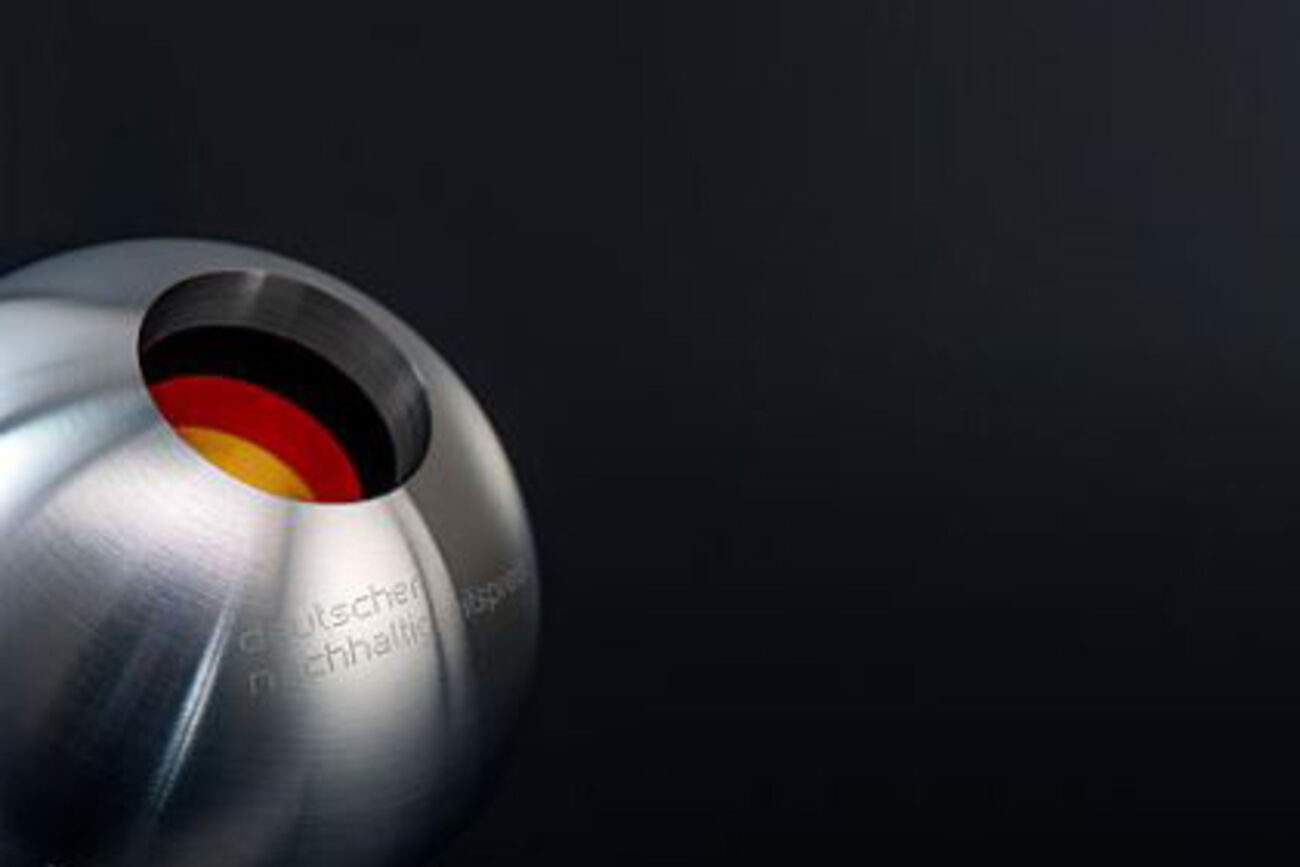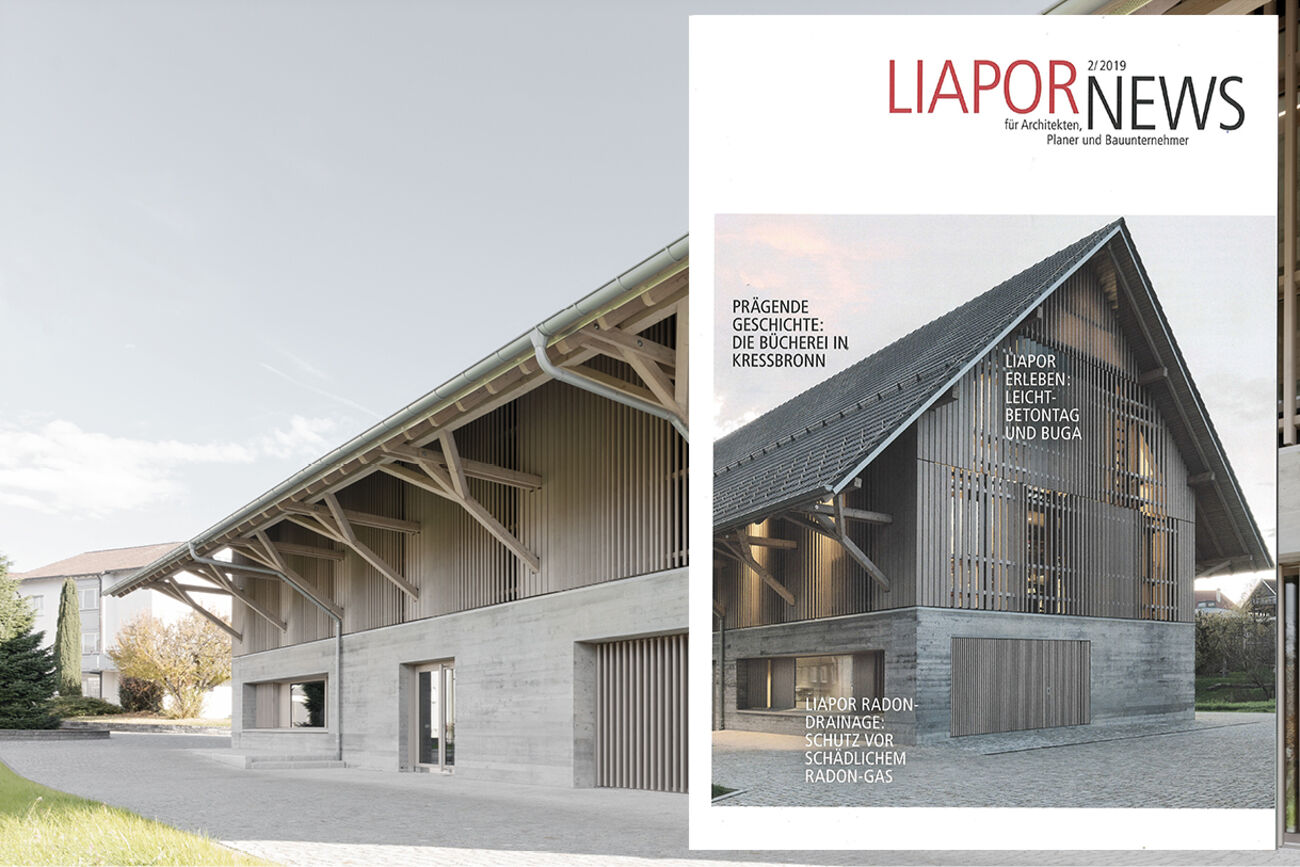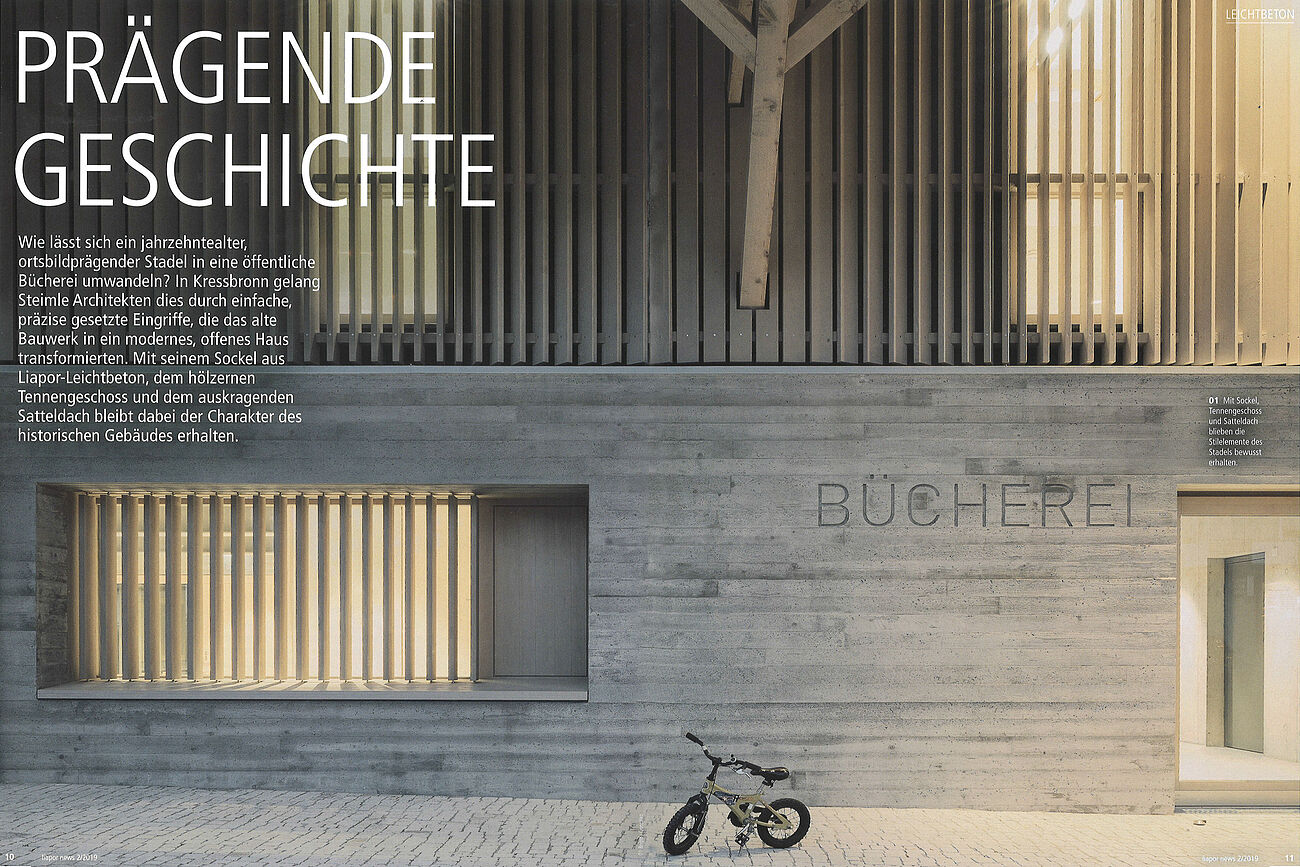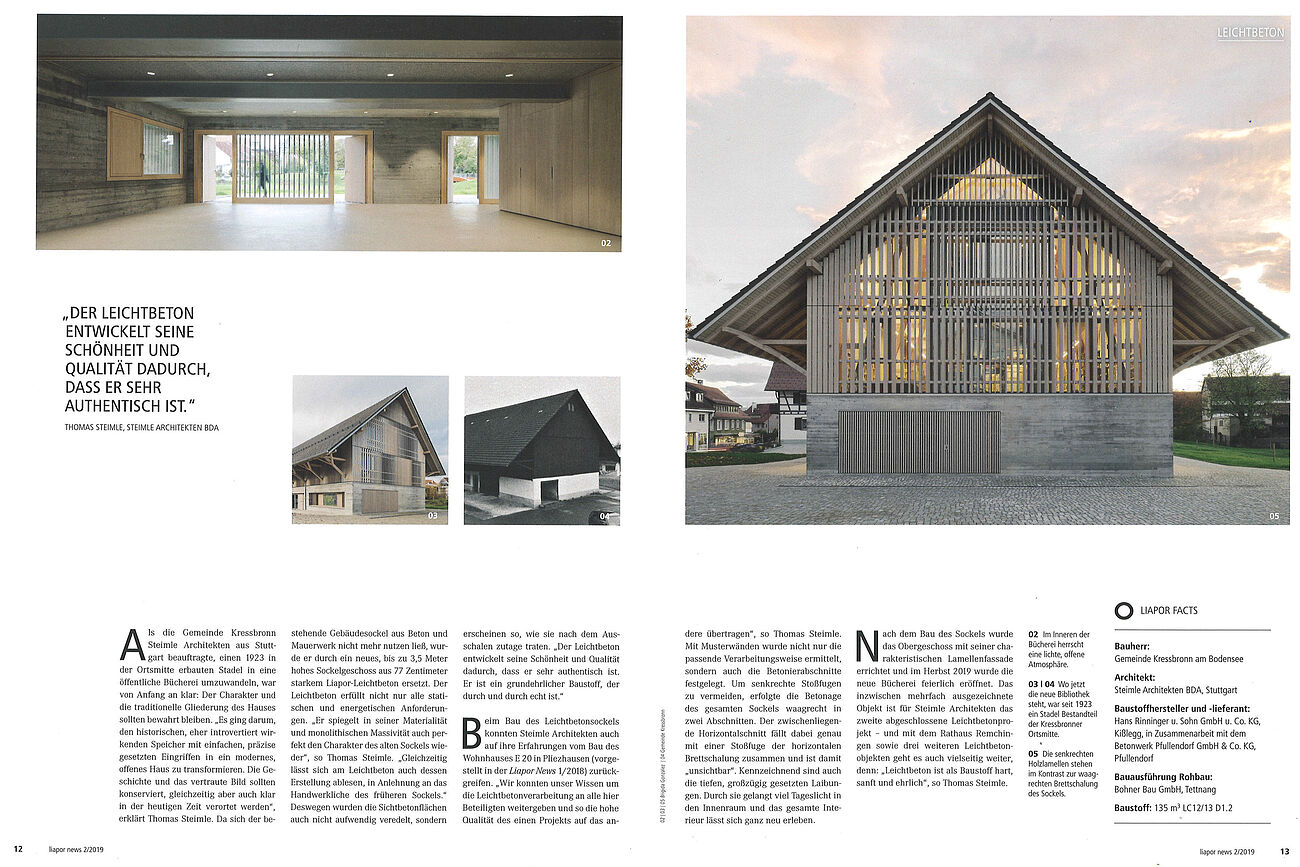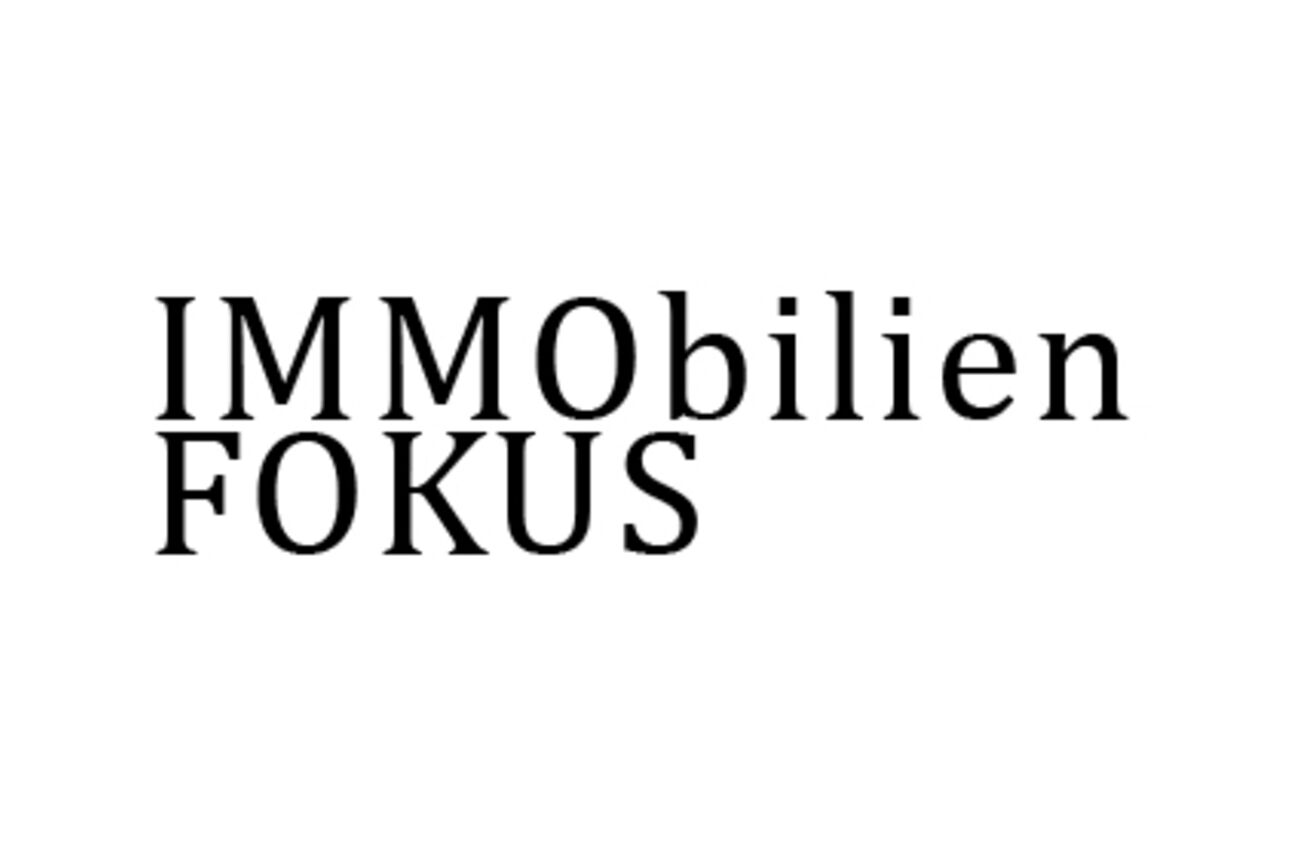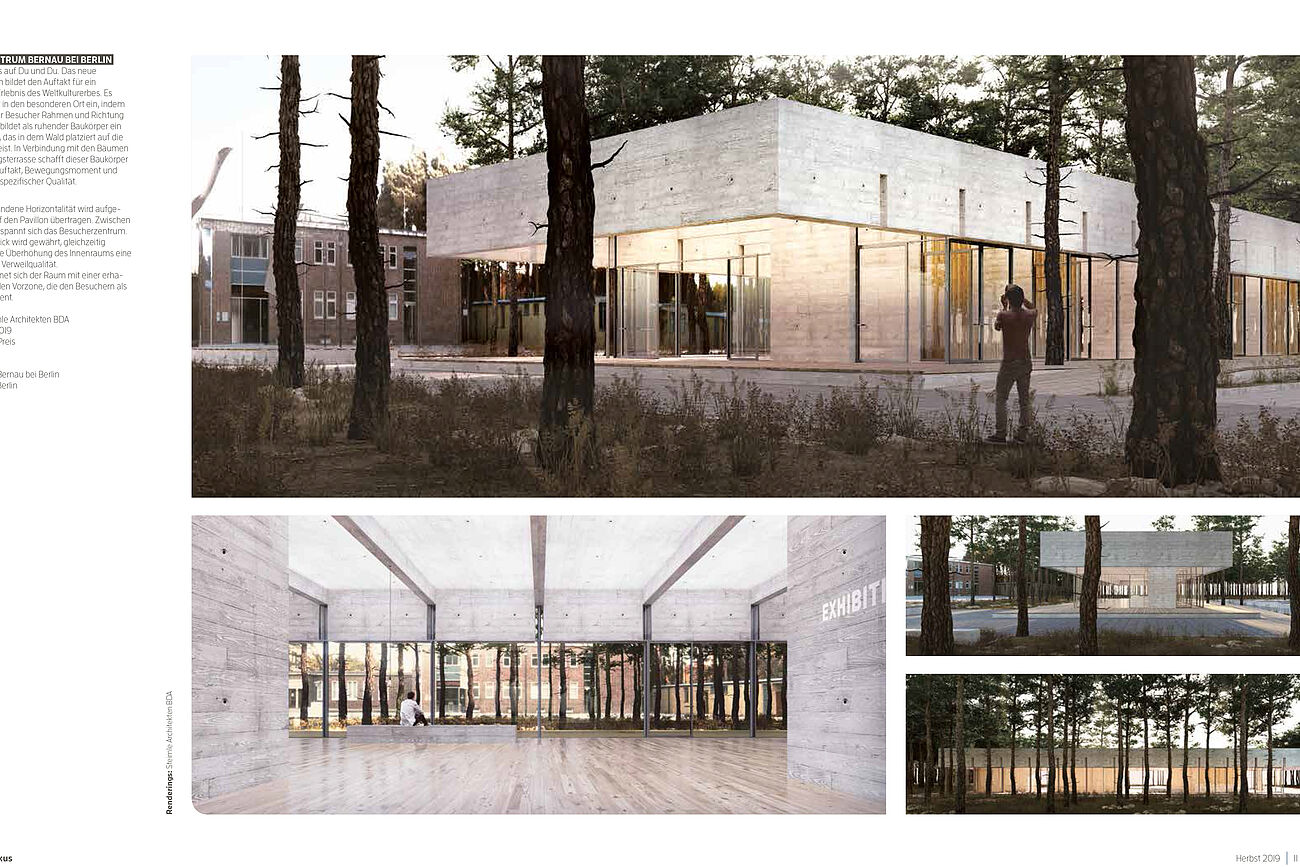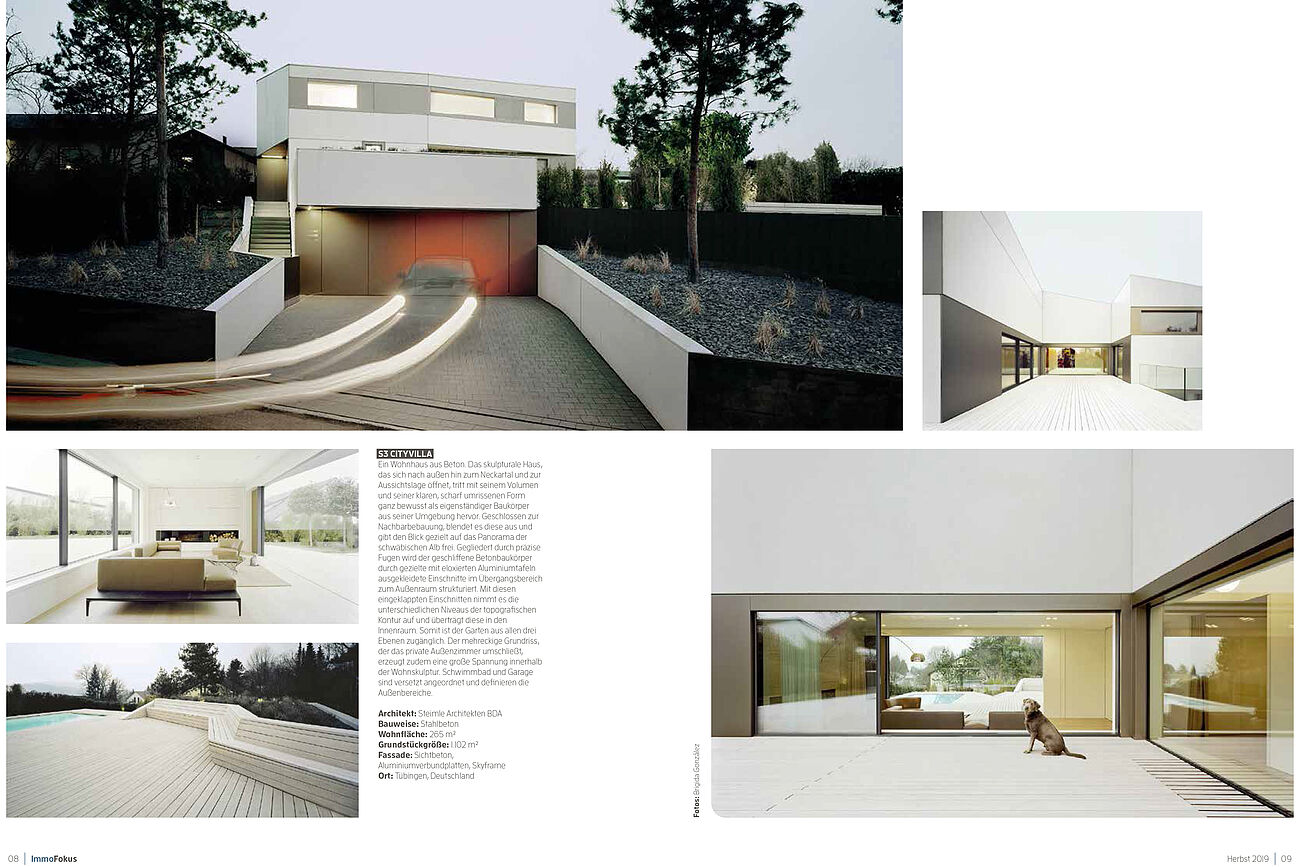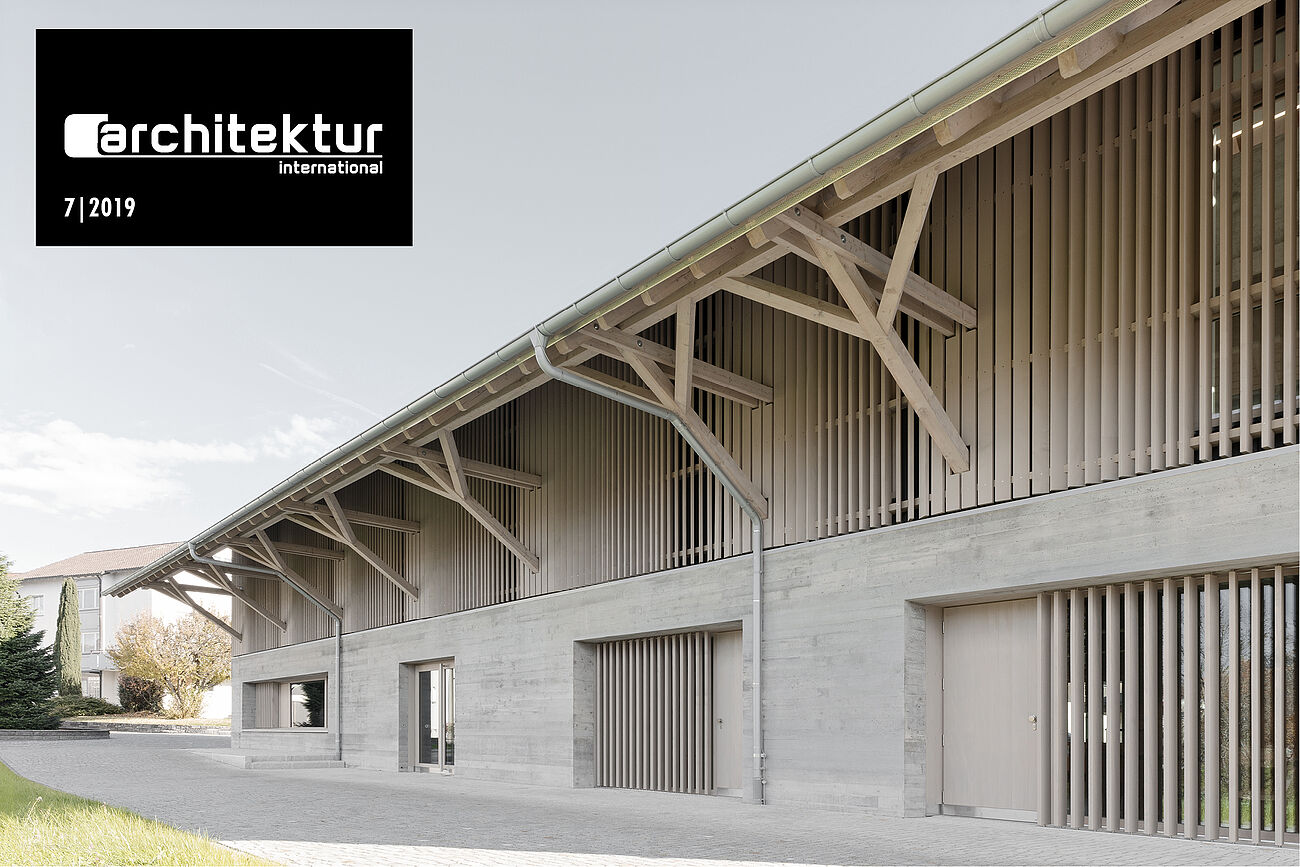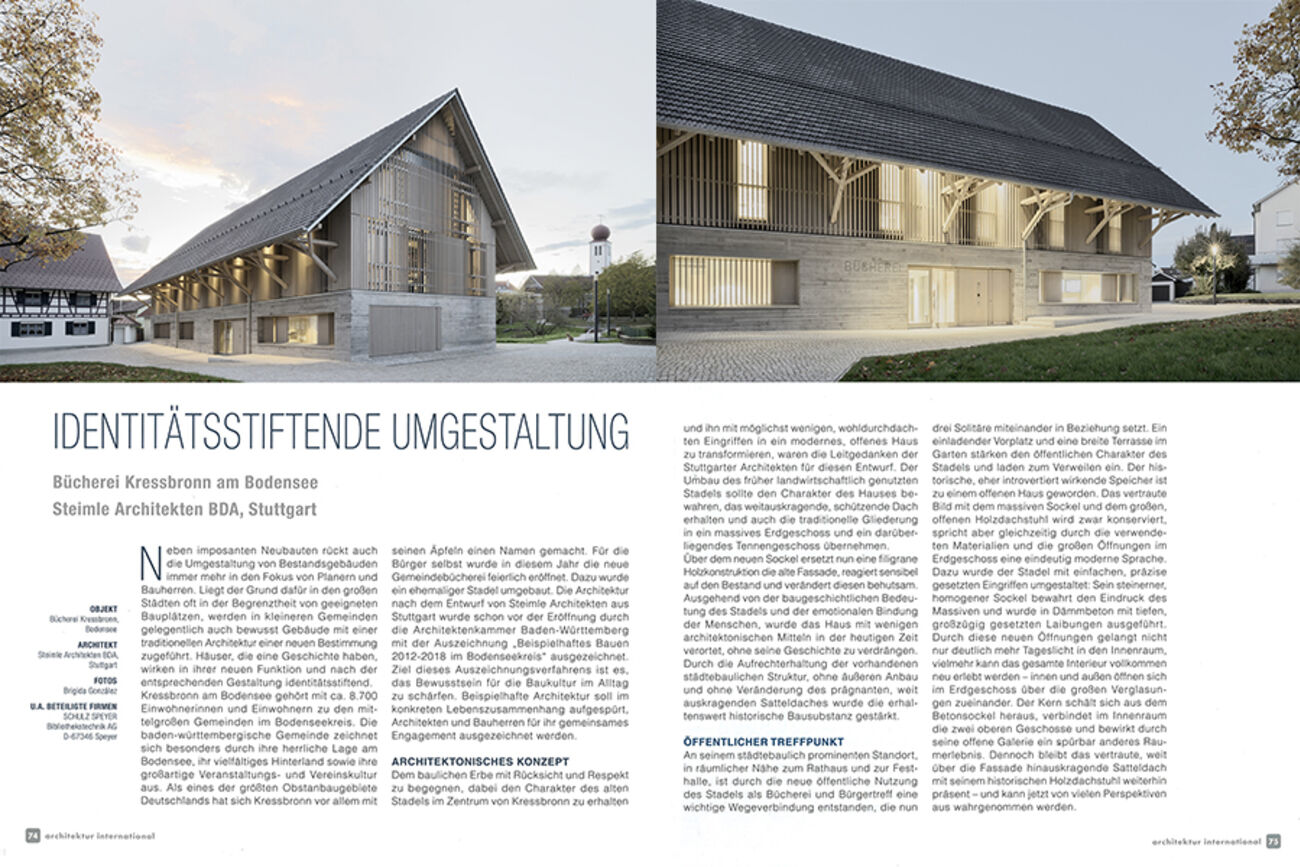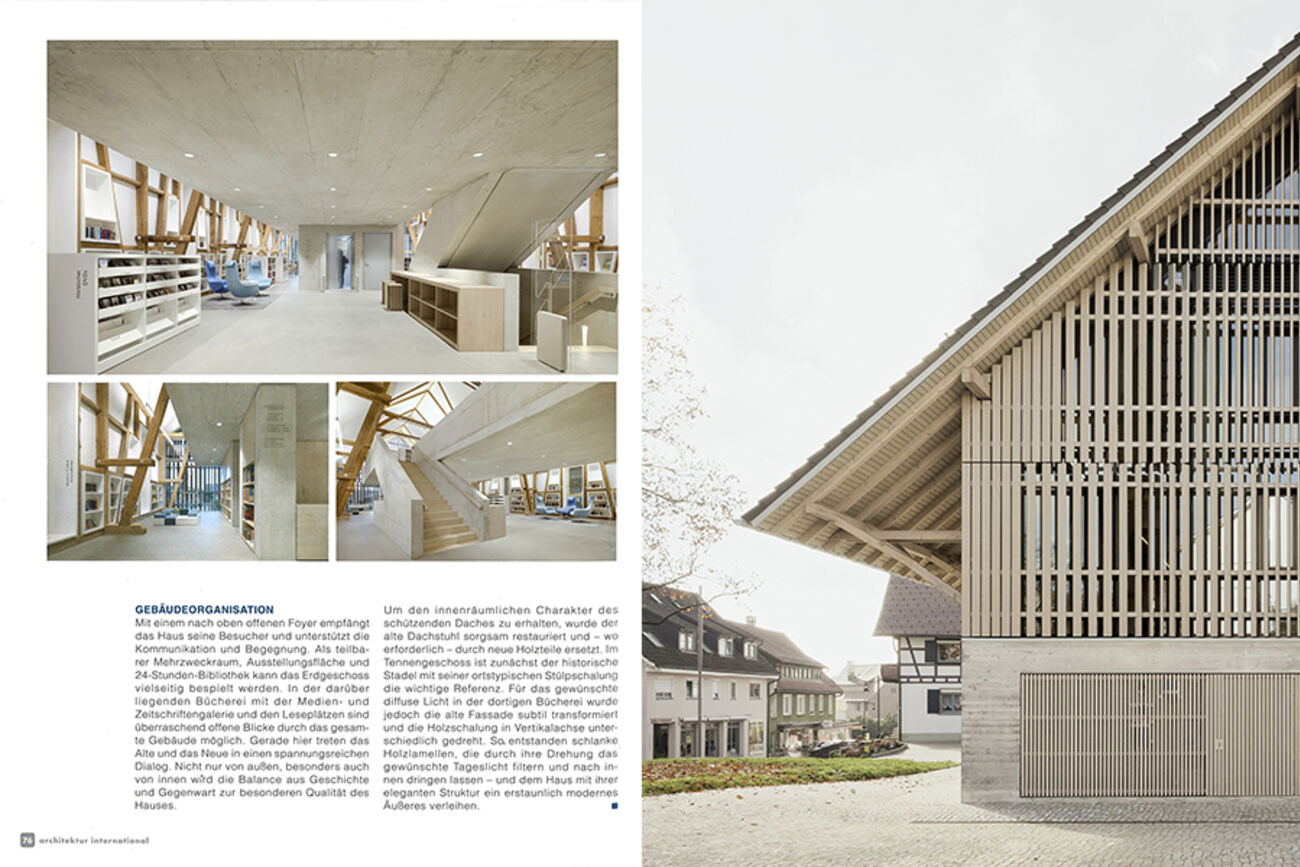 2019-10-28
H11 in architektur international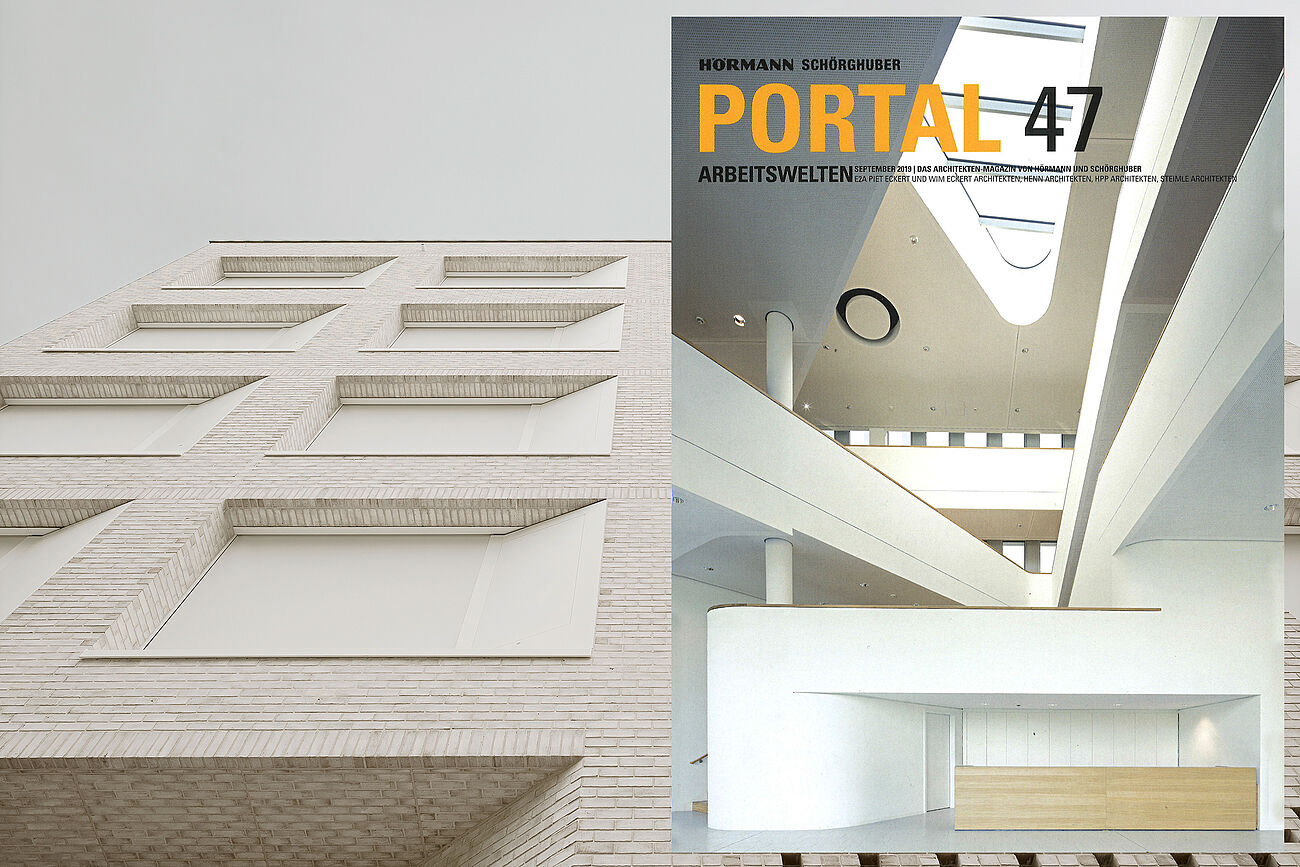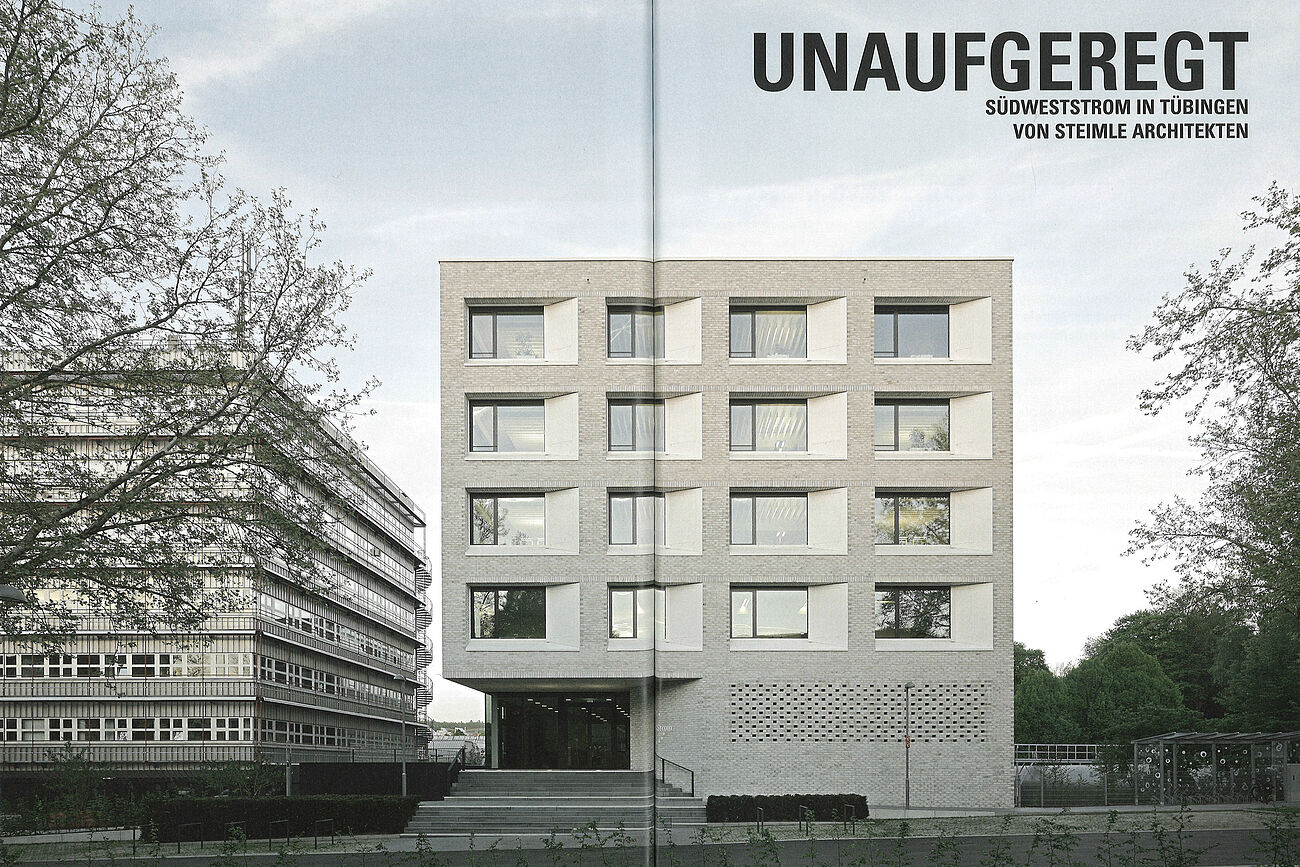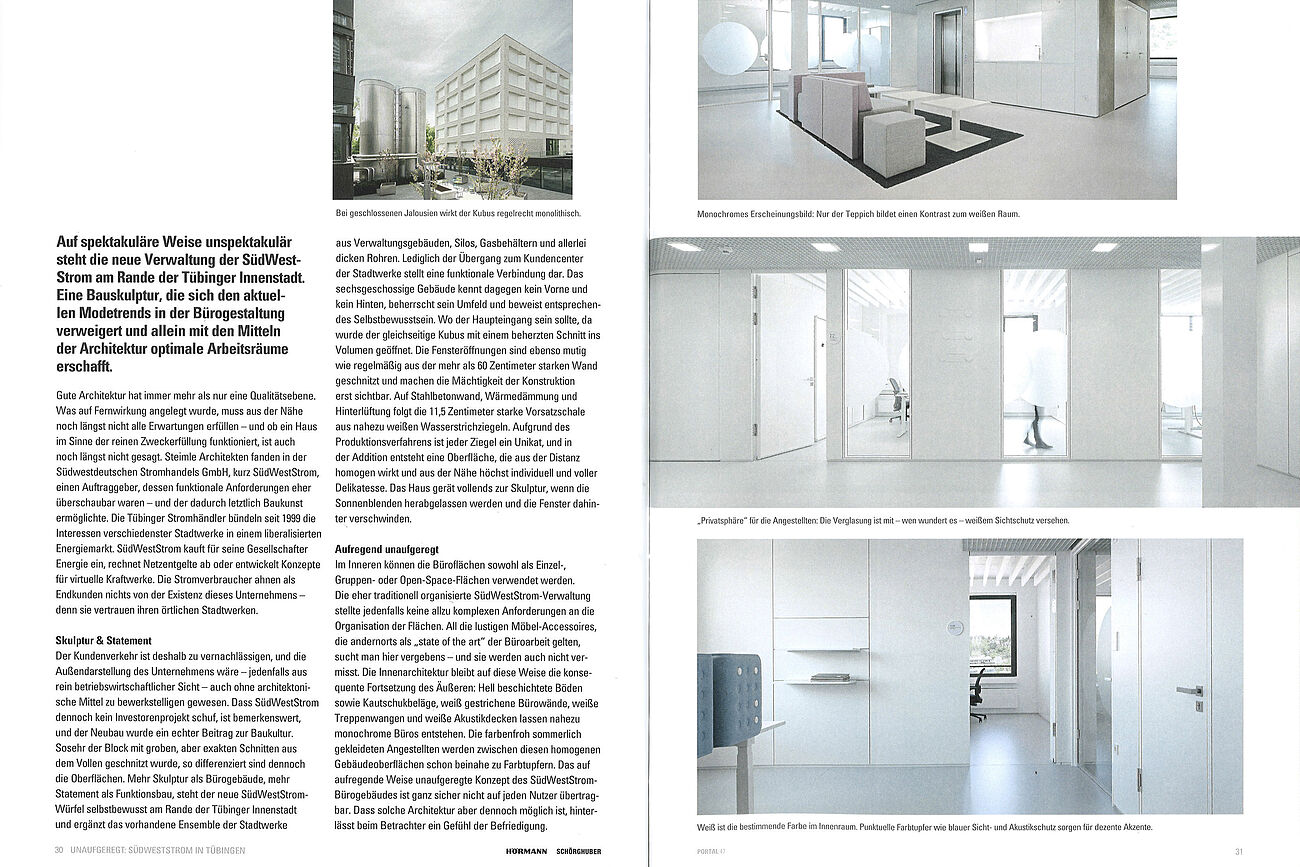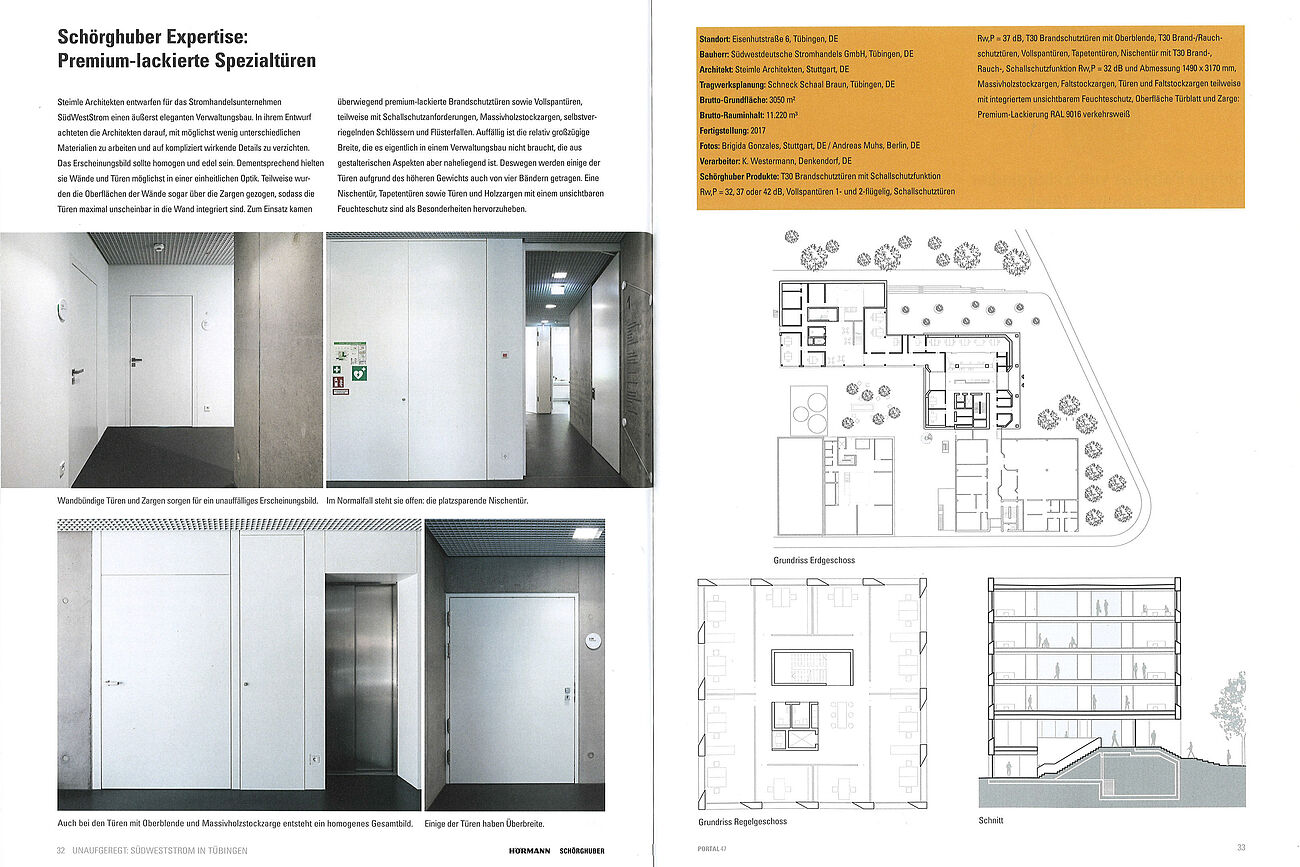 2019-09-01
SWS in Portal 47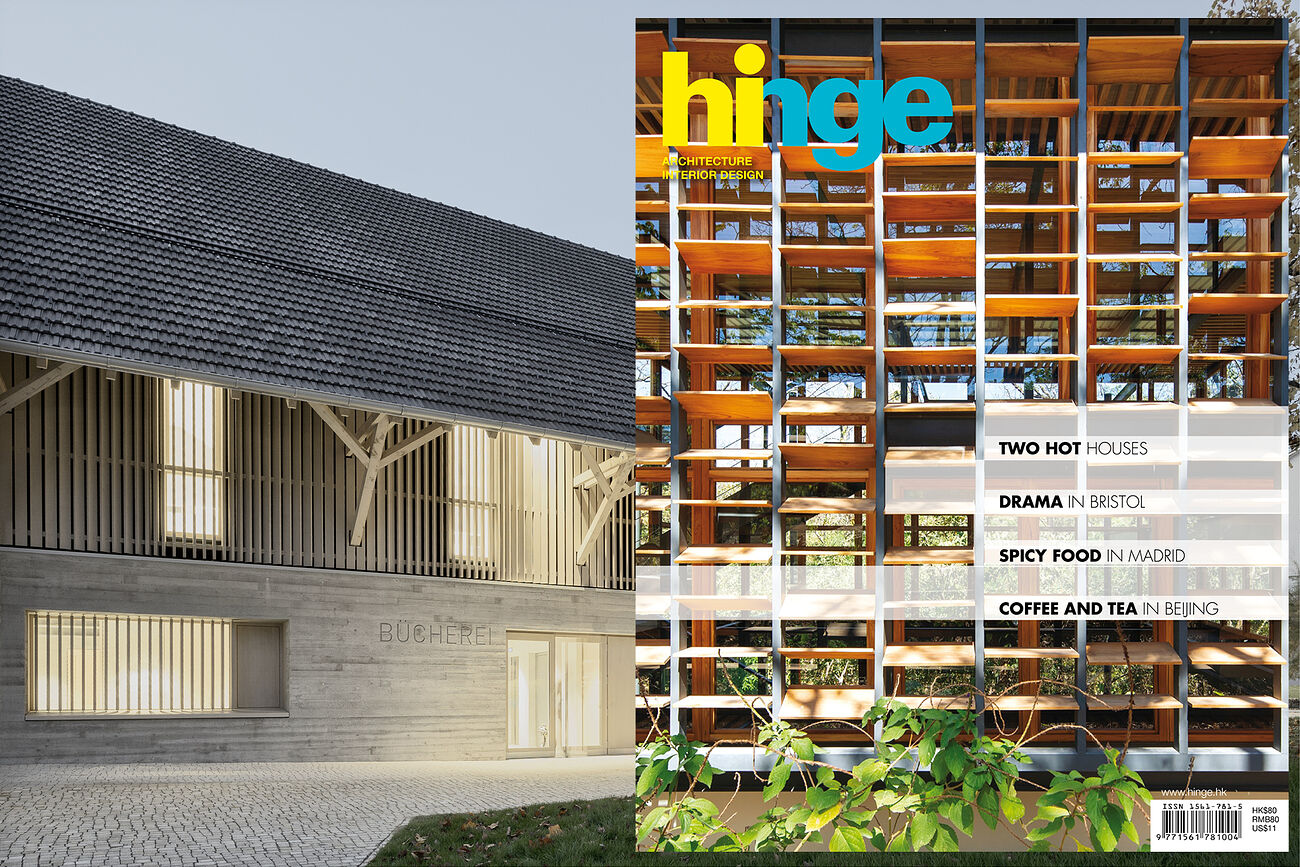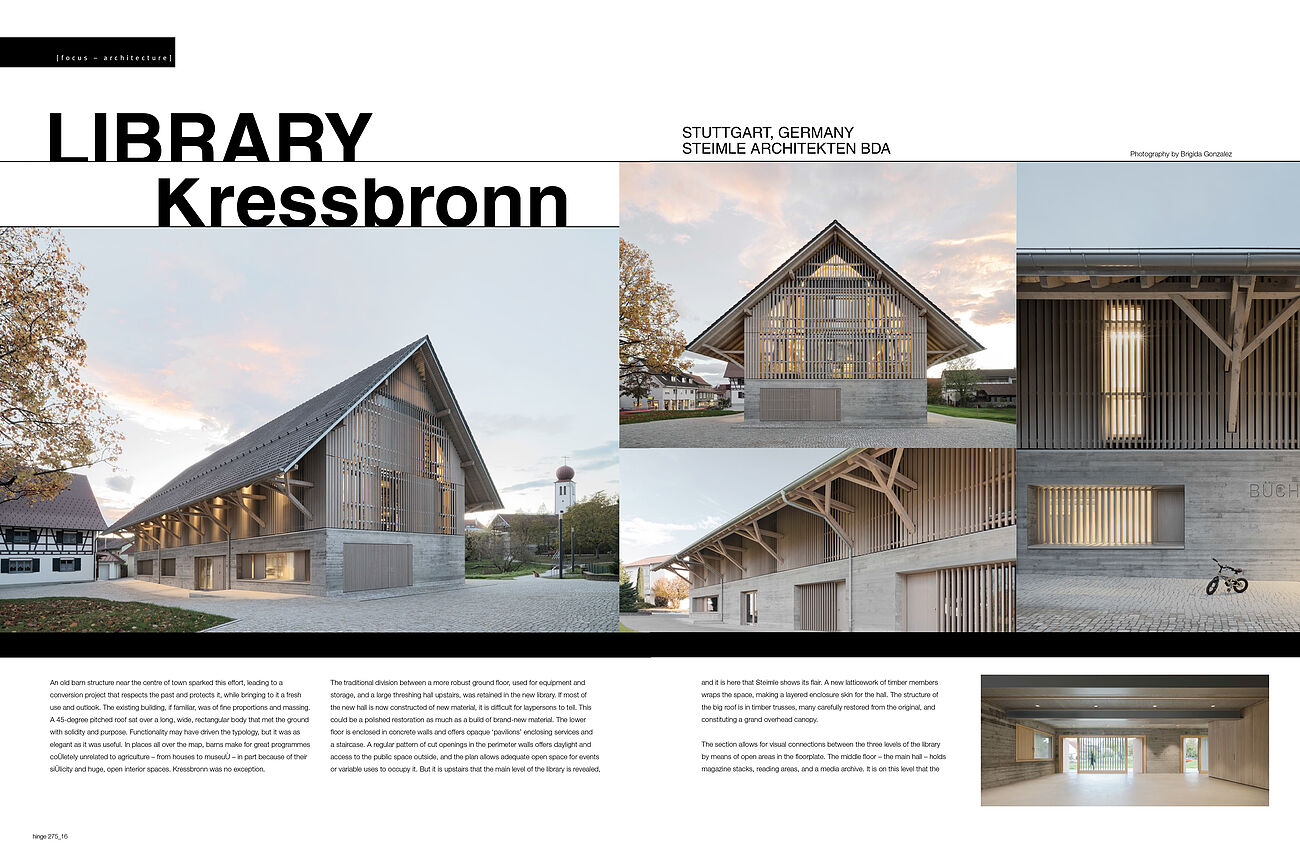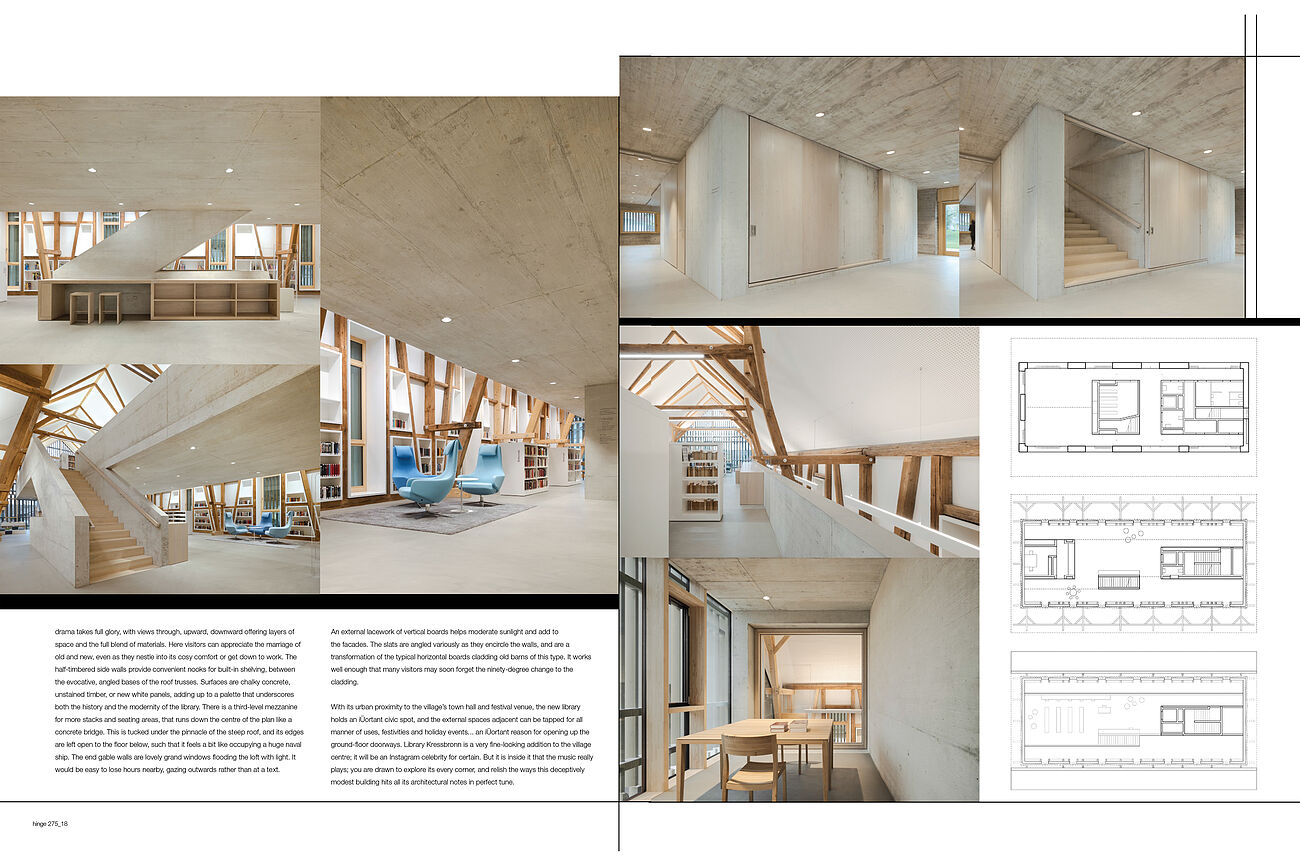 2019-08-01
H11 in hinge magazine hongkong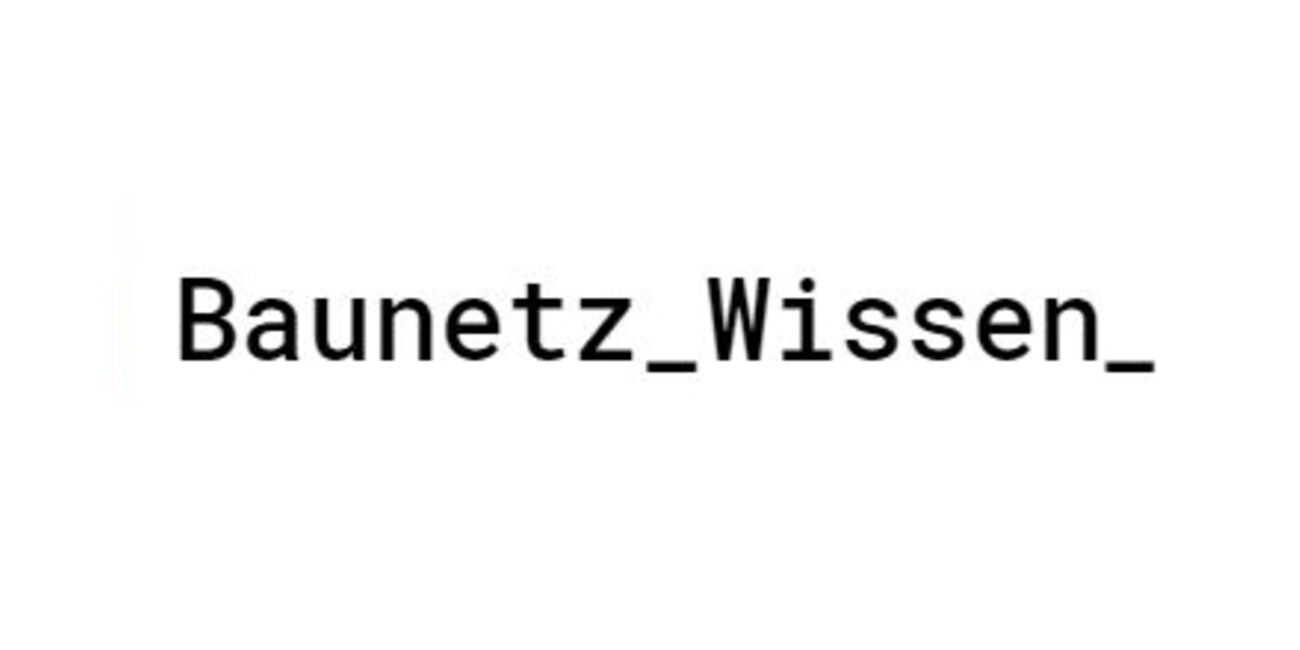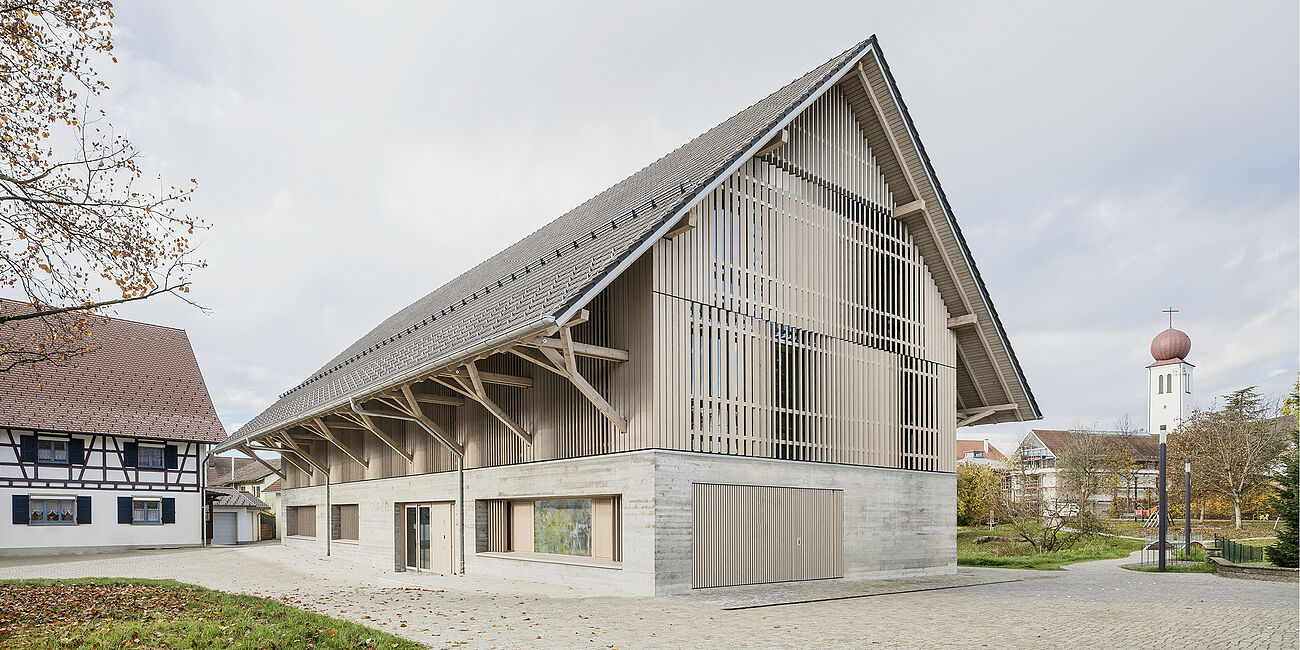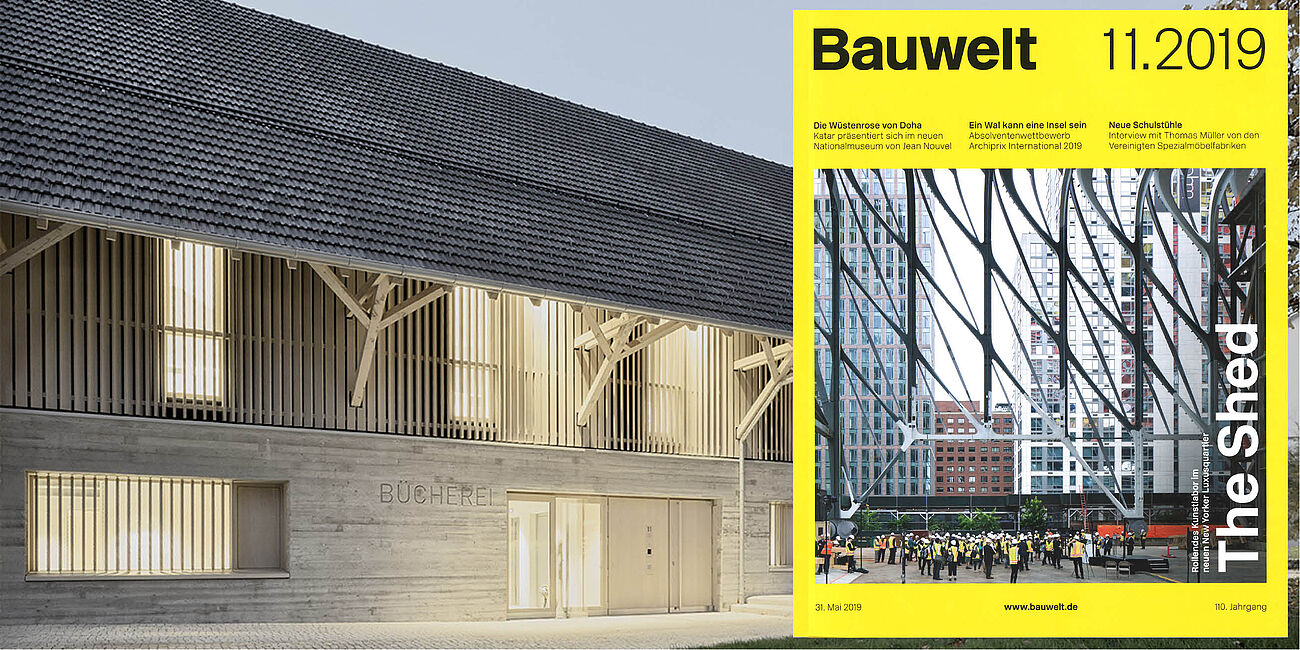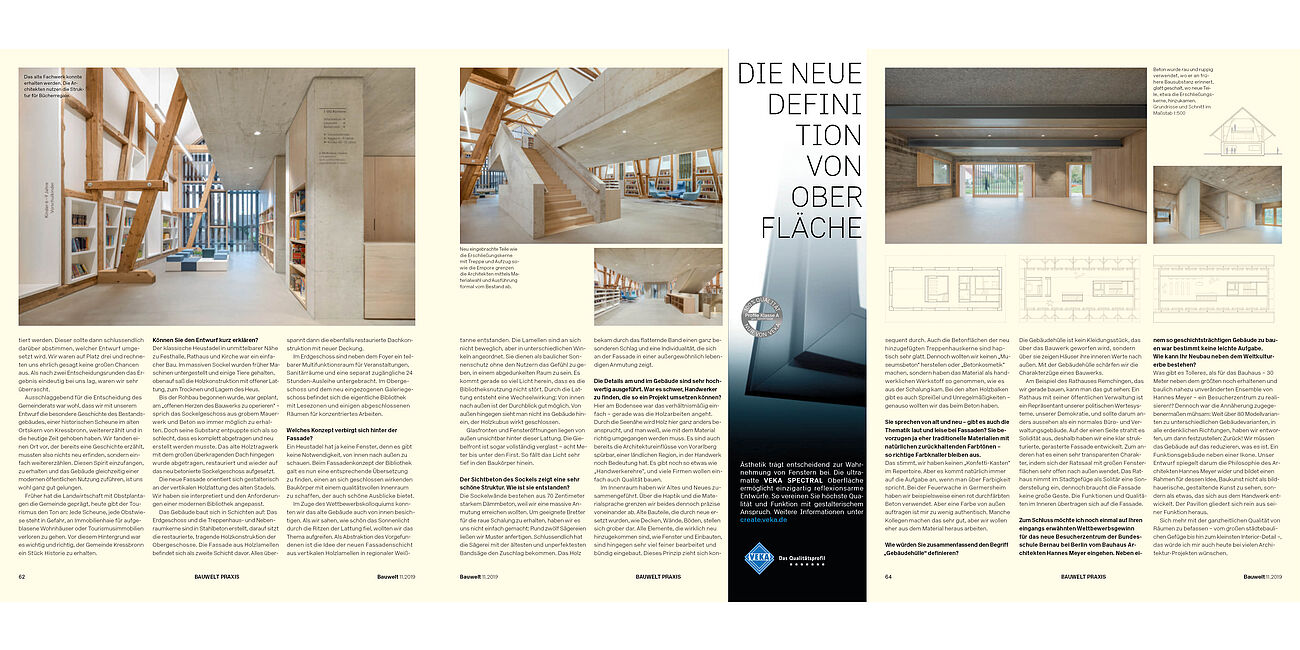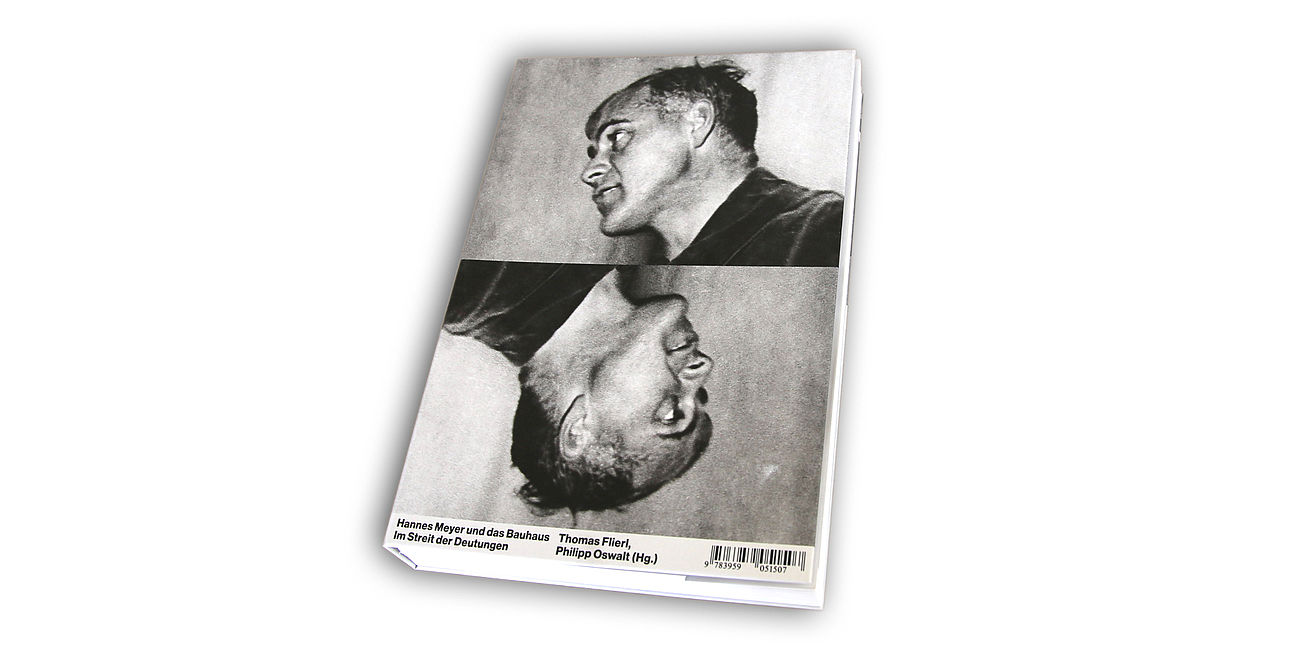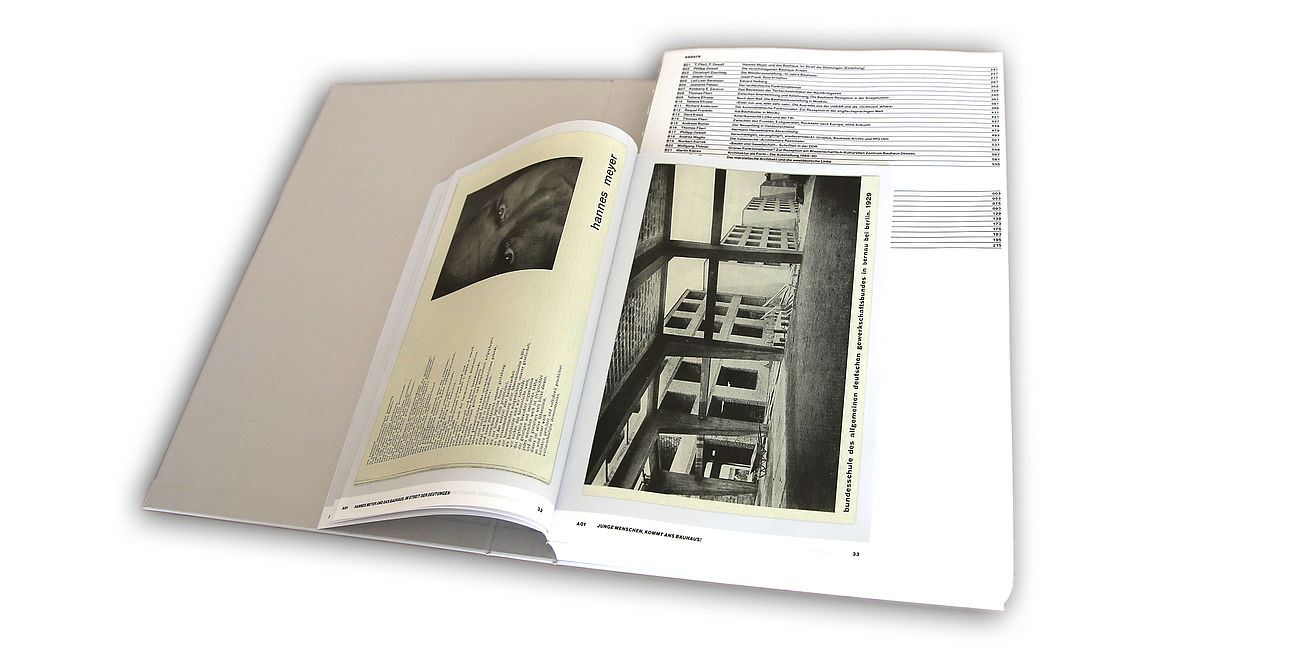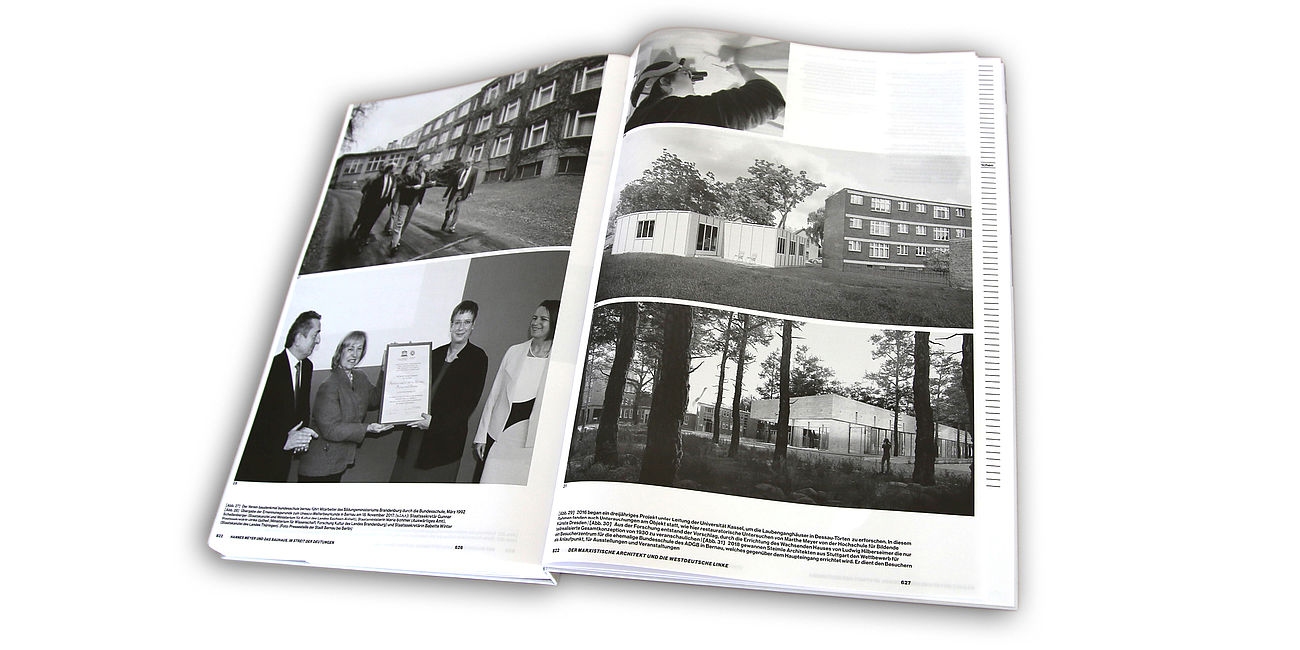 2019-04-01
Steimle Architekten take off
Discover Germany,Swizerland and Austria,the english Inflight- und Business Magazin "meets germany´s creative creators"
"Architecture in Germany has a long and diverse history. After all, visitors to the country can find every major European style in the country...We take a look at some of the sturctures that showcase the creativity of German architects."
In the special theme all eyes on german architecture 2019 Thomas und Christine Steimle talking about their long-lived visions with a geographical reference.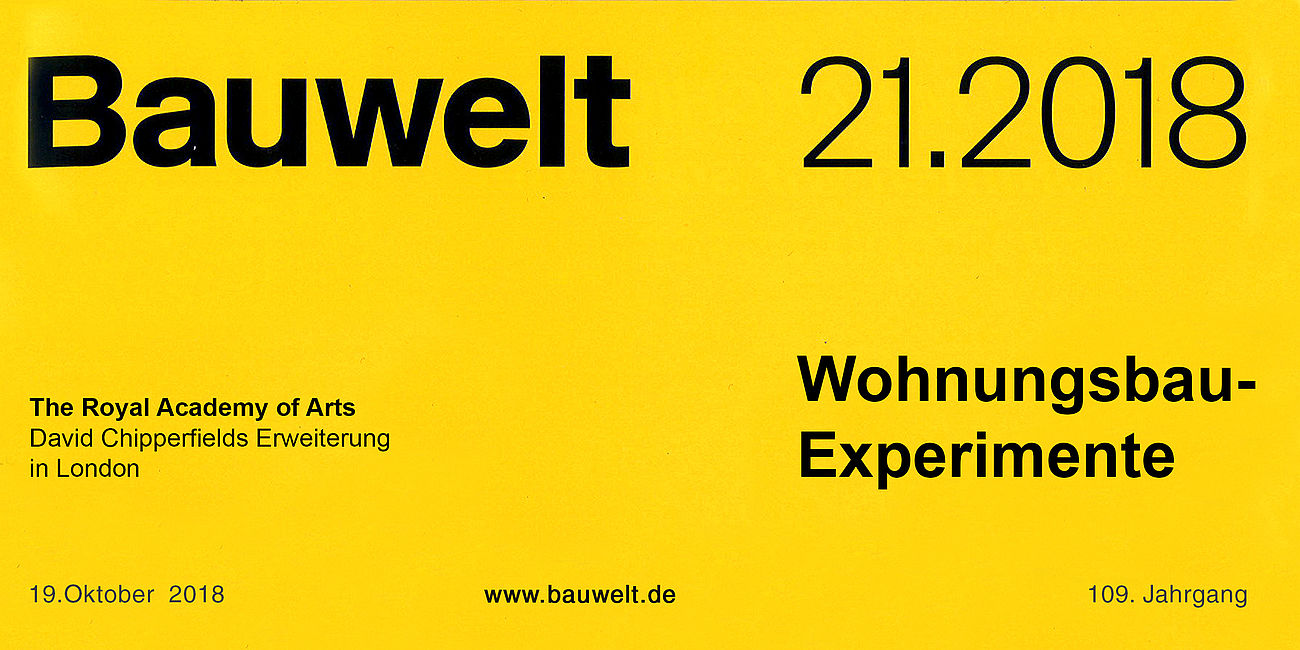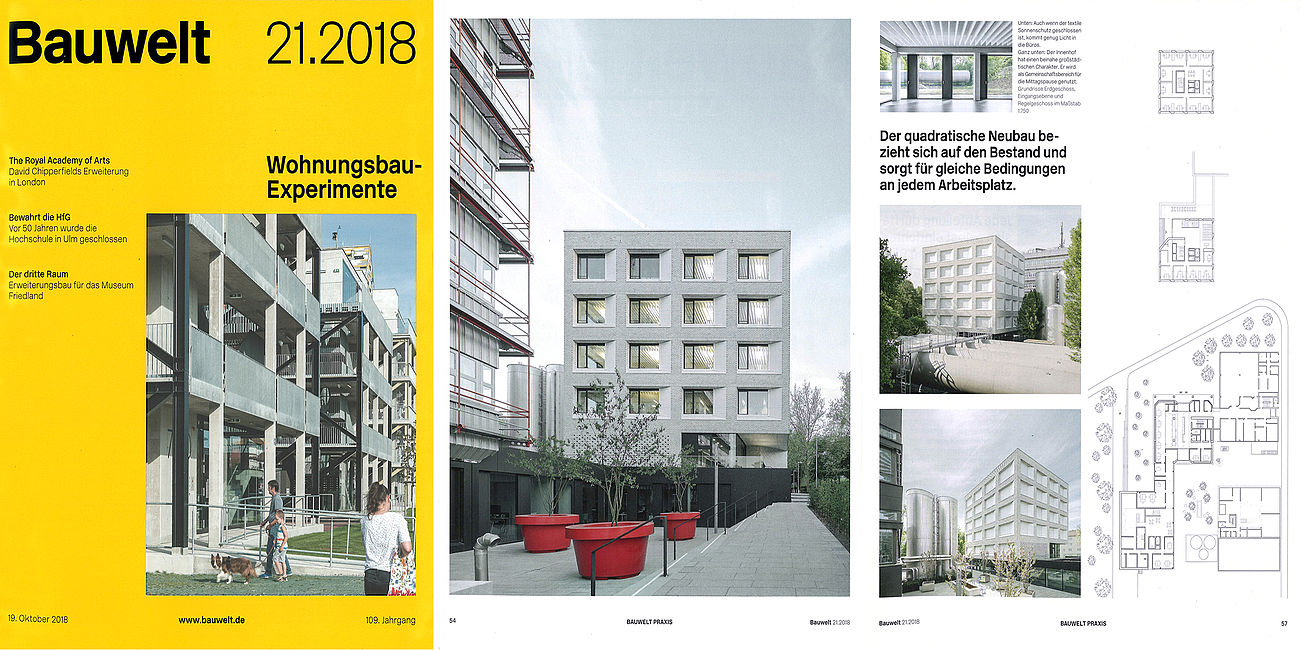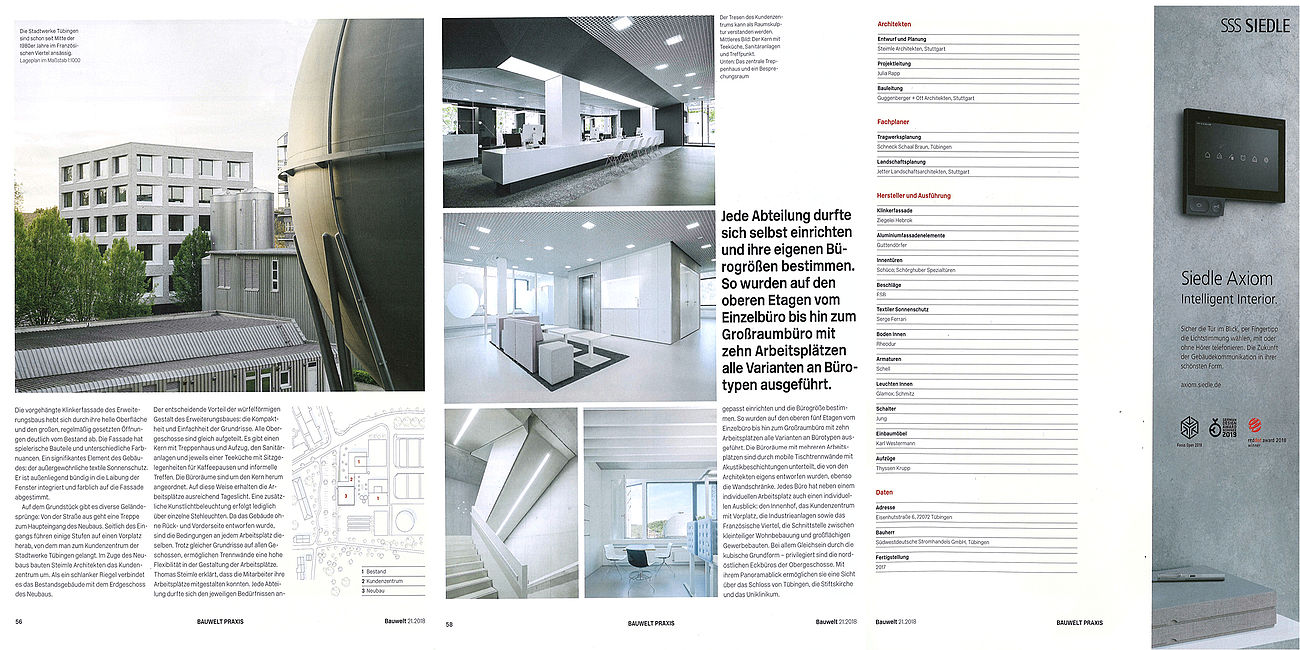 2018-10-10
Steimle Architekten in HIGH ON...GERMAN ARCHITECTS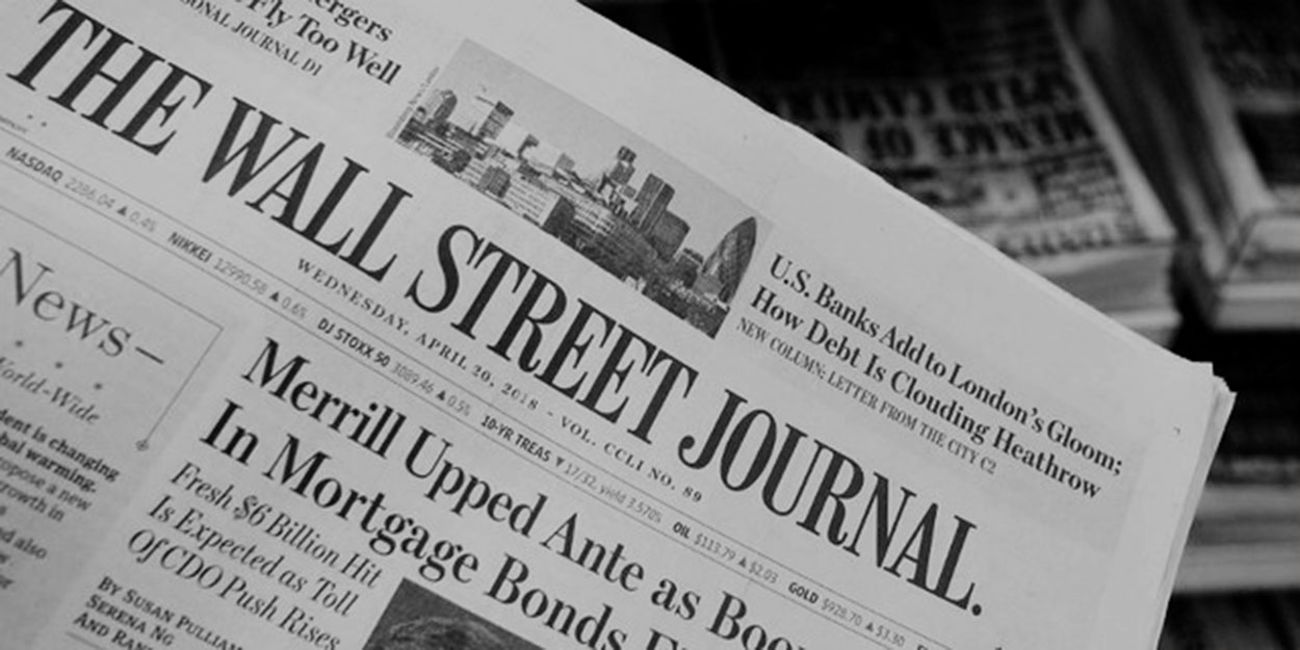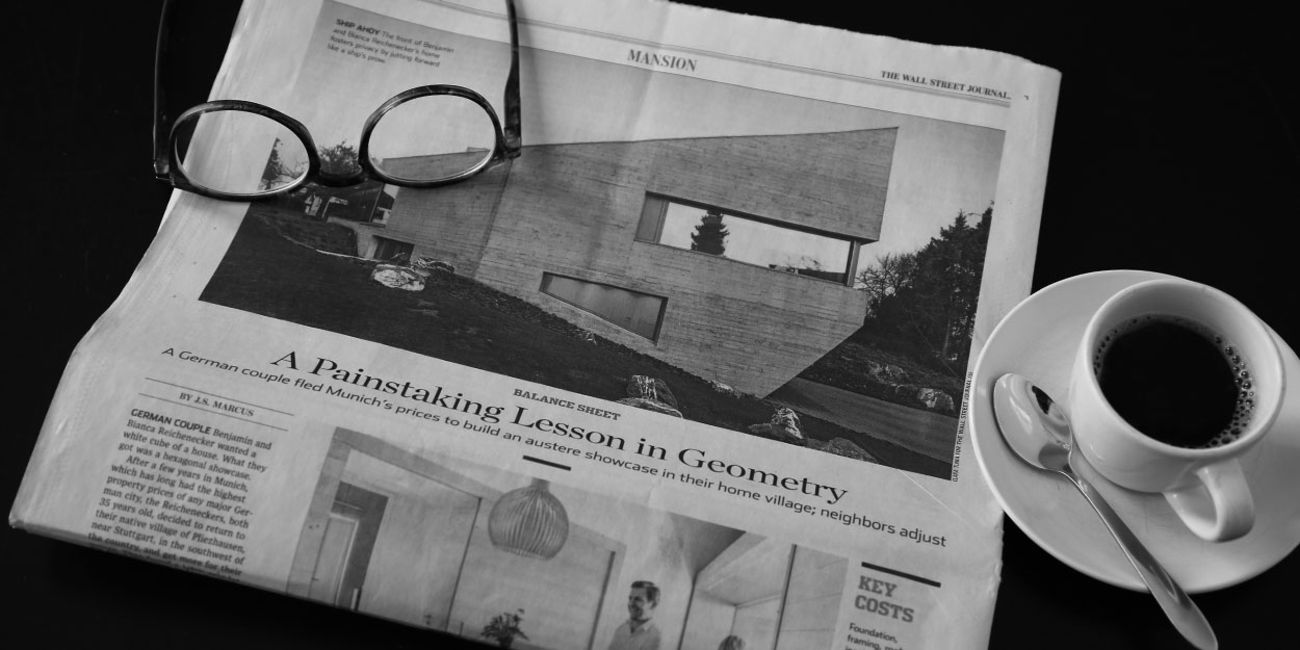 2018-09-24
E20 in WALL STREET JOURNAL
"...finally, after handing over the creative reins to Steimle Architects, a Stuttgart studio, they ended up with a bijou villa with an unusal hexagonal shape...

link zum Projekt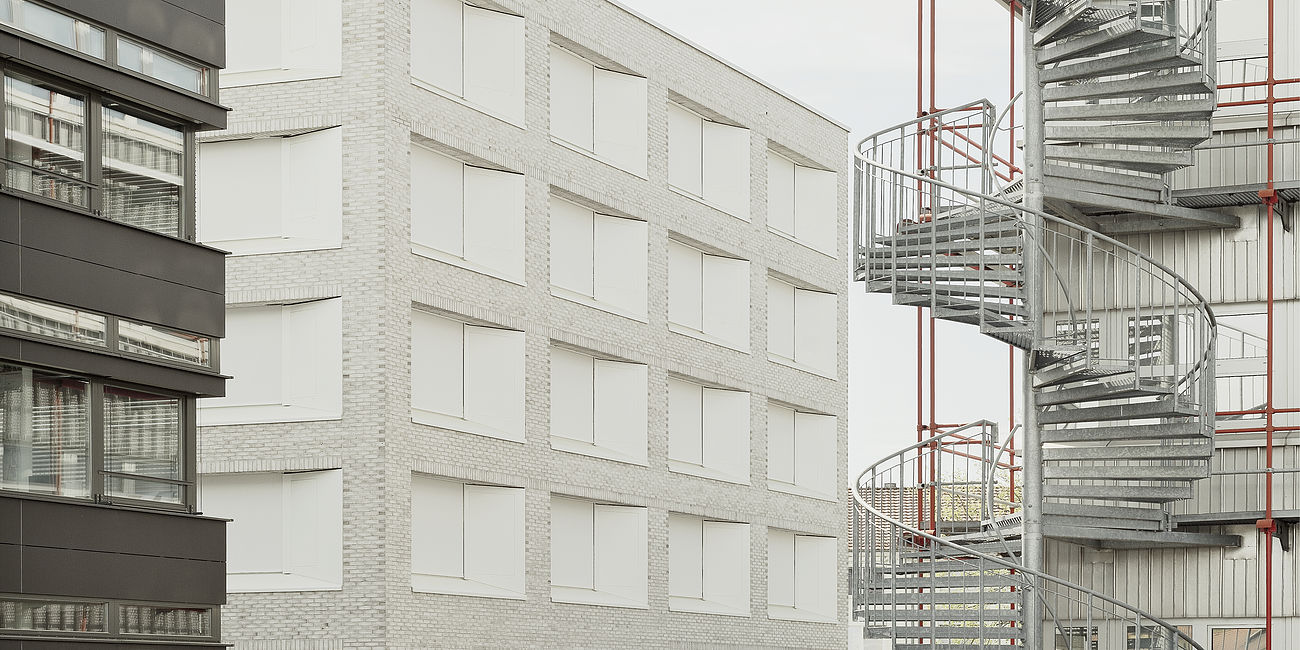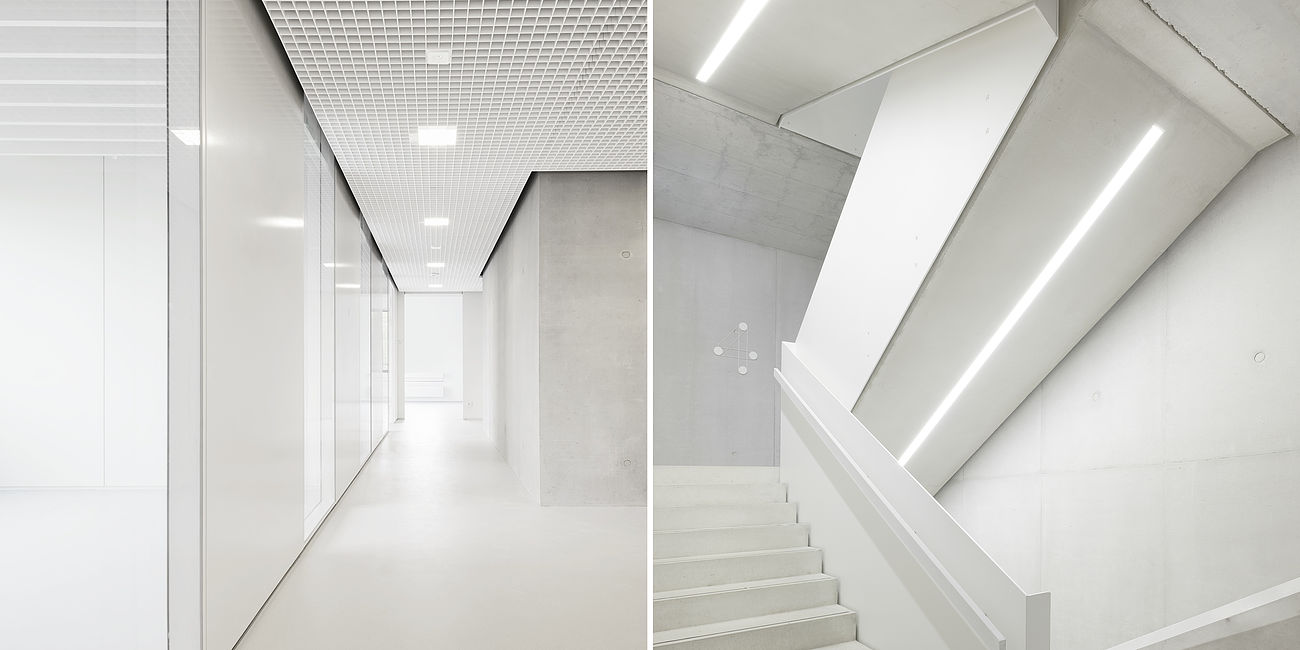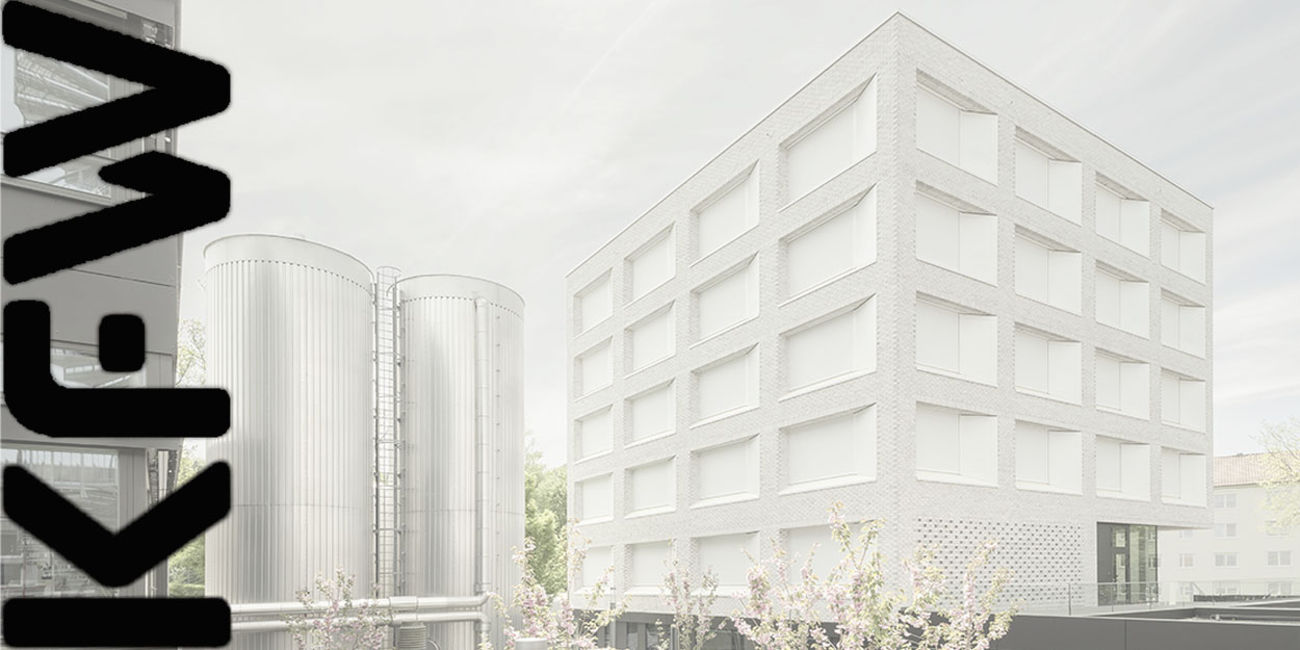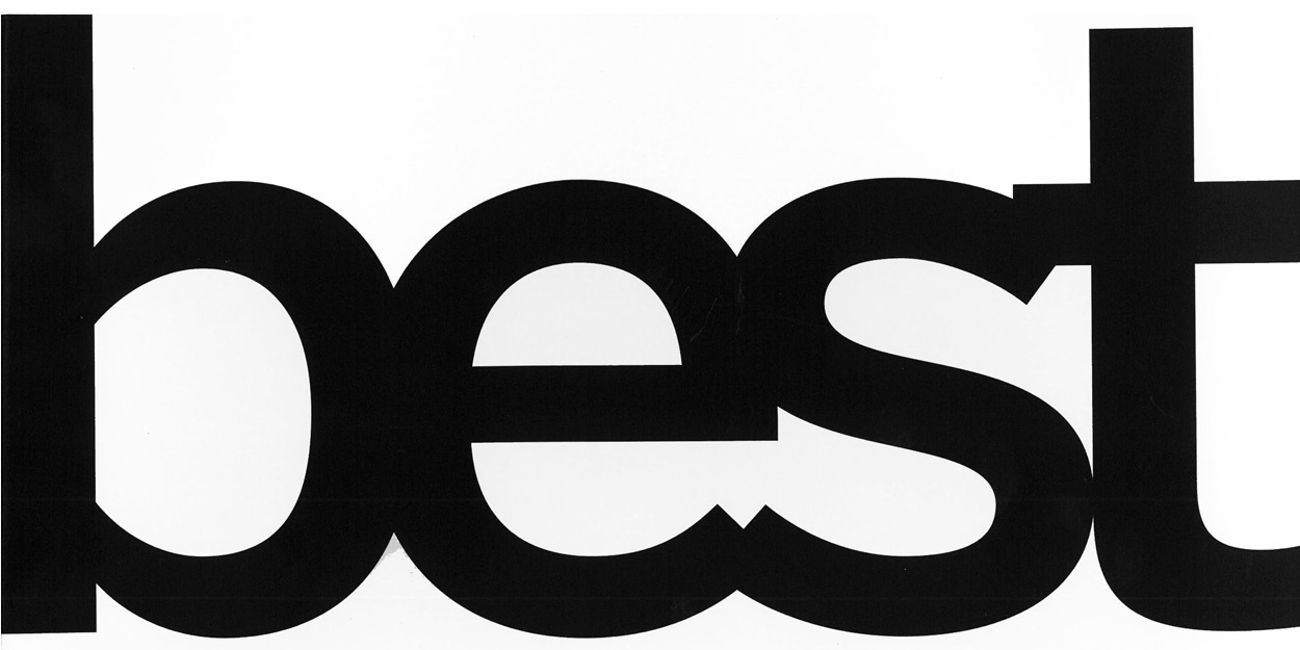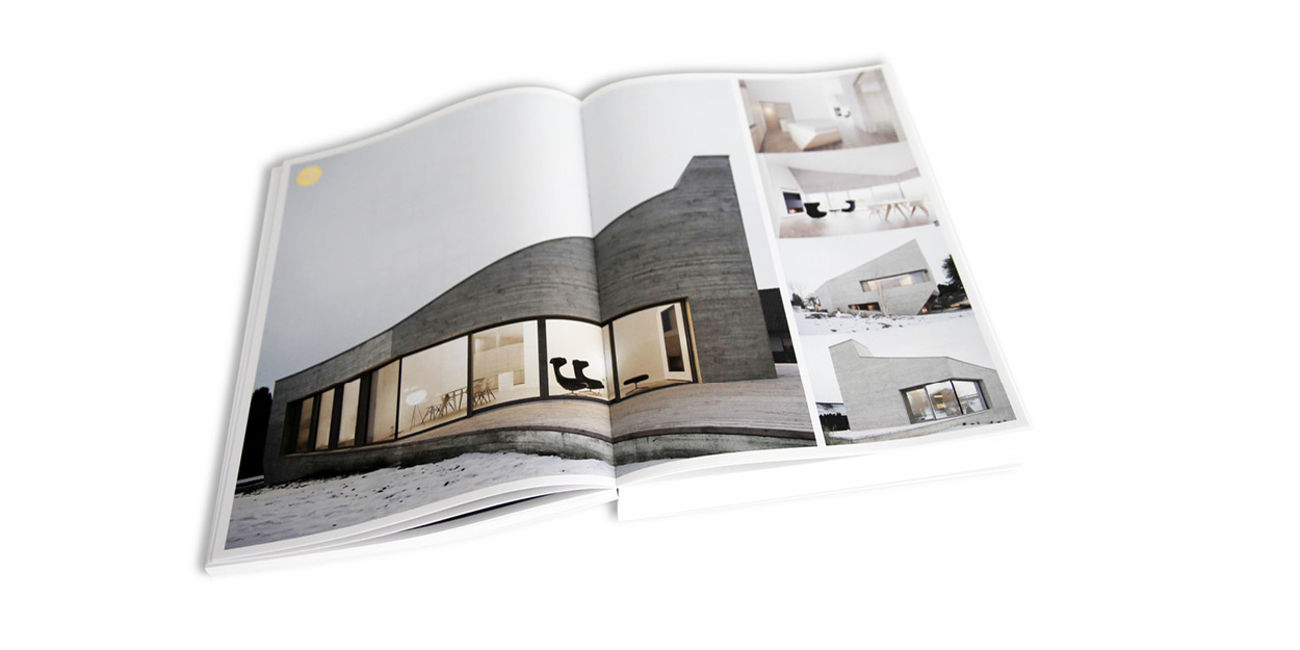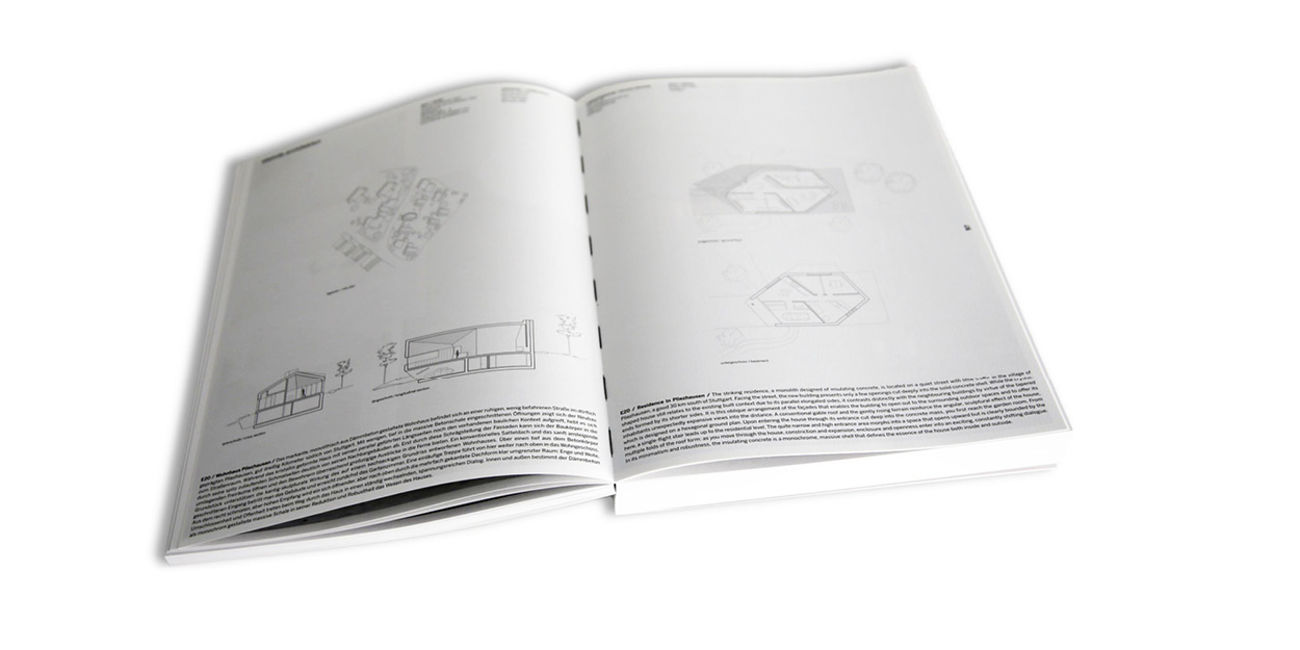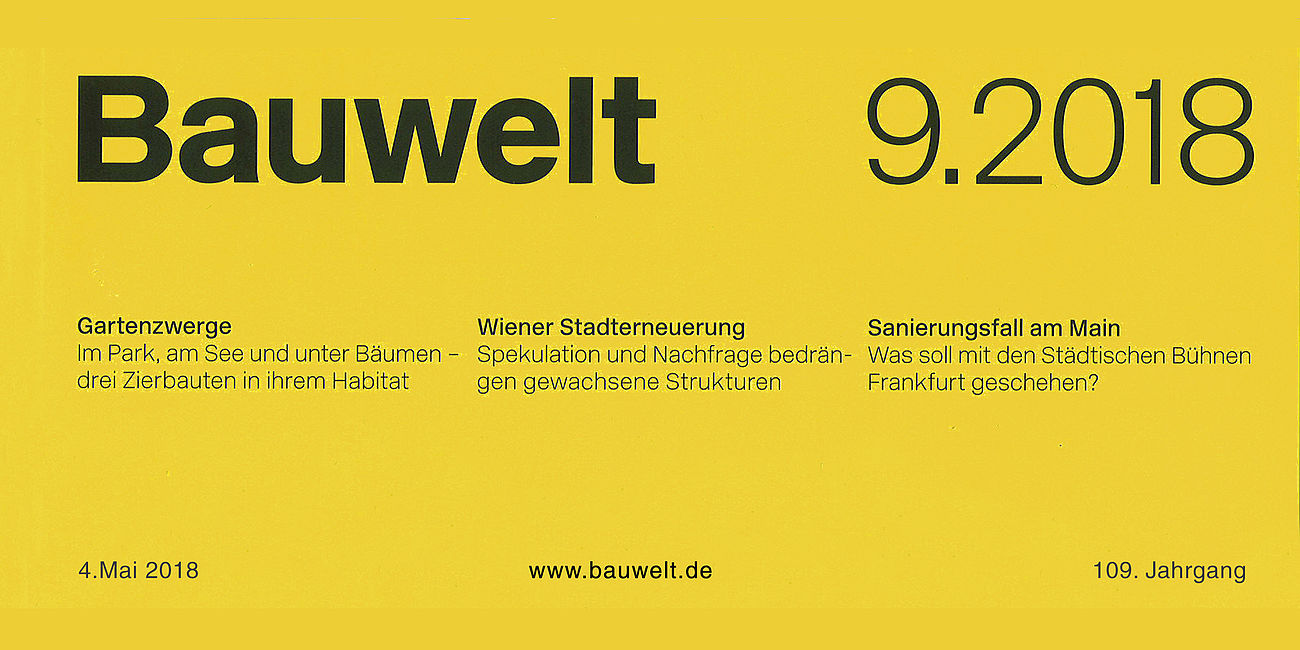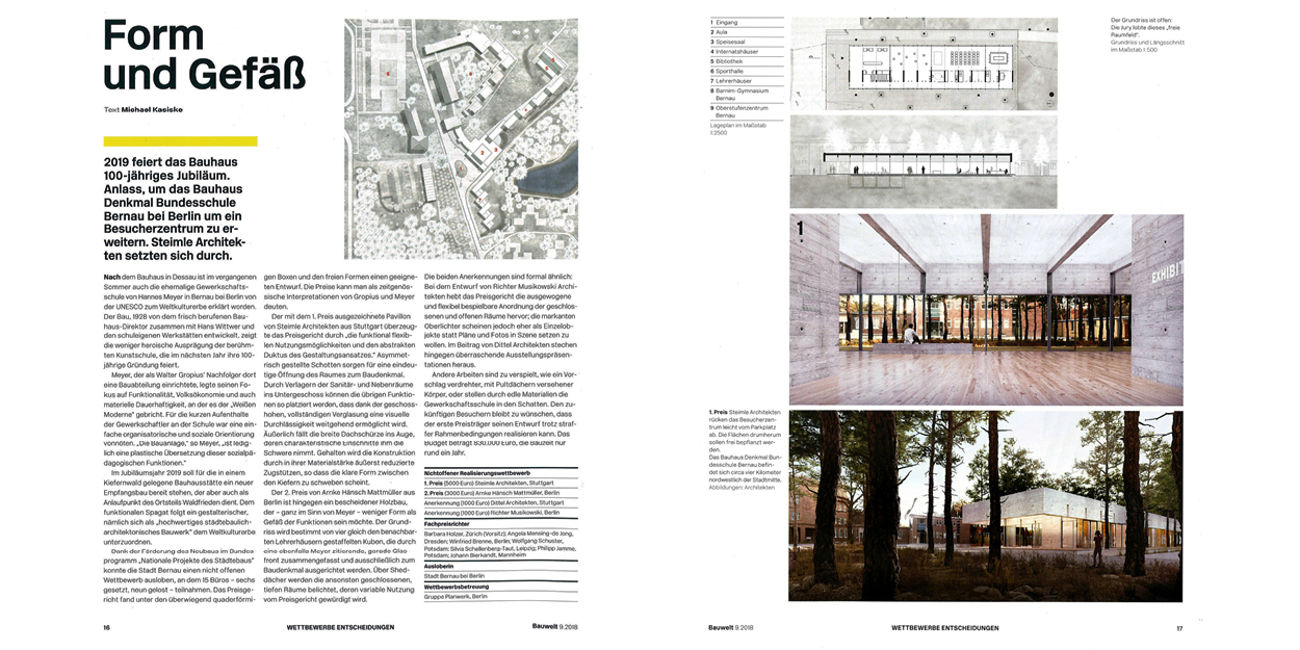 2018-05-04
visitors center for Bauhaus monument "Bundesschule Bernau" in Bauwelt 9.2018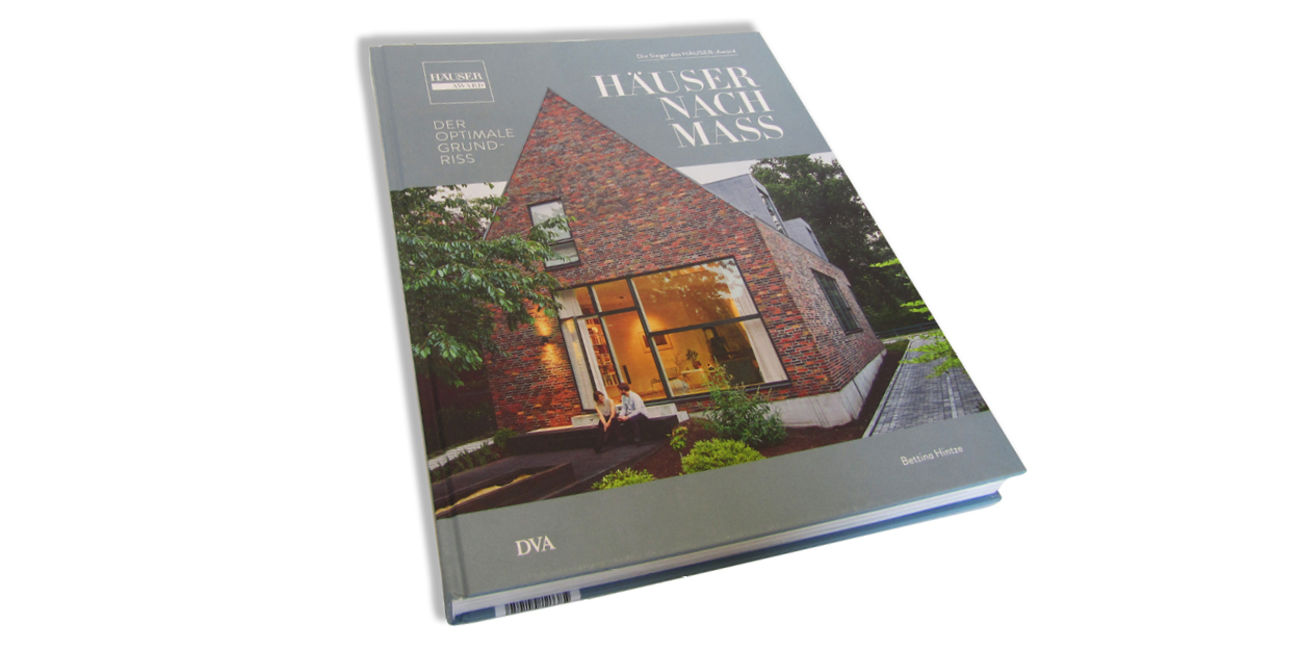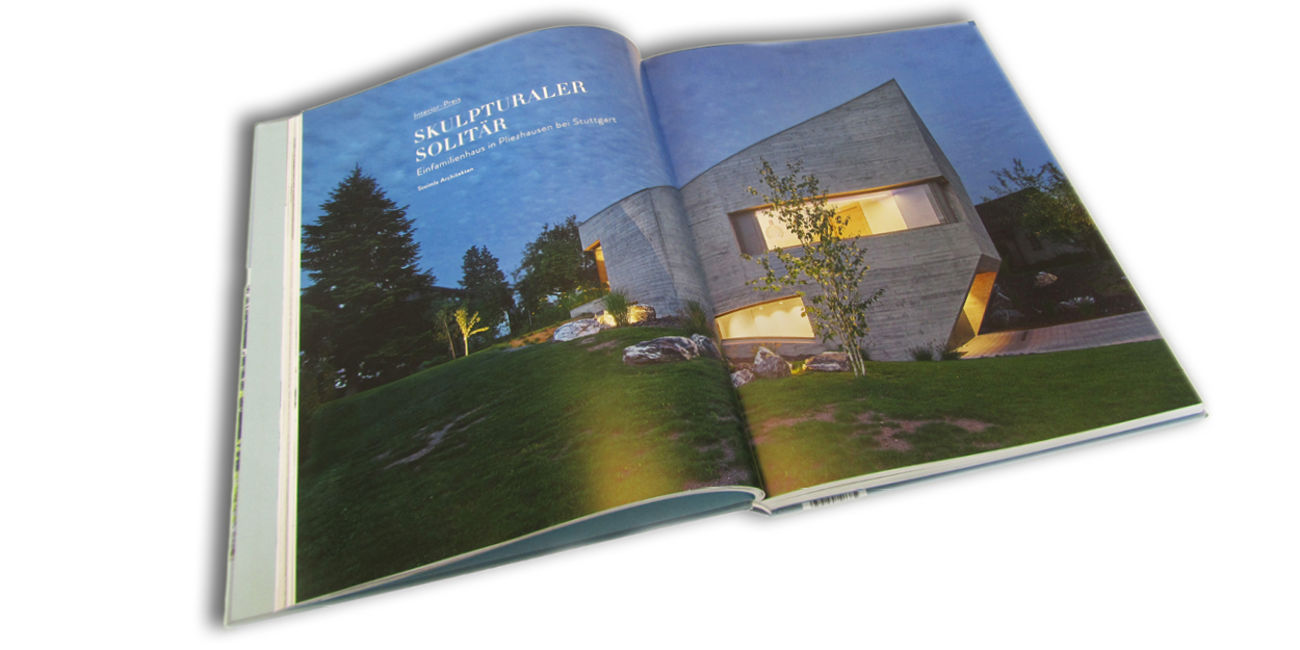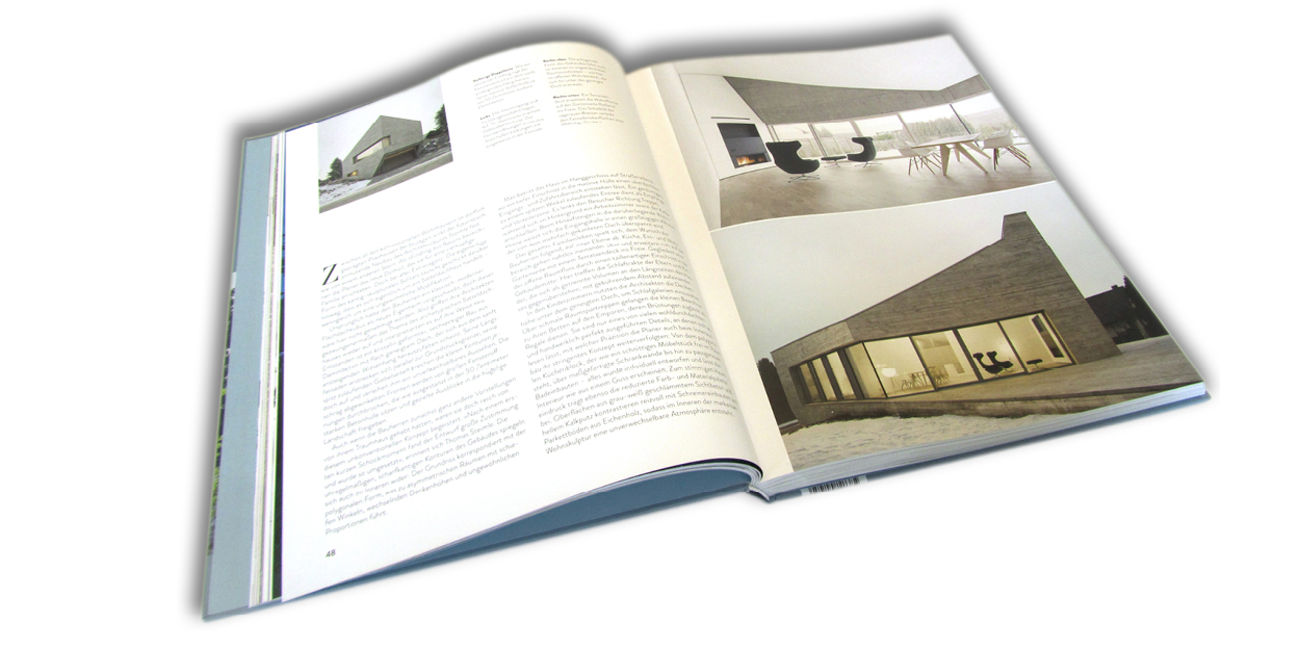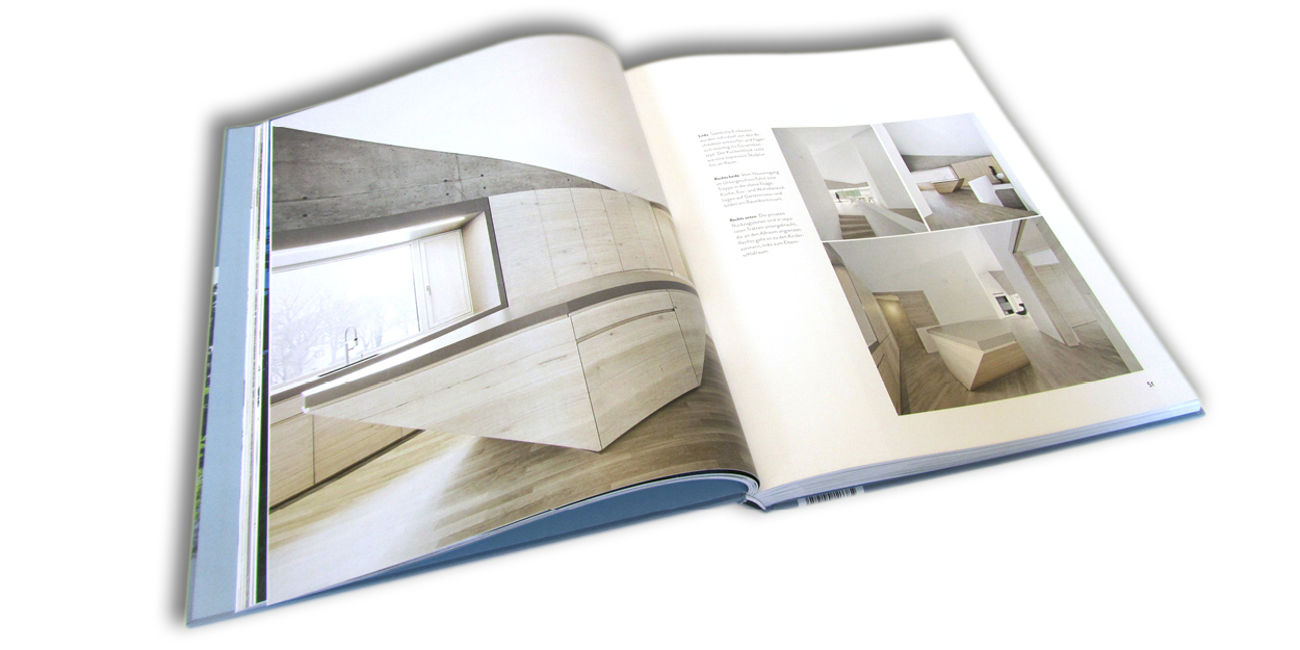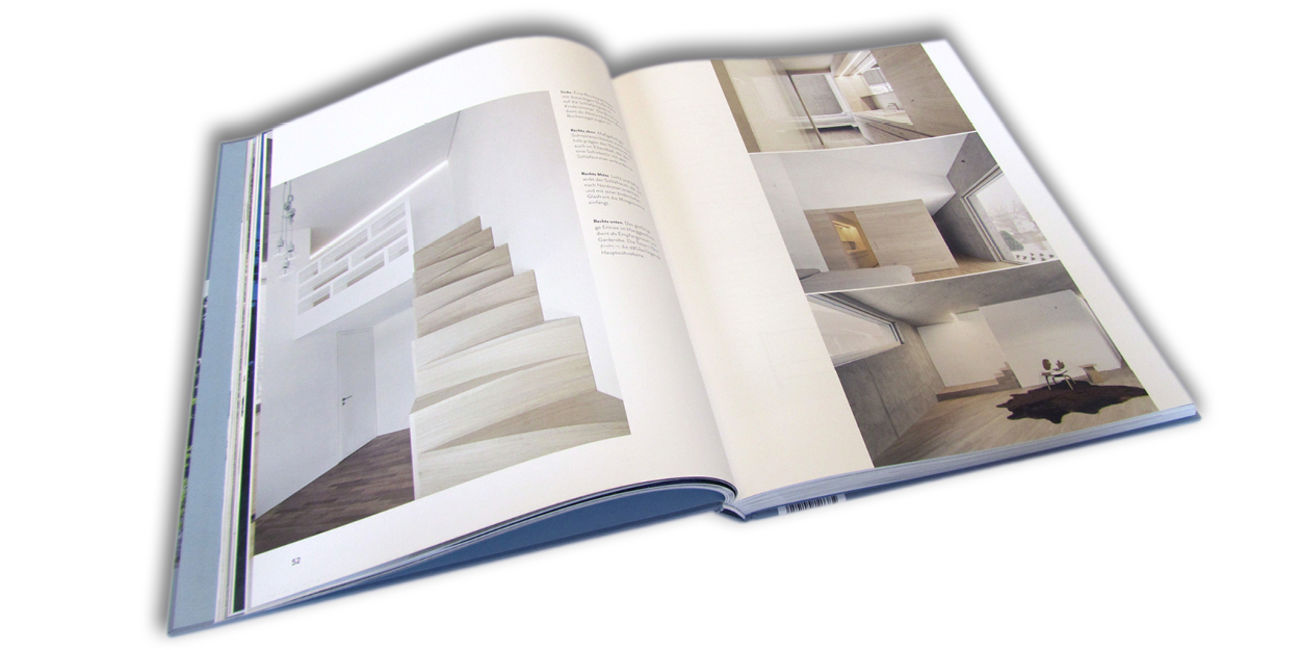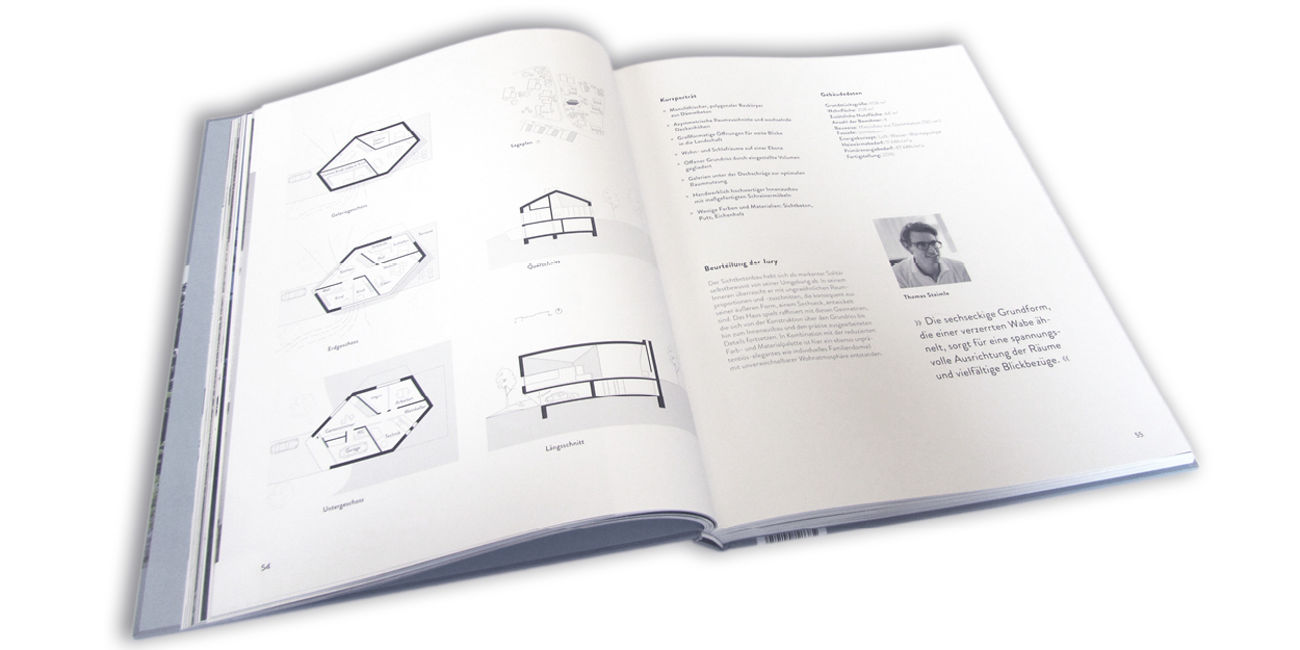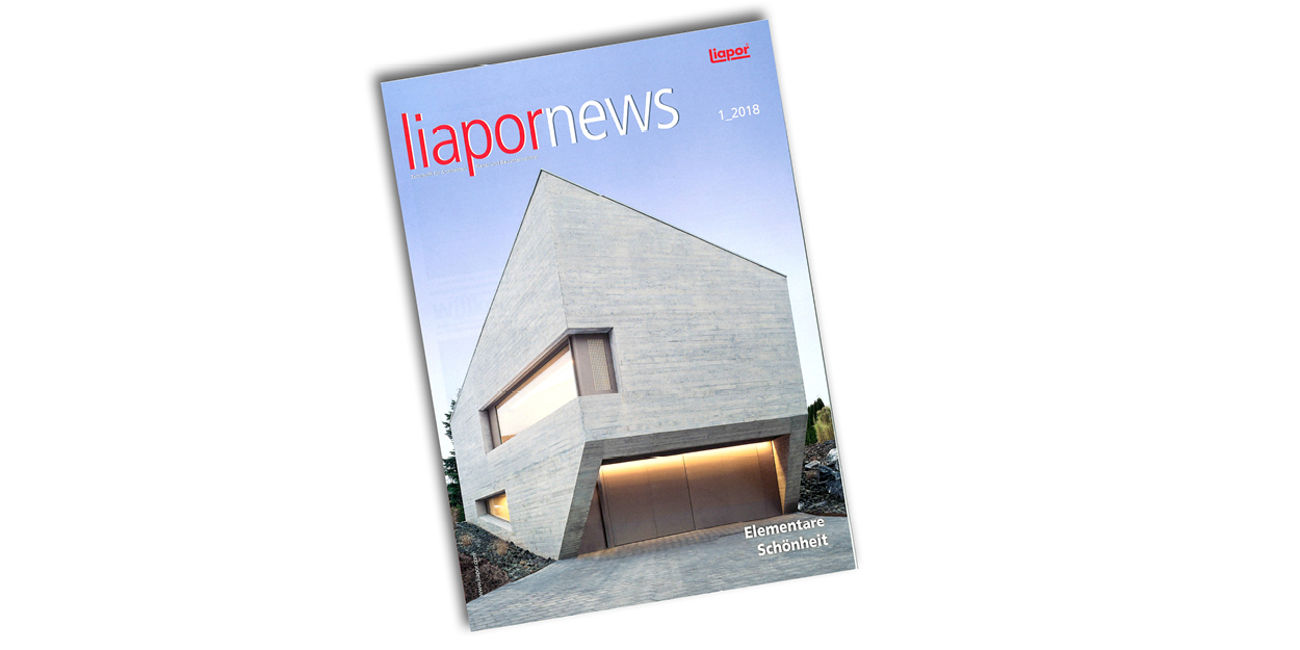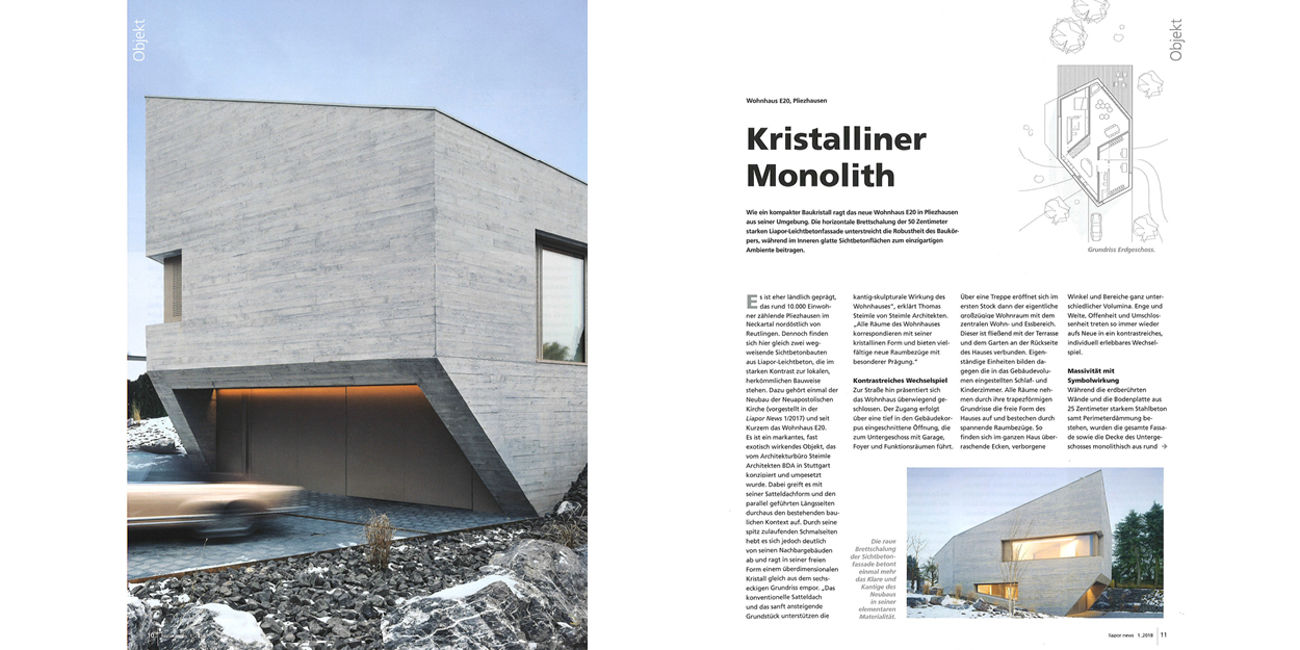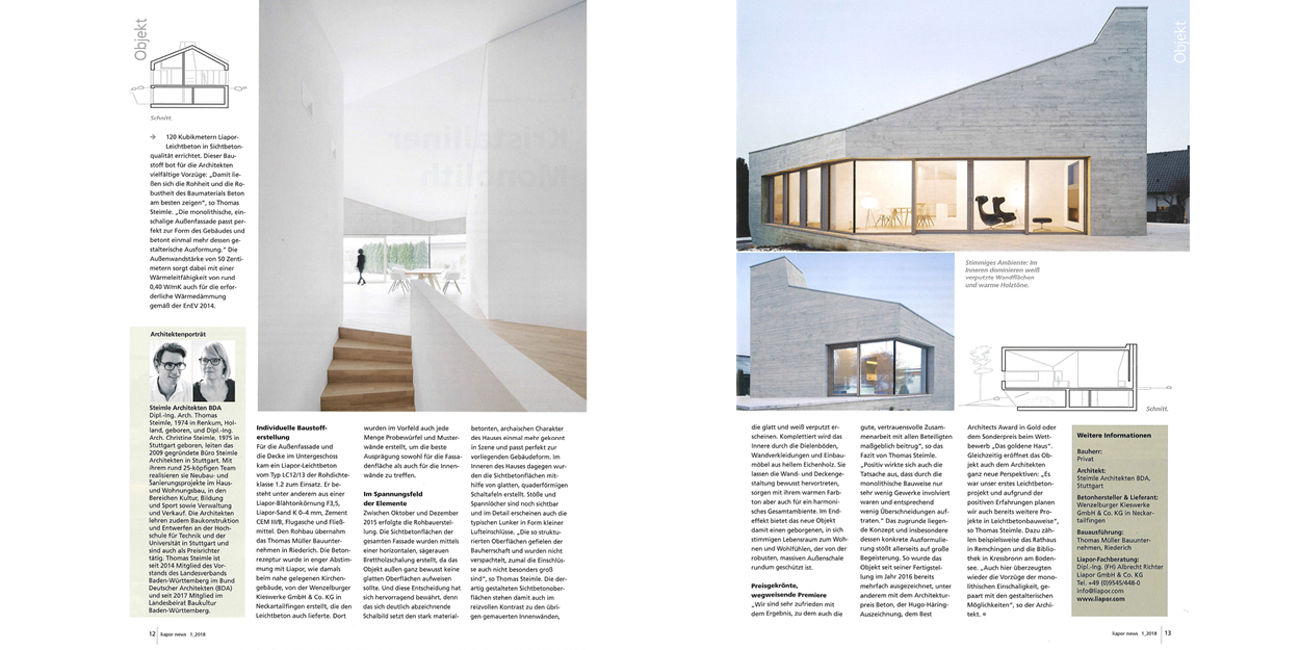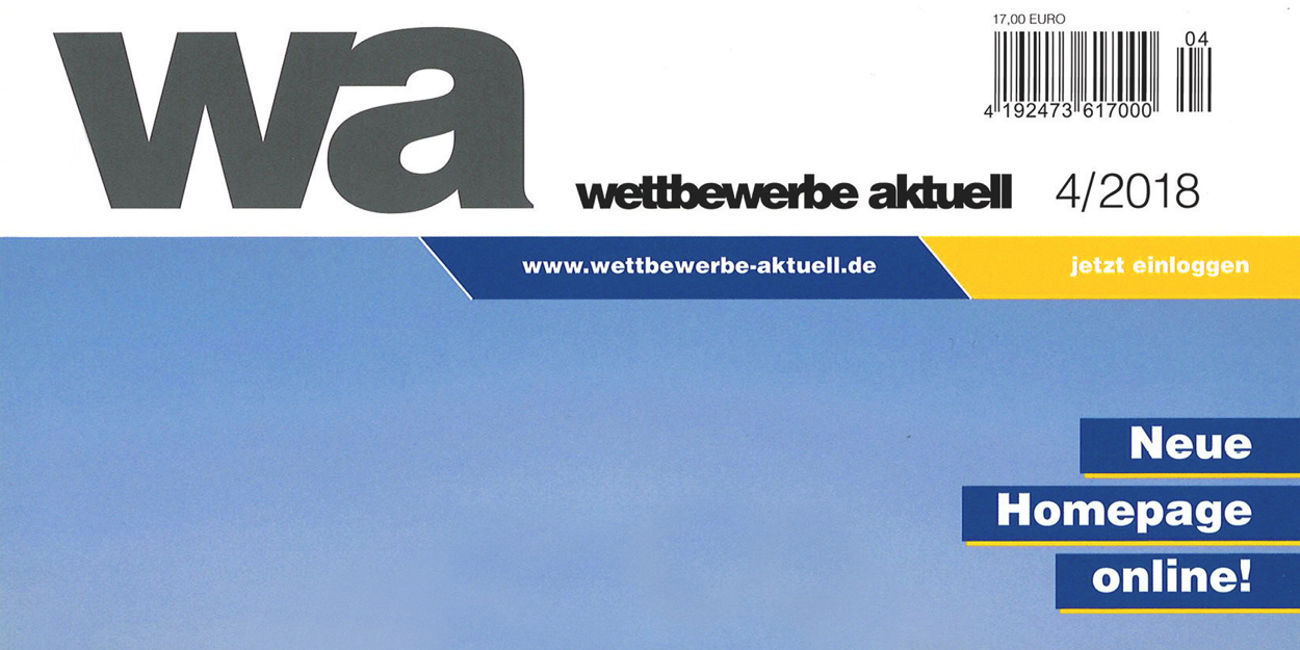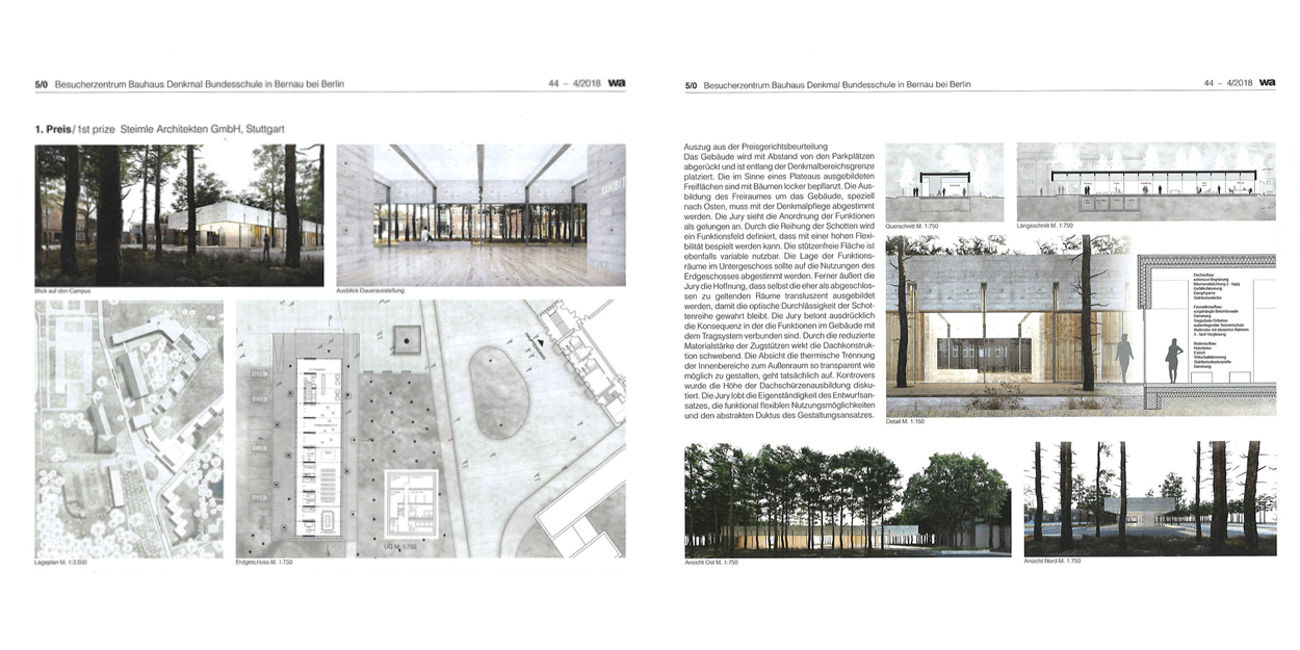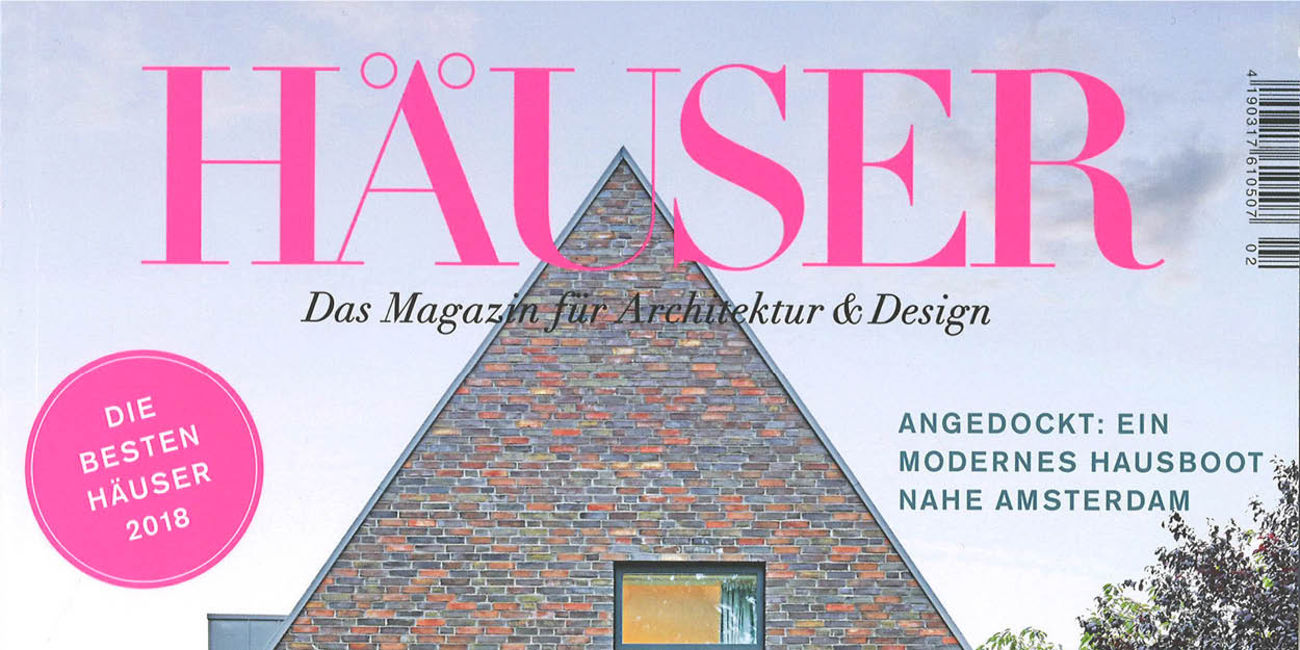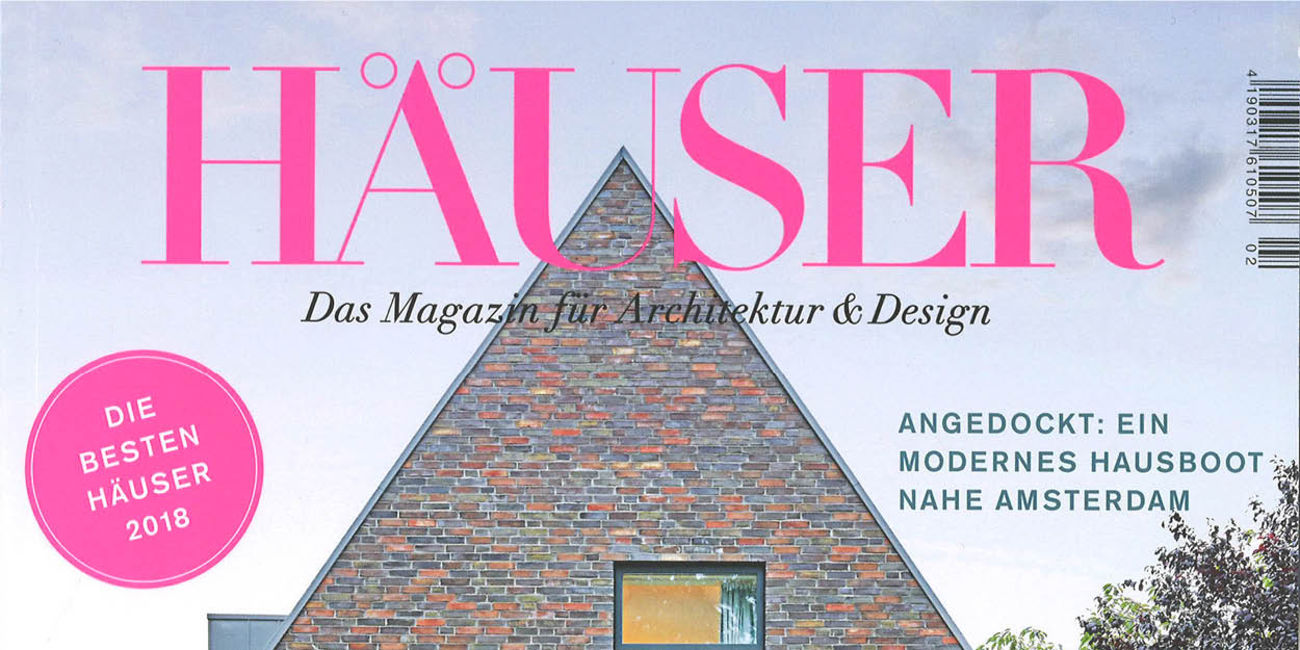 2018-02-27
E20 in Häuser - the magazine for architecture and design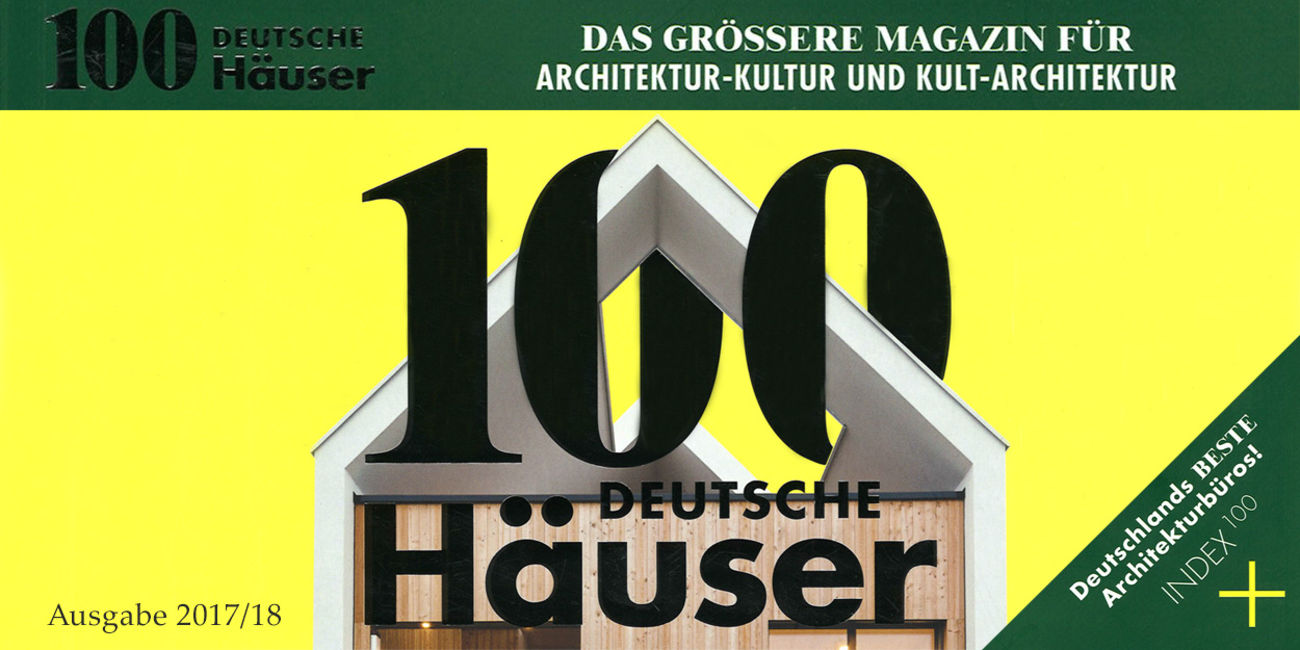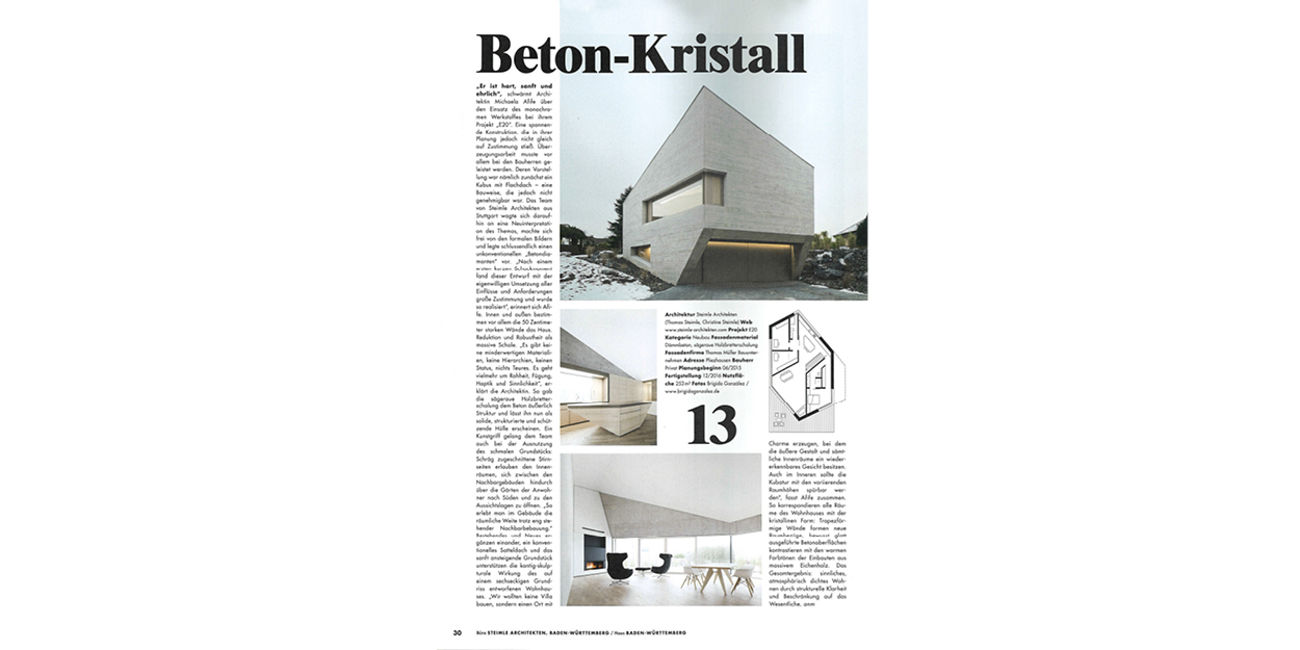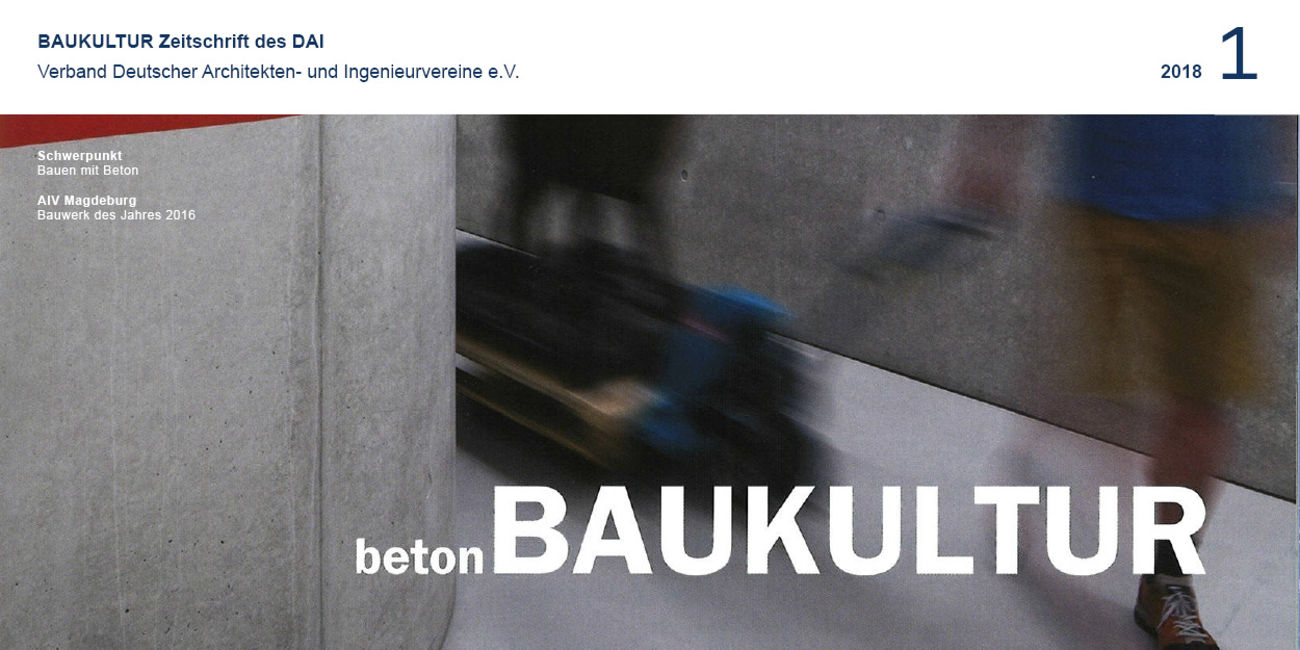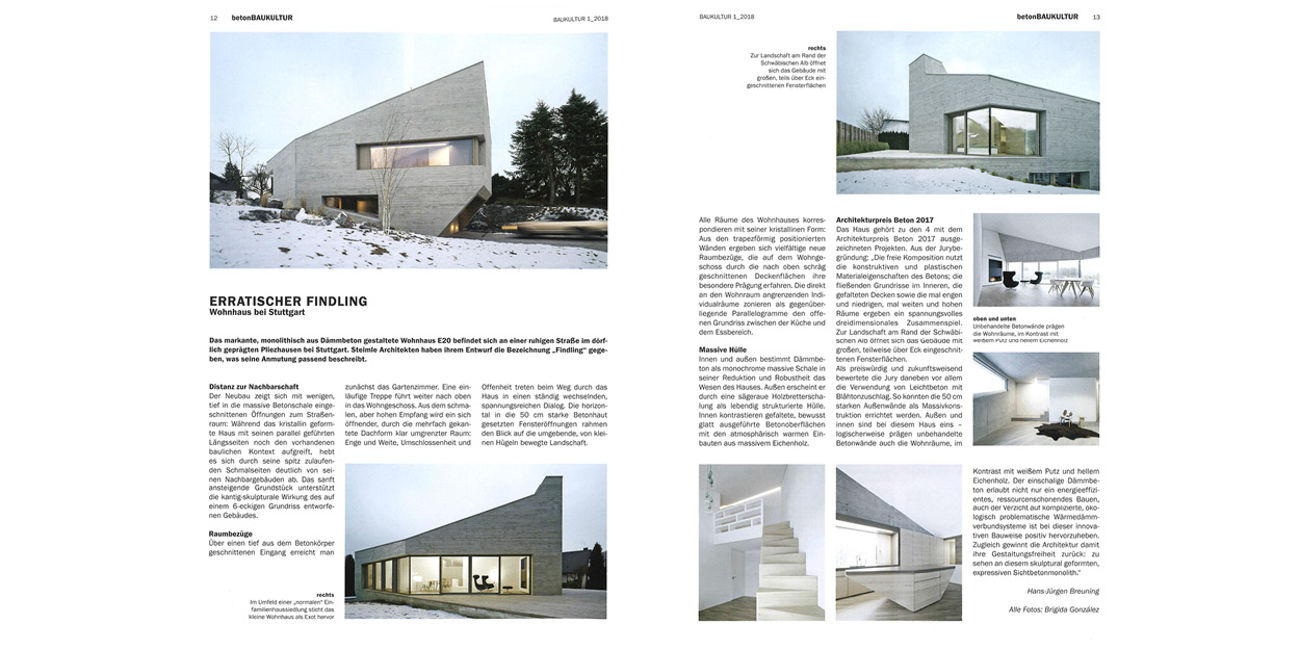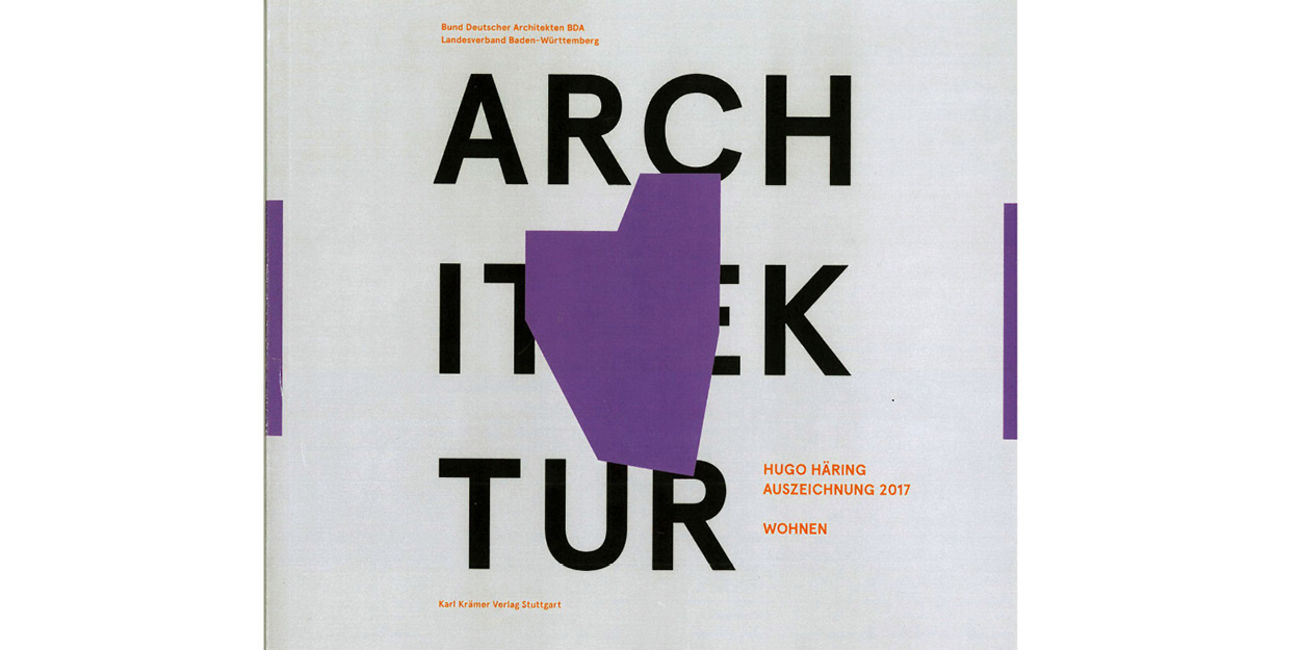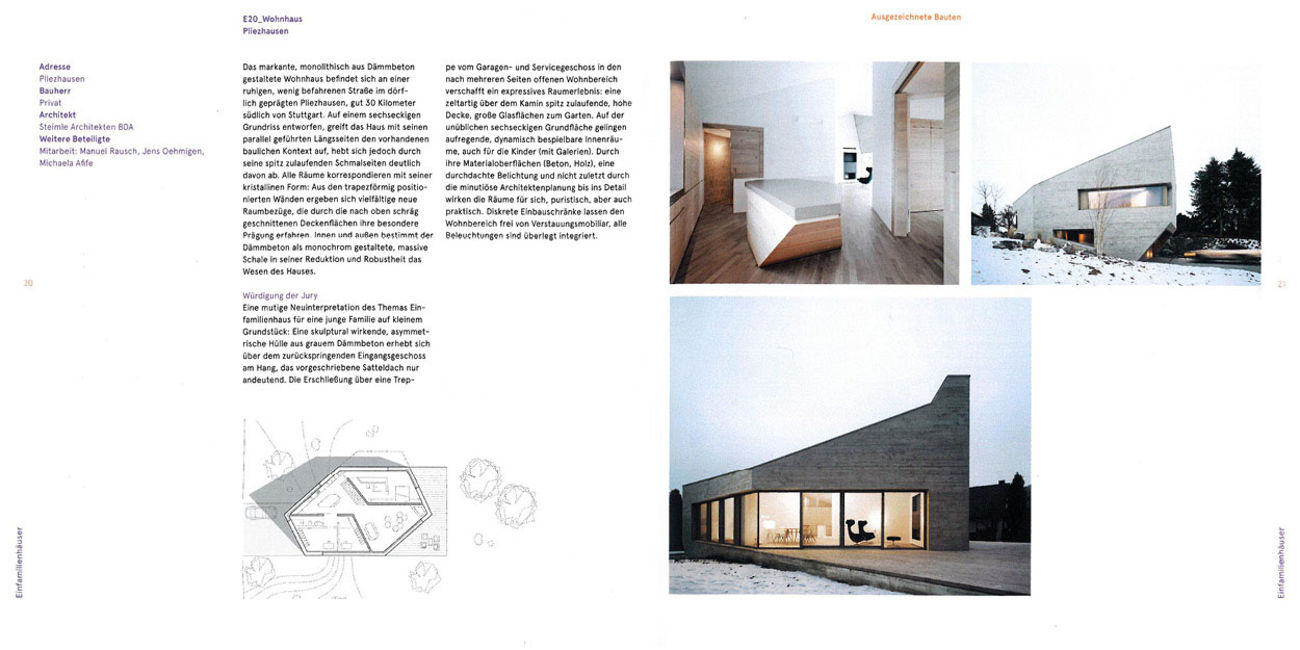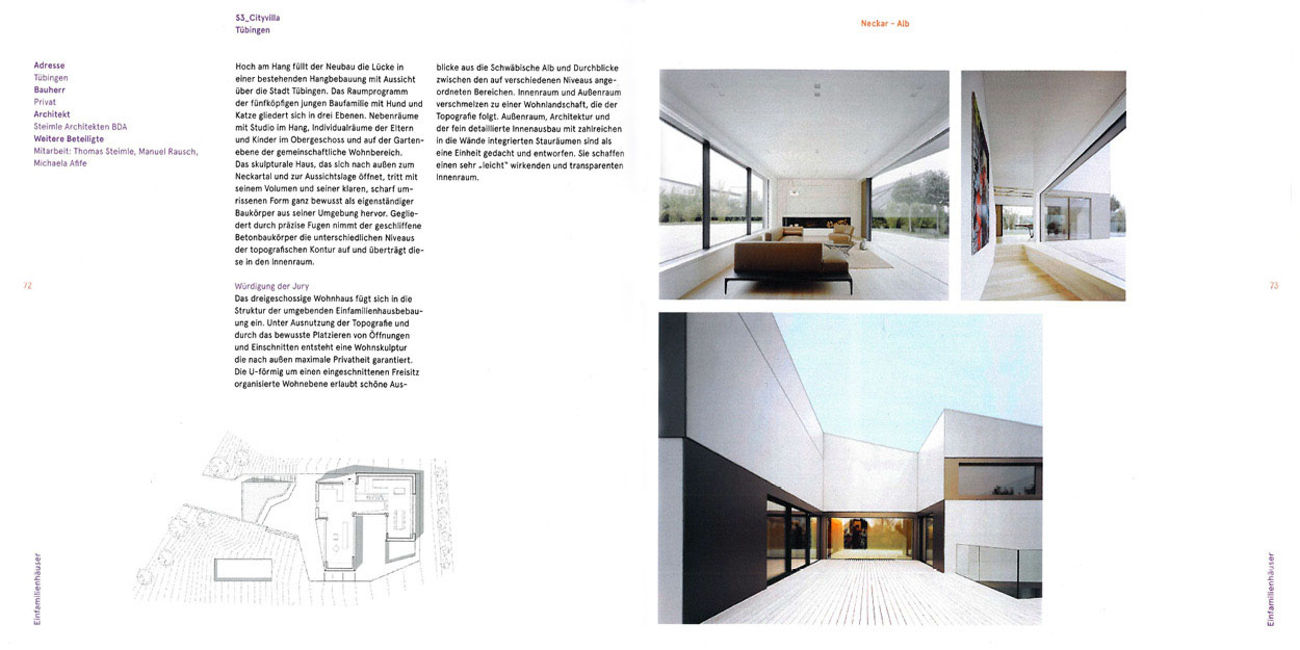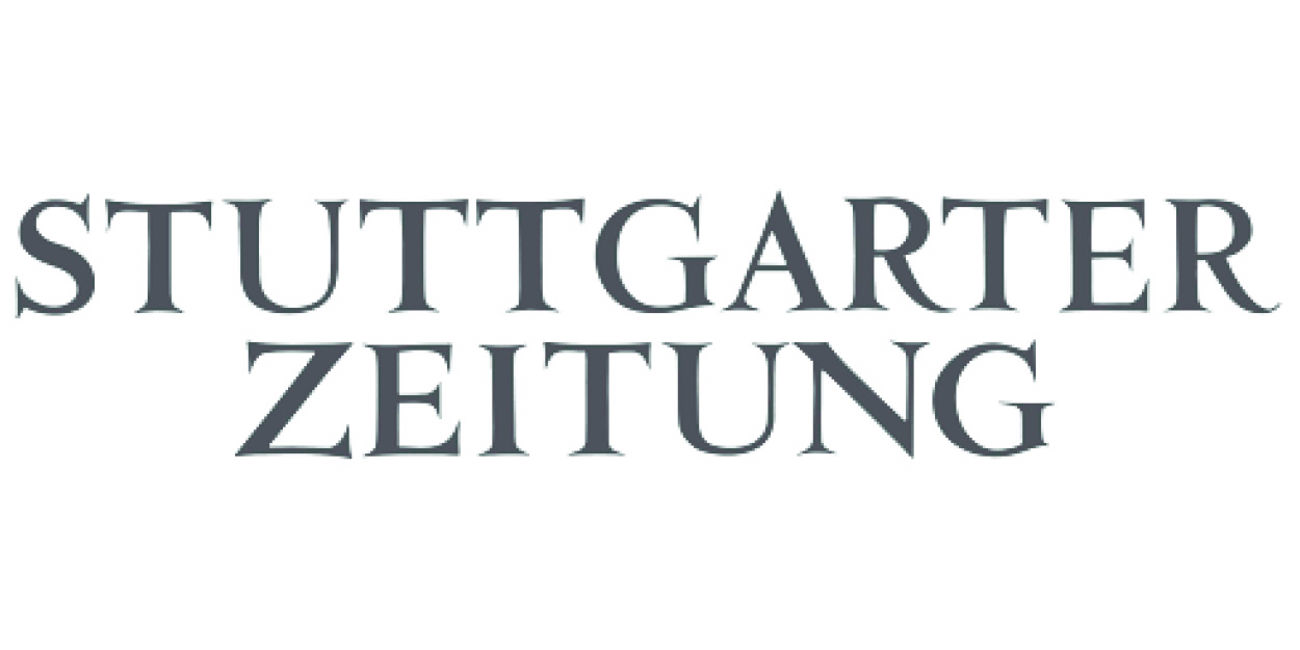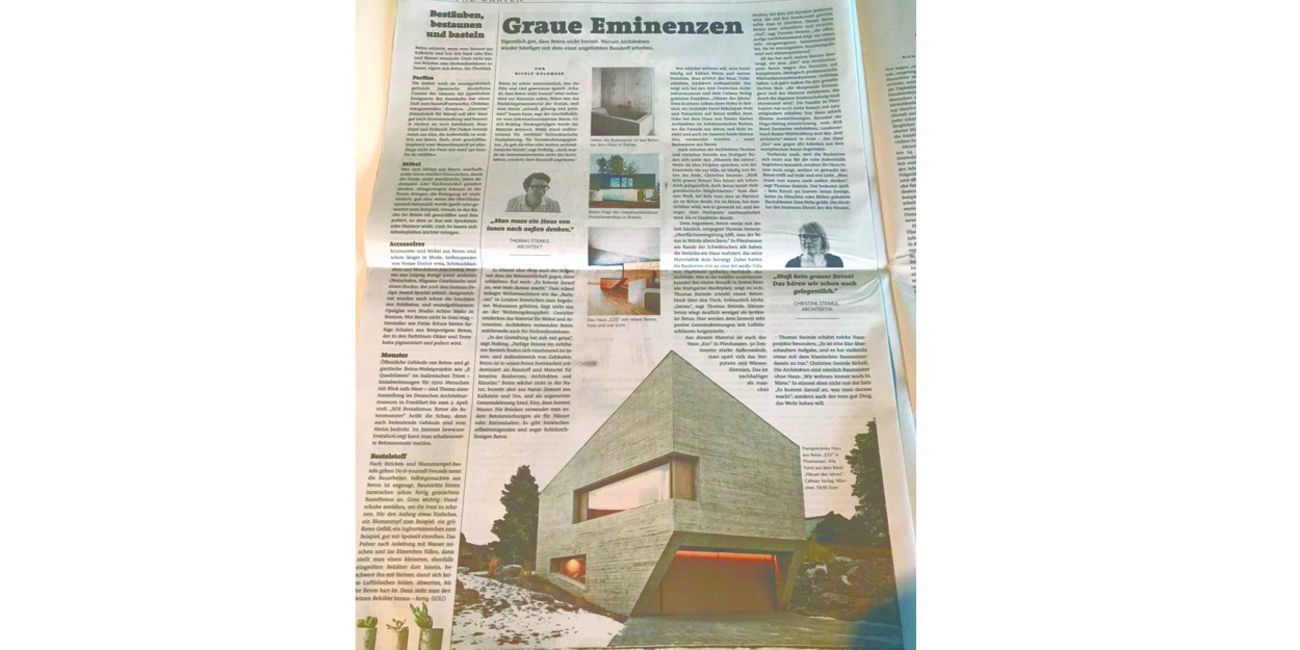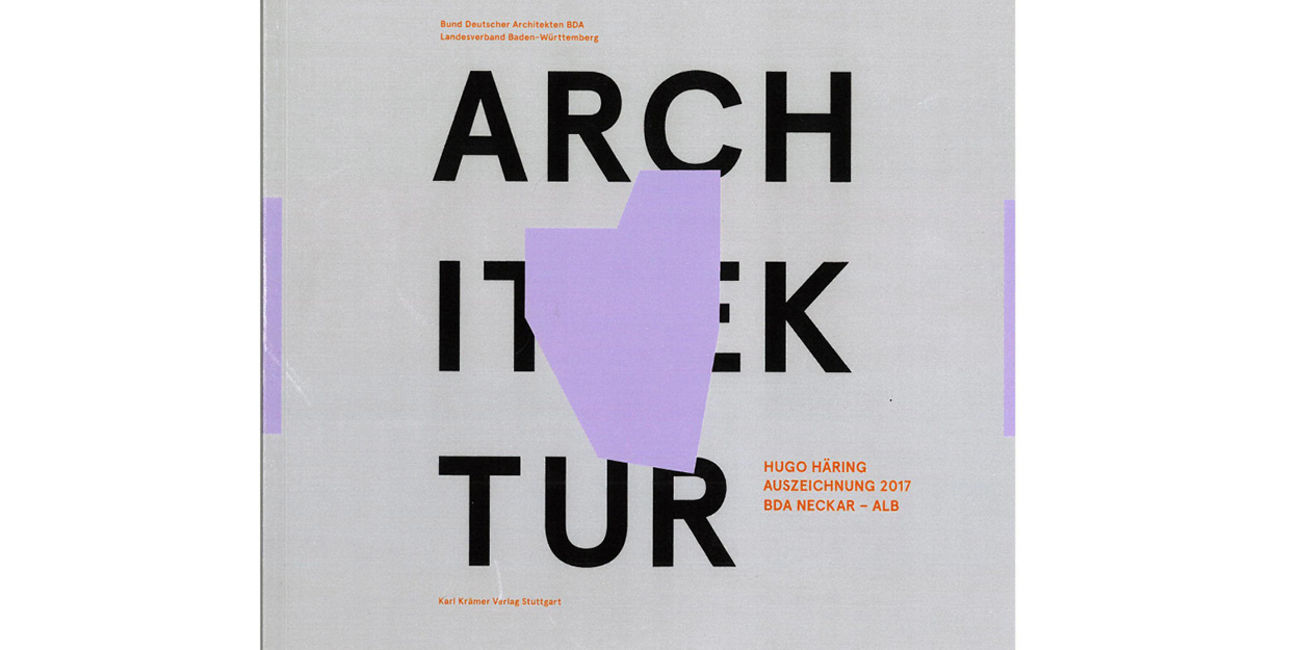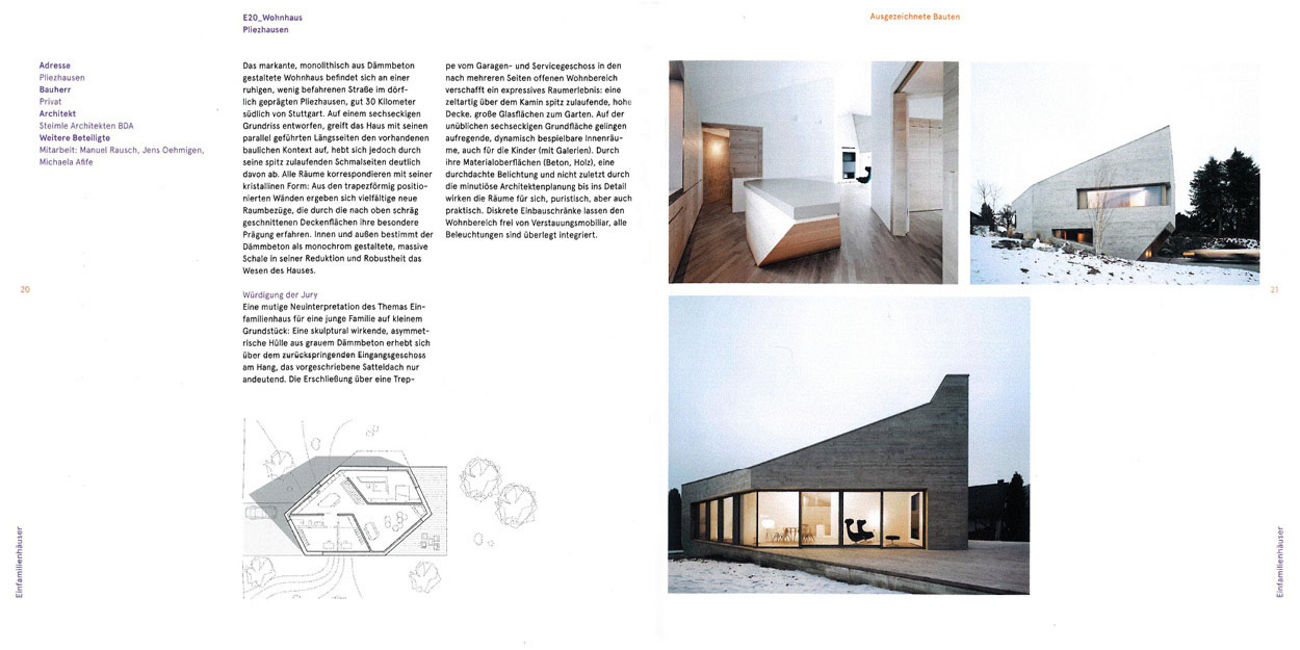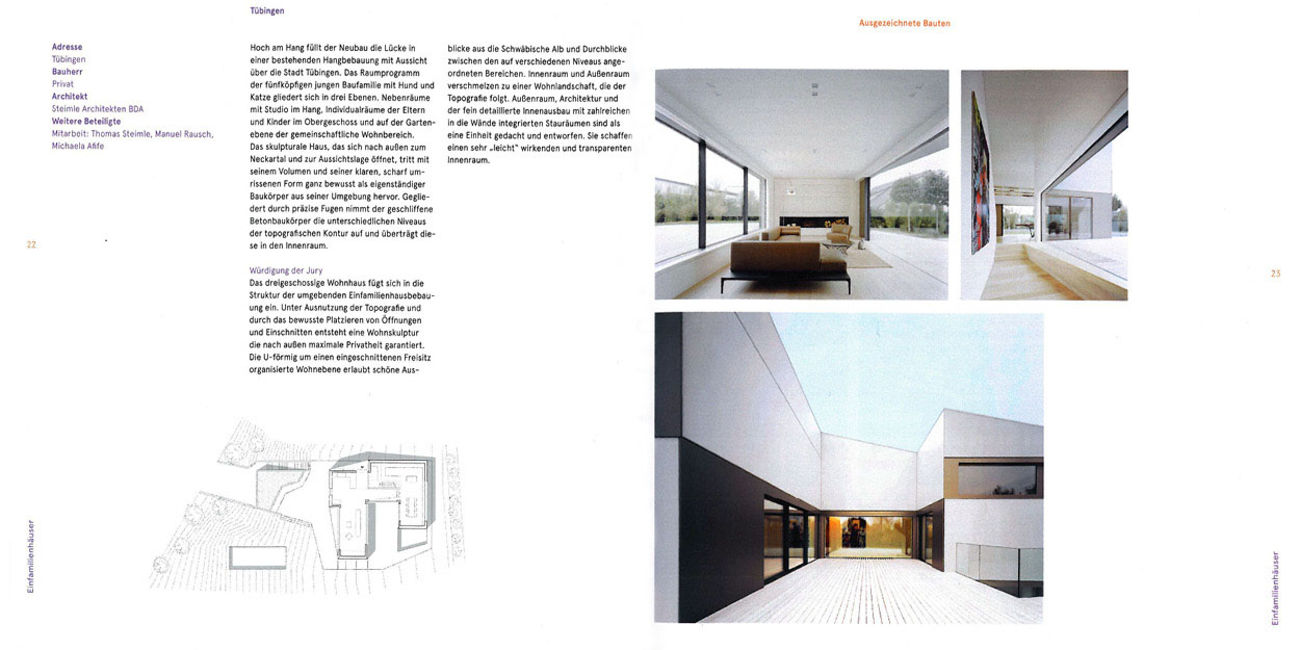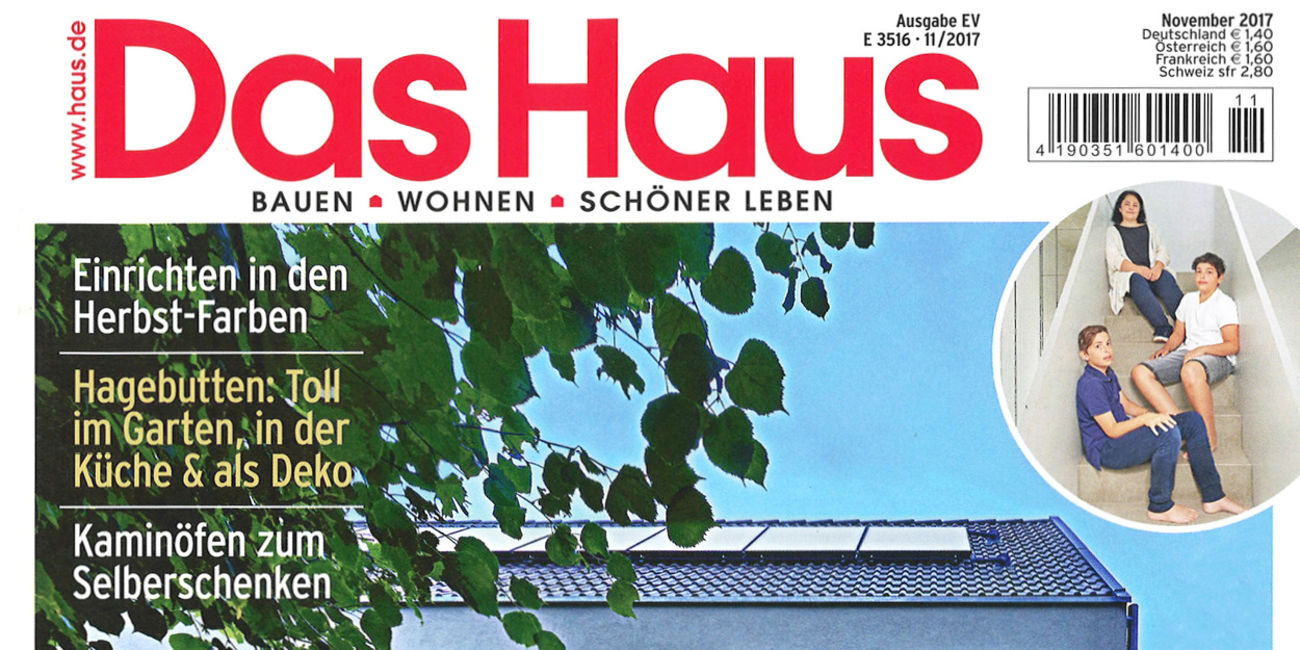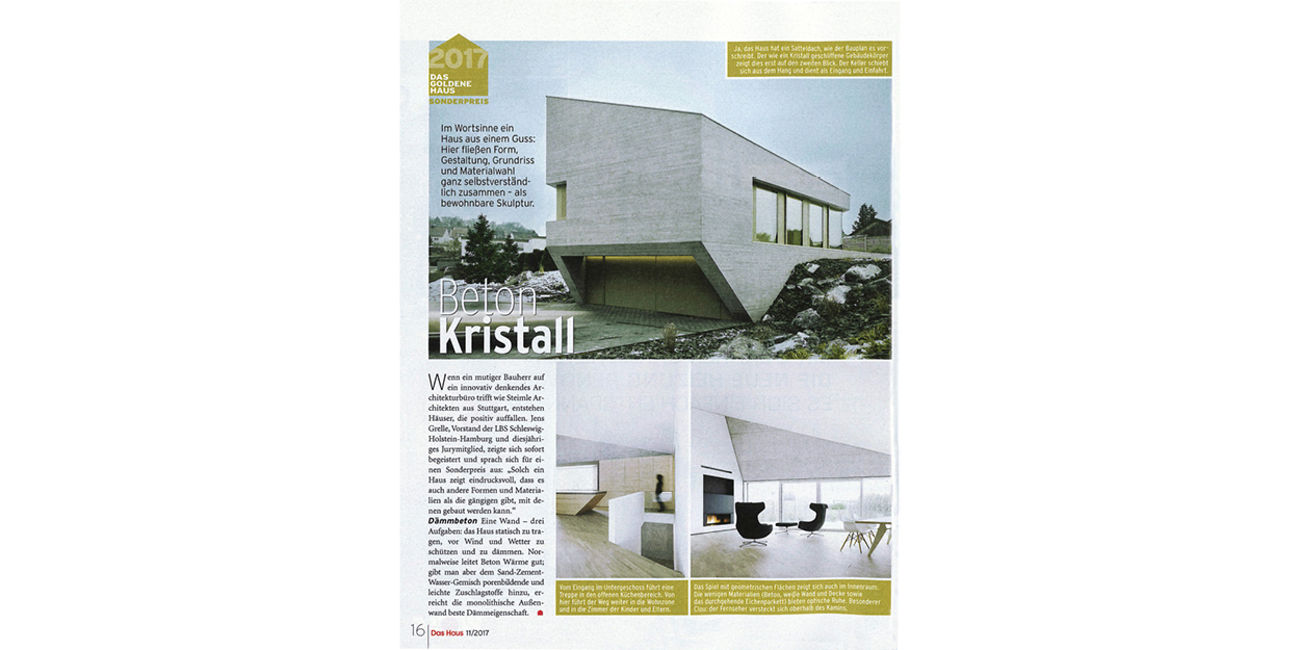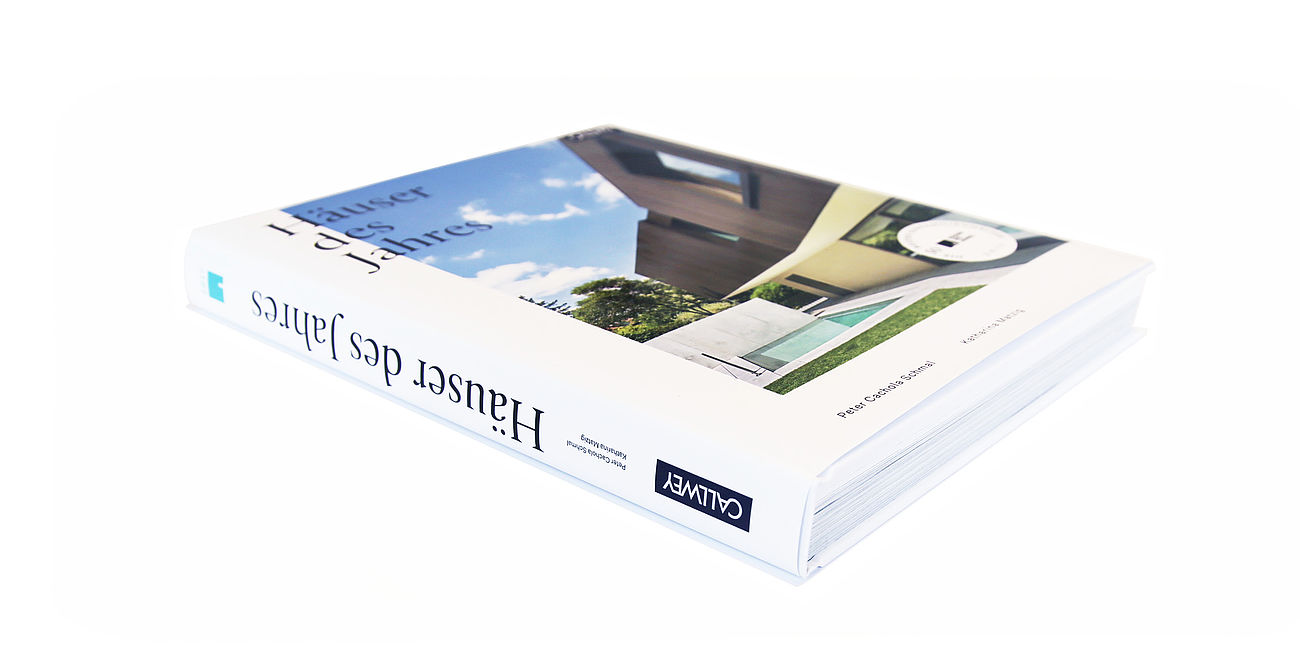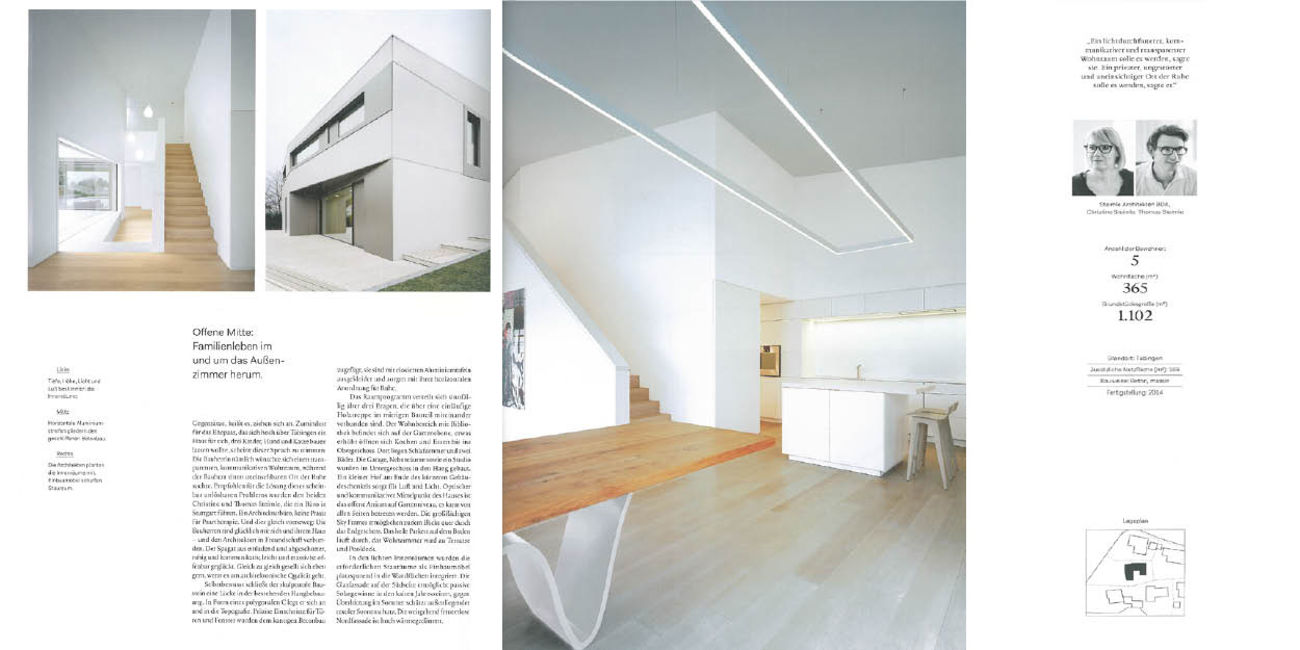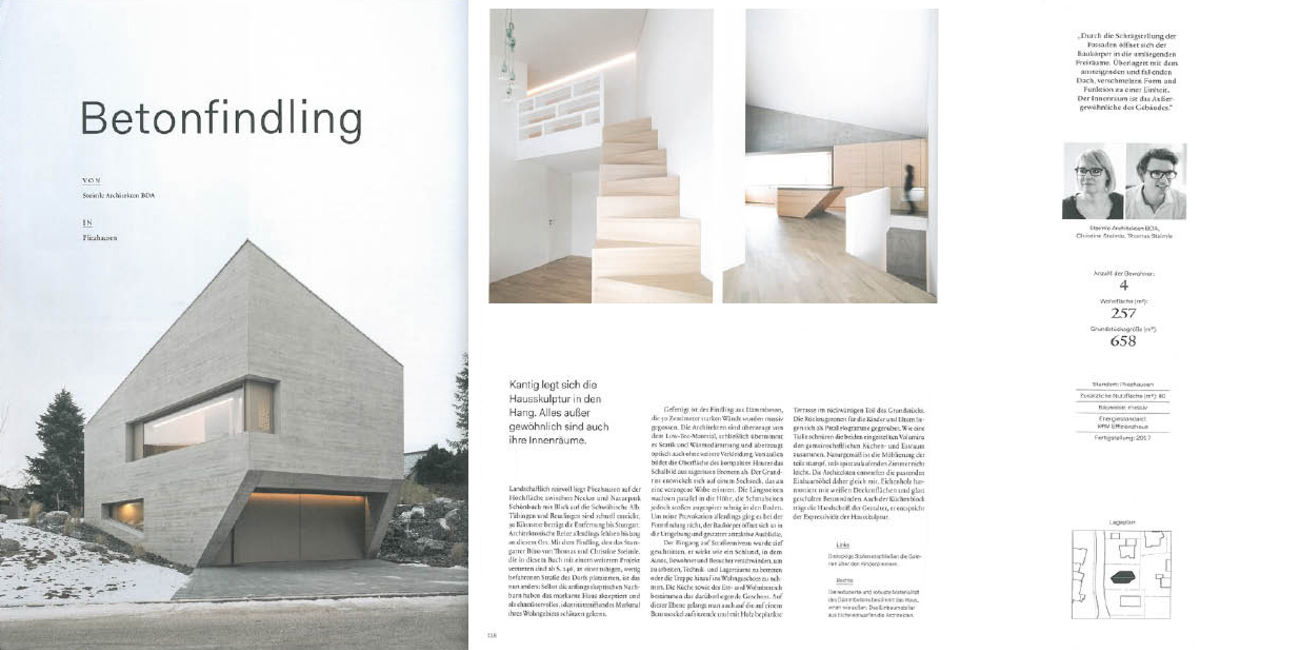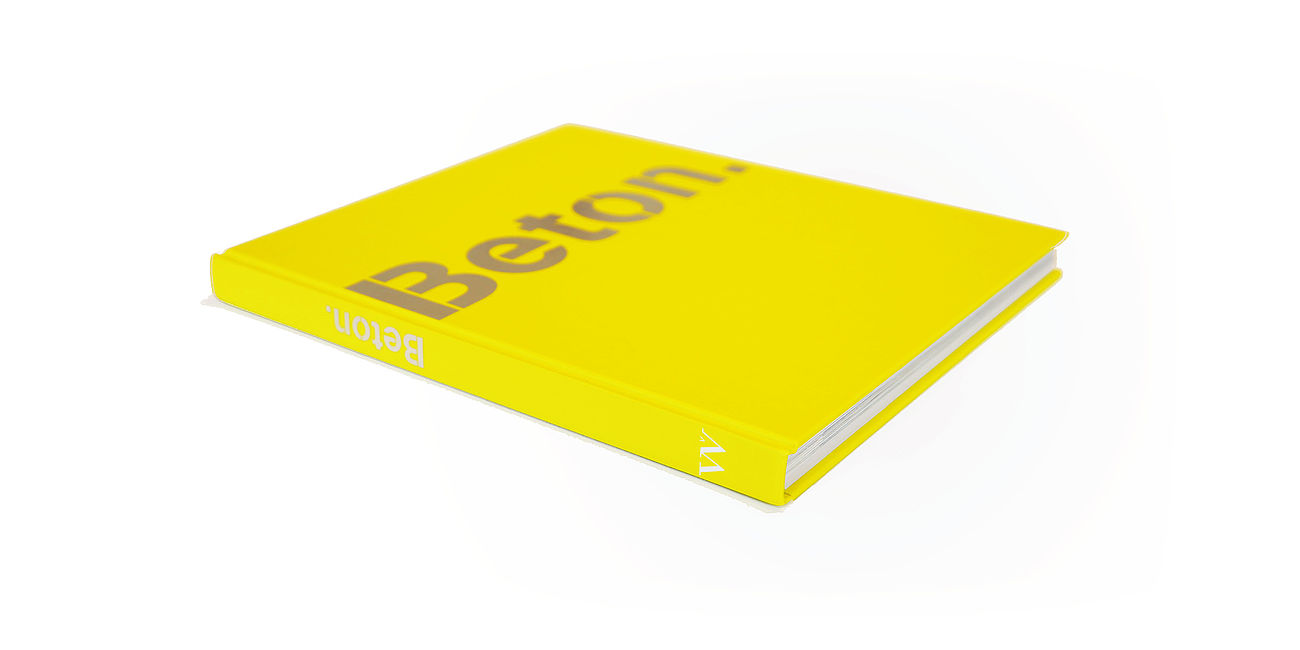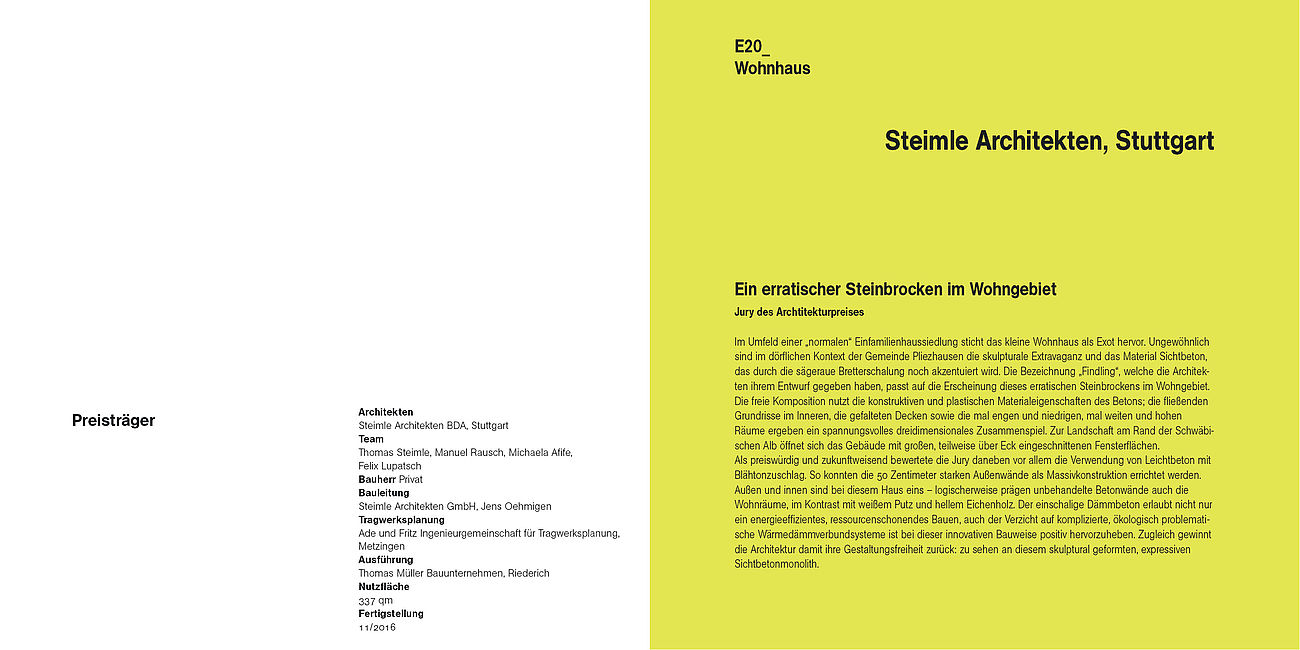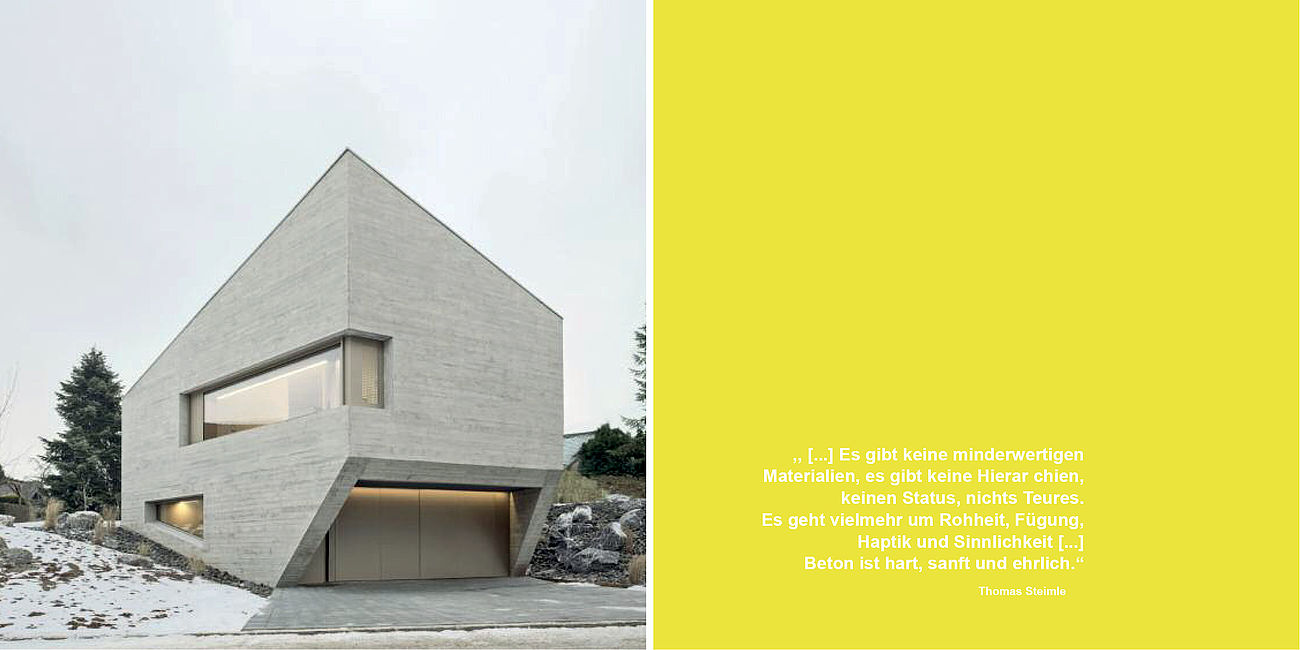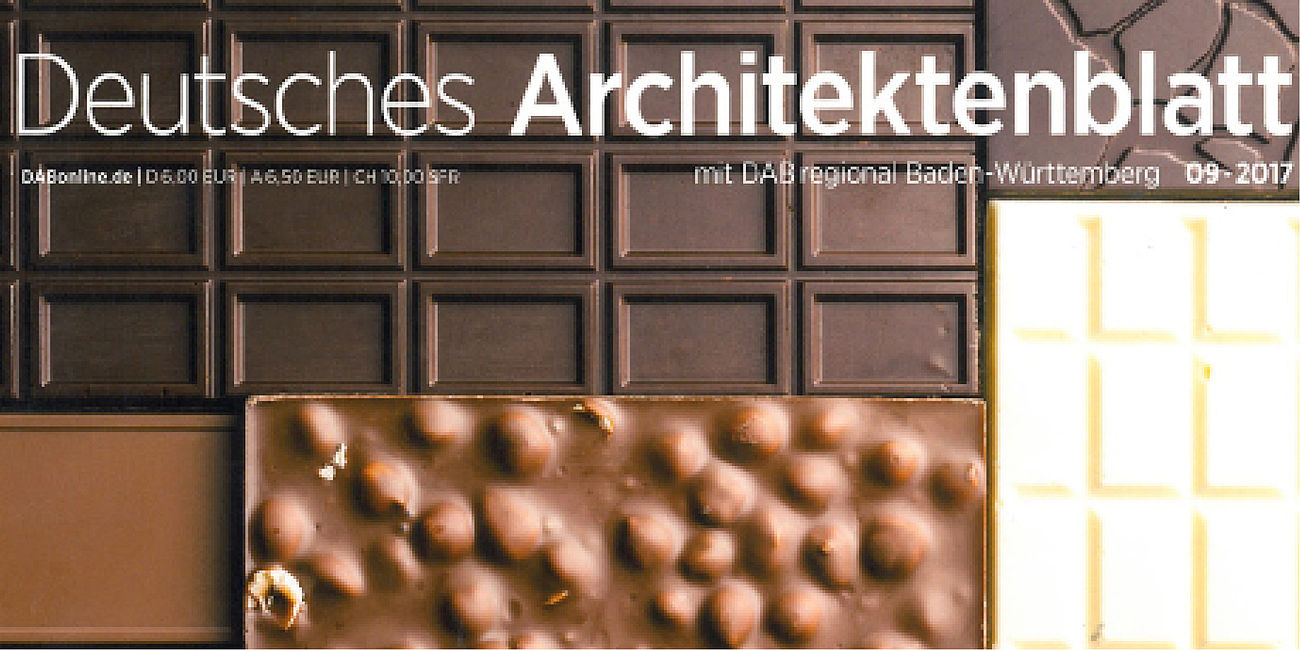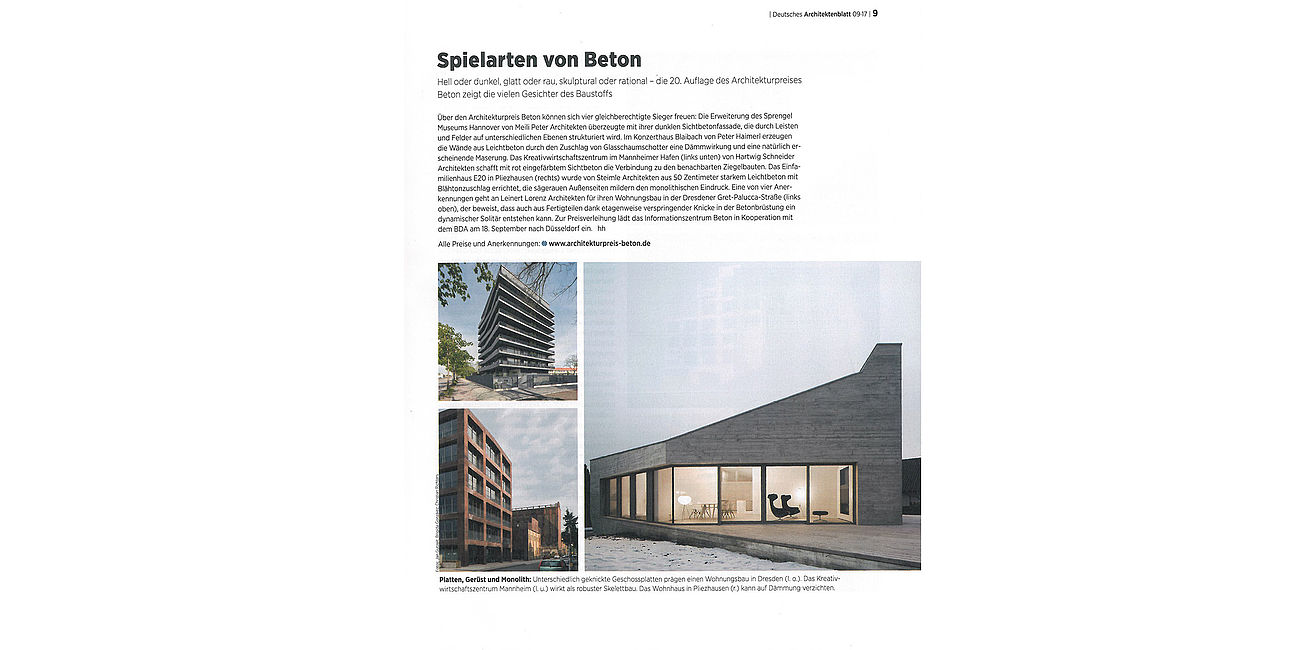 2016-12-08
steimle Architekten mit S3 in "100 deutsche Häuser"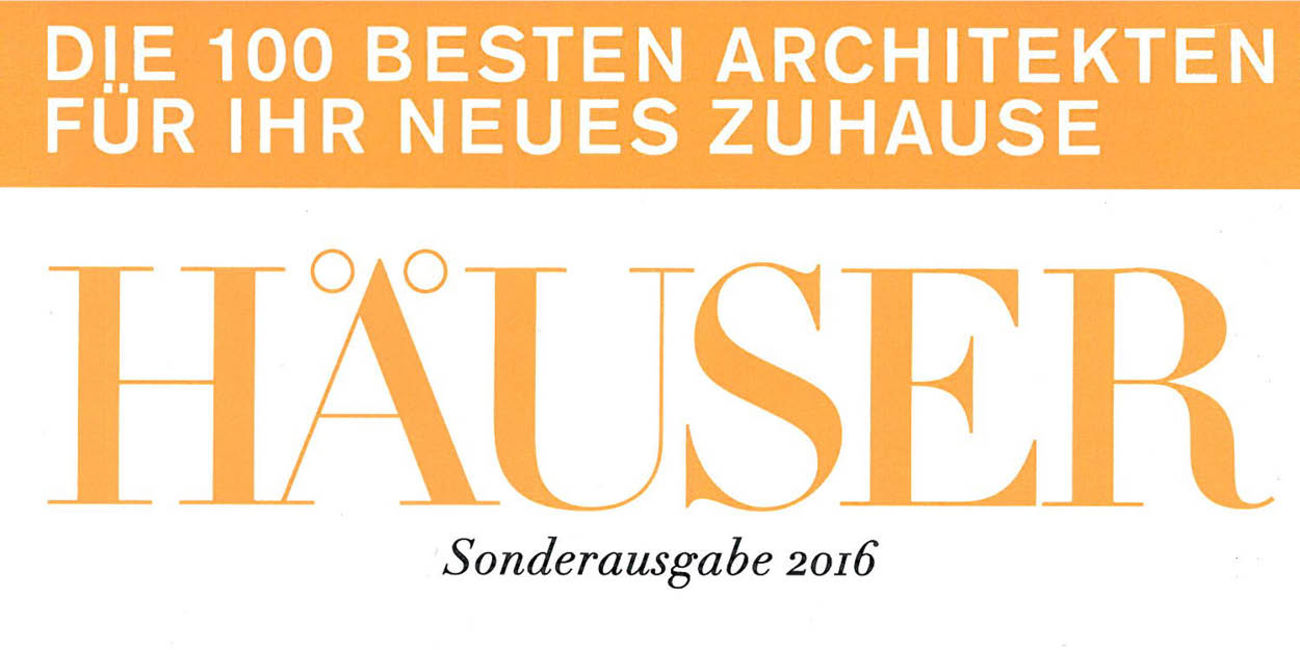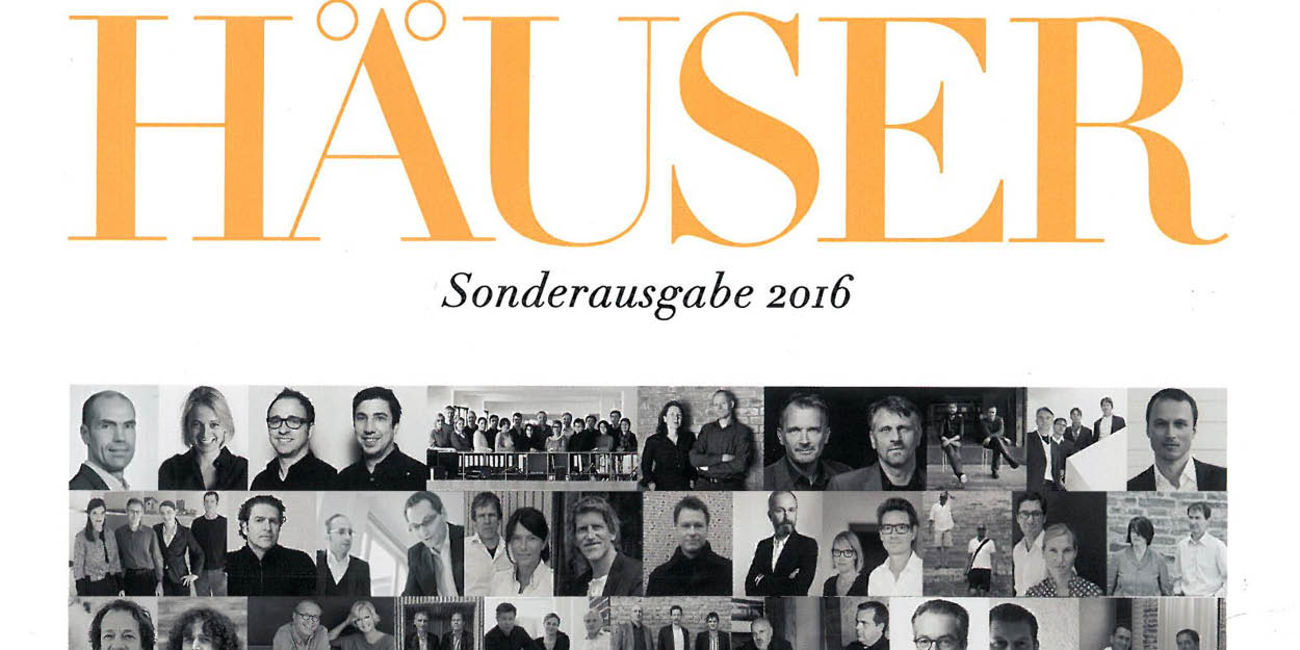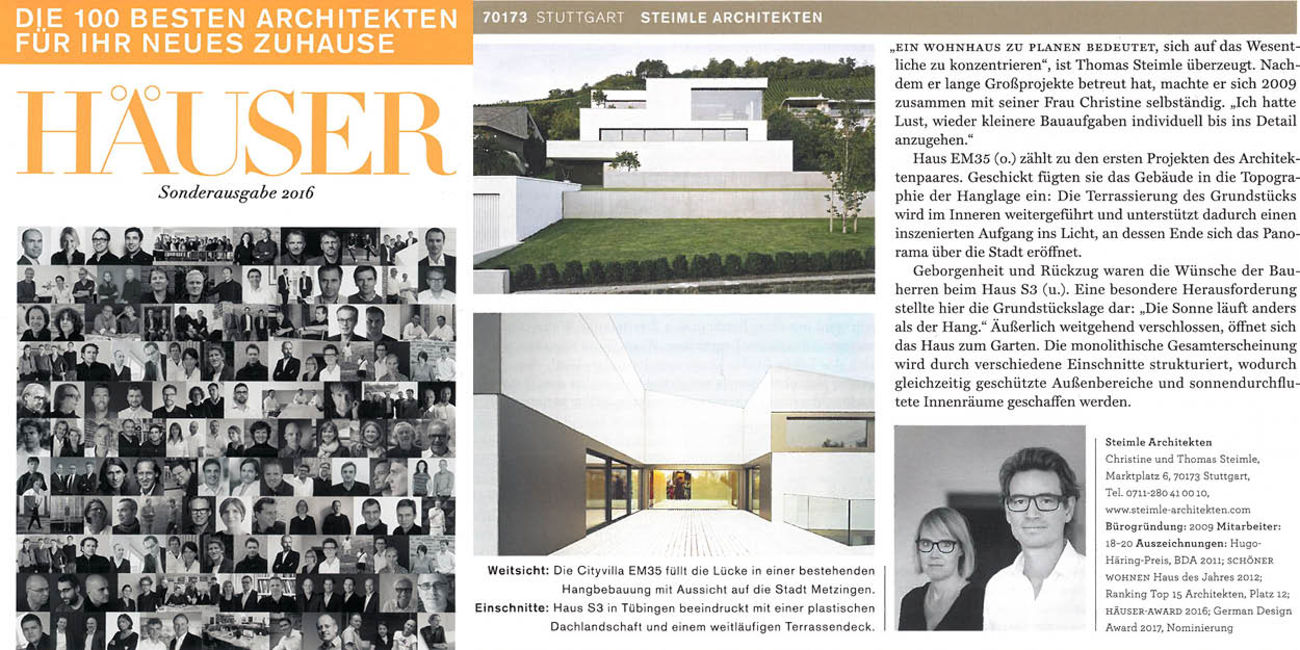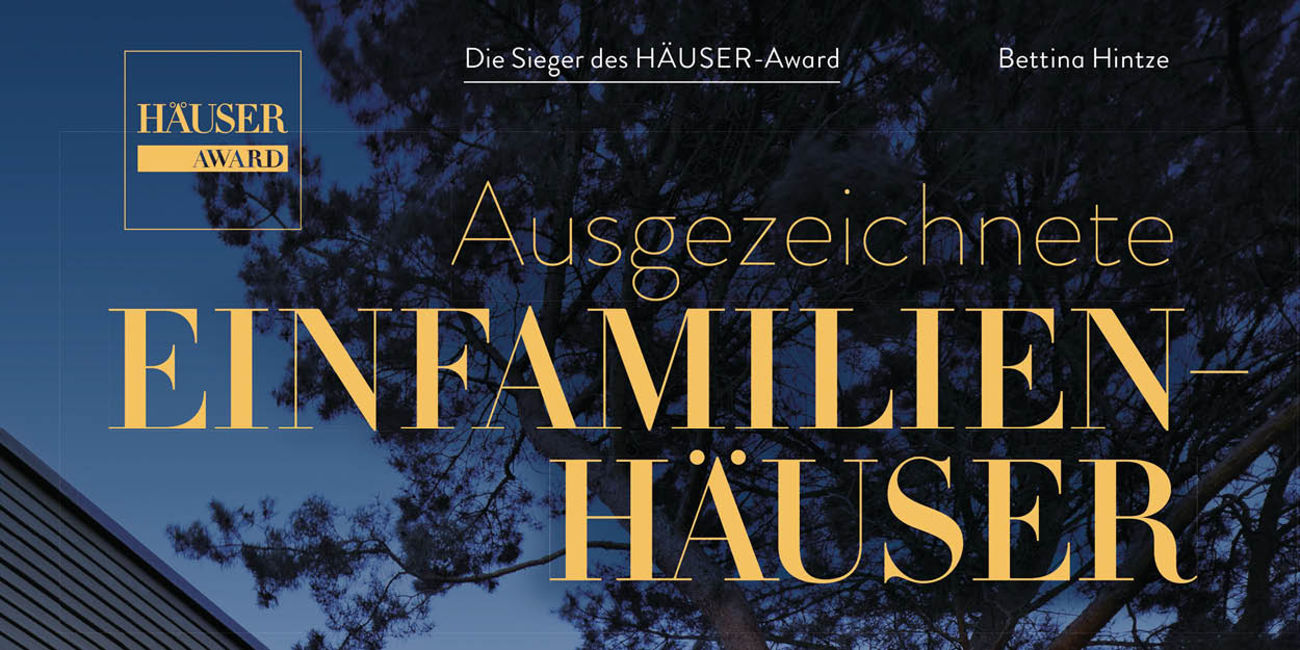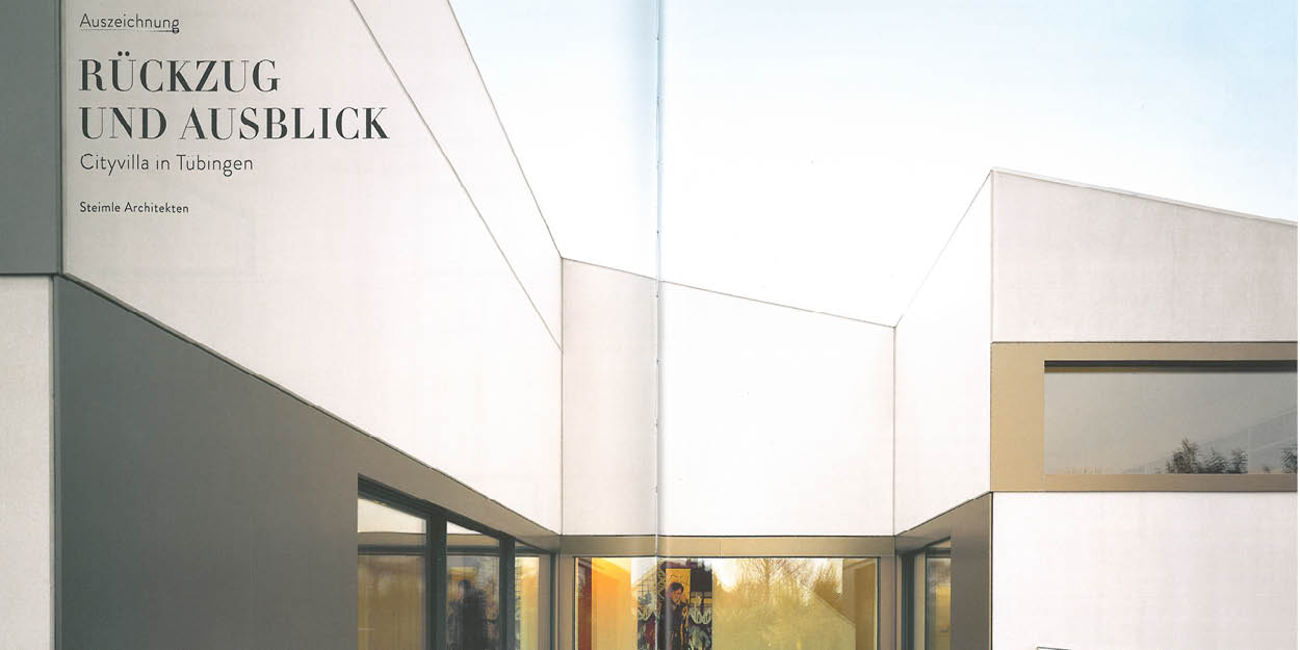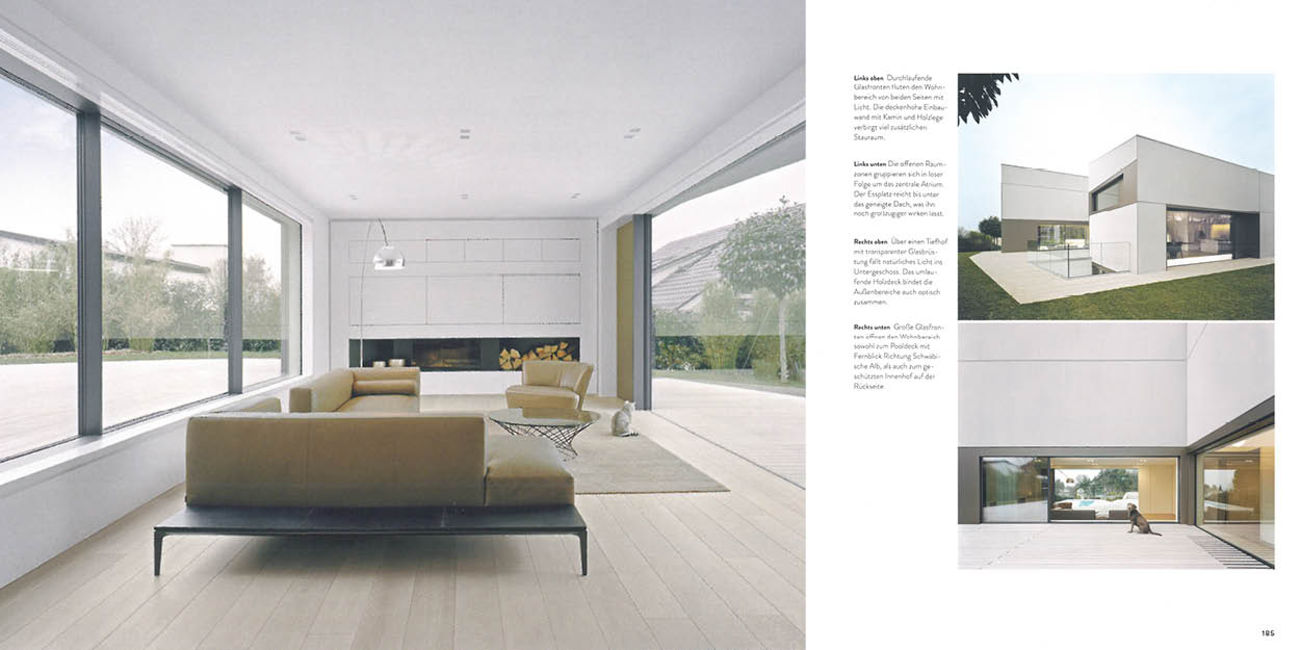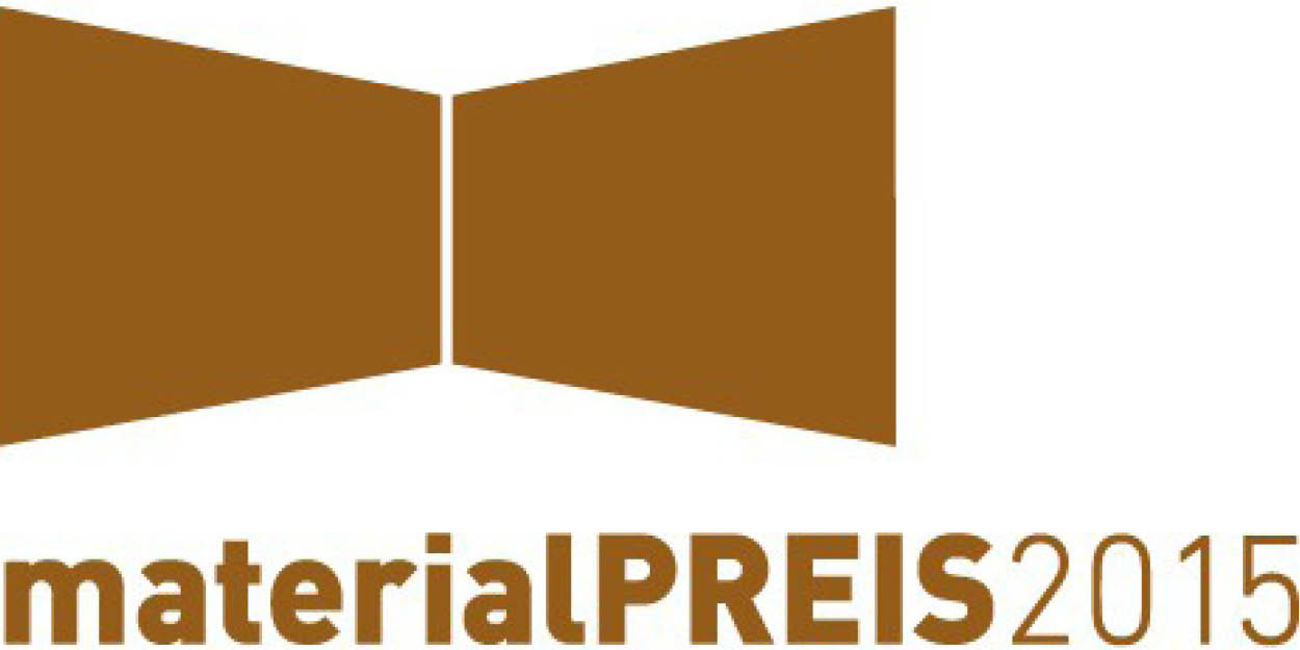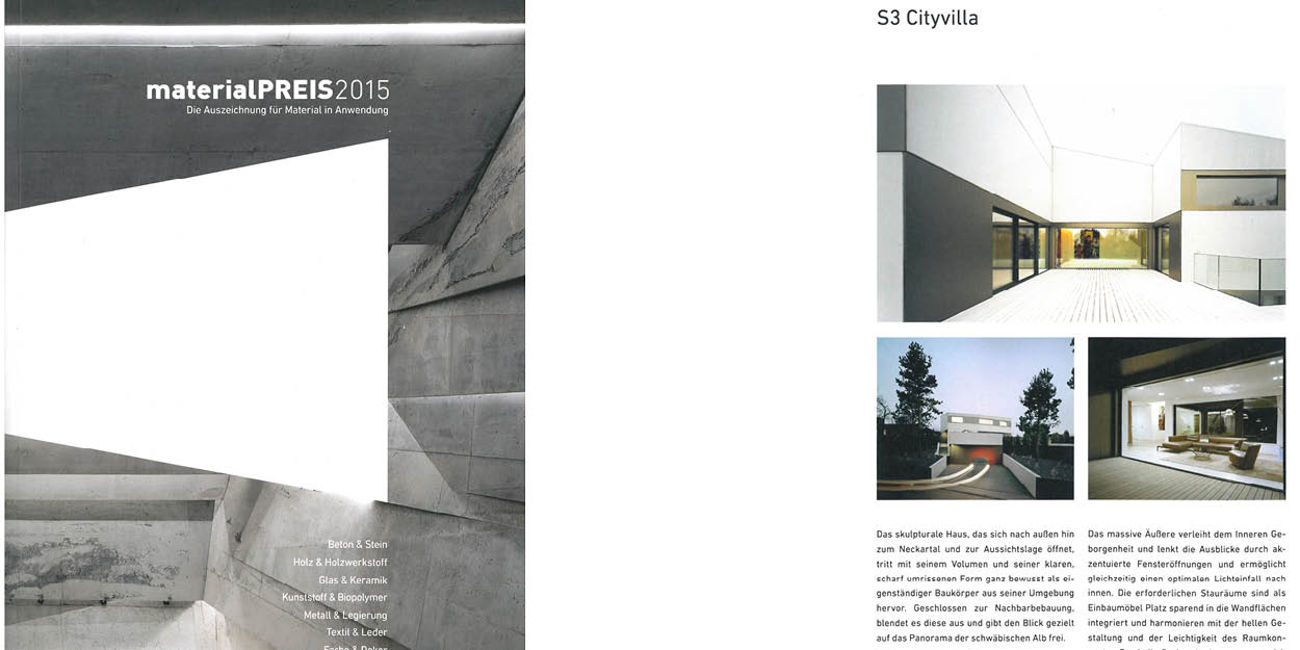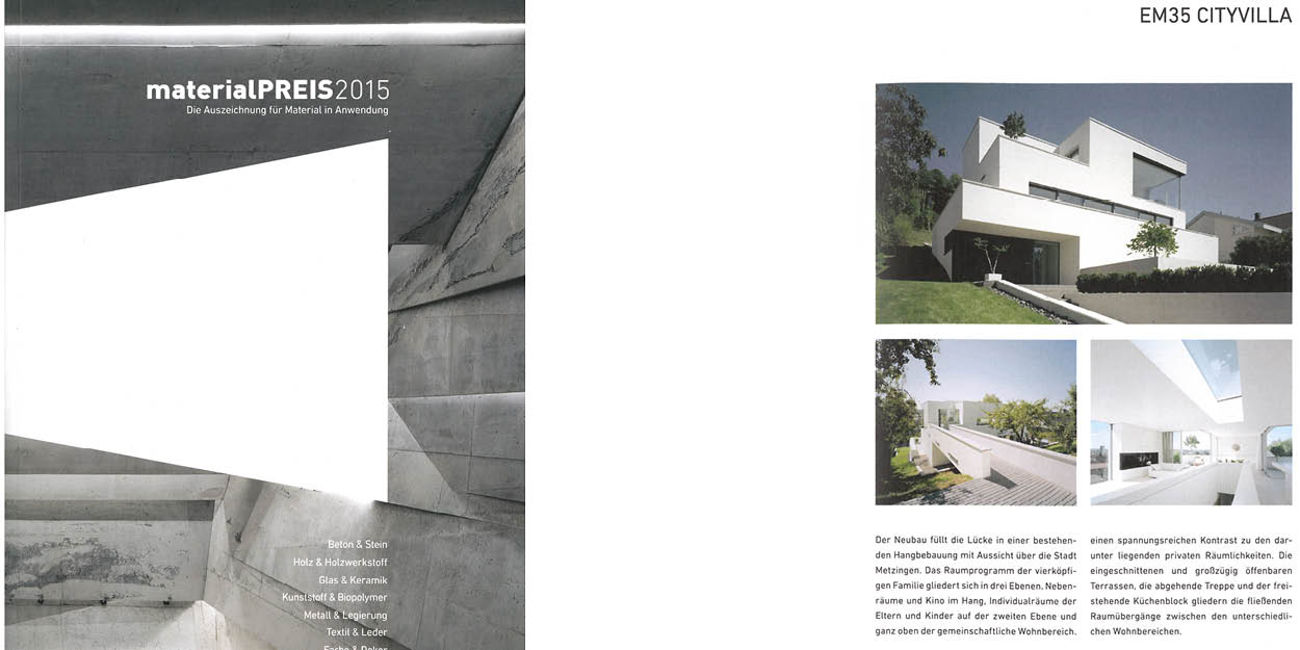 steimle architekten in »Das Ideale Einfamilienhaus«
Puplication in »Architektur in Baden-Württemberg«
Puplication in »Häuser des Jahres«